If you've ever gone to an anime convention you've undoubtedly run into some Trigun fanatic wearing a floor length red leather trench coat when it's way too hot out or dragging a huge cross on his back looking like chiropractor's wet dream. Vash (main guy) and Wolfwood (way cooler than "main guy" other guy) sometimes joined by Meryl (cute chick) and Milly ("cute" chick) will all be there as well. Then absolutely everyone else who isn't dressed up will still salivate to orgasm the minute you mention anything about the series as if Christ himself has come back and started hosting an ice cream social. It's just like when Superbad came out everyone and swore to me it was the funniest movie that had ever been made and that I better just start duct taping my balls in place before I sat down to watch it lest, while laughing harder that I ever had or would again, I herniate myself severely causing them to explosively leave my body. The only energy I expended during that film was spent trying to stay awake. The let down was disappointing but not unexpected. Same feeling for different reasons with Trigun here. 
Live and learn long enough and you'll come to realize that the pack mentality covers a multitude of sins. You'll also learn that preconceived notions are usually never a good idea to build up inside of yourself. People, places and things will inevitably fail to fill in all your hypothesized wants and needs. And Trigun is some or all of that stuff I'm sure! And it wasn't what I wanted or needed but I'm mature enough to admit that the only person I can blame for that is every goddamn one of you who said this was amazing!
All twenty six episodes were filled with a lot less of this

And shit tons more of this than I would have liked.
This series is downright goofball at the start and while it grows darker as it nears the finish line (even featuring one of the most moving deaths I've ever seen, anime or otherwise) the yin and yangs never balance out proportionately. There are some outstanding moments, some ultra violence, some terrific character designs and some wonderful set pieces but all of that gets dwarfed by the preponderance of giggly fuckery that you want to like it and say it was all a moderately acceptable way to burn thirteen hours but you just…can't…do it. Sure, at the moment you're getting a blowjob from this babe who said she'd swallow but about thirty seconds in your dad starts banging her too all the while talking football with you. And you haaate football!
It's that kind of promise into displeasure I'm talking about here.
Not that the series, emotional padre-foot-blow-convo that it is, isn't without merit. There's Wolfwood for starters:
If he looks like a bad-ass riding around from wet dream to wet dream that's because he is! He chain smokes, breaks hearts, shoots the shit out of everything, cheats at board games and helps little children too! Paging Dr. Model, Dr. Role Fucking Model! He was the star of the show for me but waiting around for someone other that the lead protagonist is never a good spot in which to find yourself. Thankfully, besides Wolfwood, the Gung Ho Guns helped right the hell out with that too! Here's one of them now.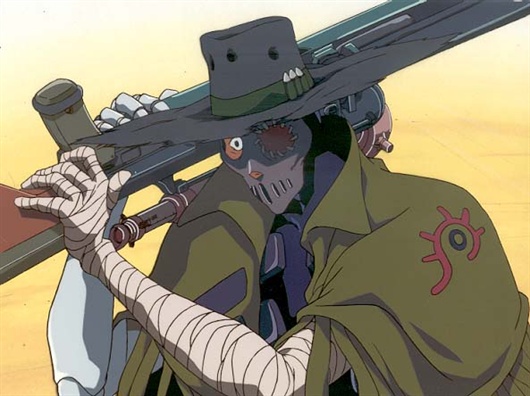 I can't remember his name at the moment but if you can never tell me because I'm having one of those pre-conceived notions that I might kick you in the nerts either for knowing some random character from Trigun or obviously liking Trigun which means you have no discernment whatsoever or I bet feelings so maybe you won't even feel me hit you but you'll call the cops anyway so let's just agree to you shutting up forever about all this so we can save our boys in the blue some paperwork okay?
But like I said this guy was cool. All the Guns were except for Midvalley the Hornfreak. He just sucked. My wife almost broke our television trying to punch those smarmy good looks off of his face and now I have to go punch myself for knowing that "Midvalley the Hornfreak" was his name. Be right back!
Ahhhhh yeah that hurt! But baby I can take it and dish it! I wish Trigun had dished a bit more on the classical Western themes of brutality and vengeance. A lot of well timed non life threatening solutions to gravely life threatening problems in this series. Would it kill you to kill someone Vash? Not that being a pacifist isn't cool but it isn't! And not that everything I watch needs to be bathed in bloodshed but when you get wronged I need to see me someone, preferably lots of someones, getting what they're due! You say "two wrongs don't make a right" and "turn the other cheek" and also "be a better person". I say go smoke a joint hippie! Enjoy Eternal Sunshine of the Spotless Mind as you get ready to head out to an anti-gun rally! I always say "If you don't like getting raped don't bump into Clint Eastwood on the streets of Lago!"
Speaking of pussy look at this cat!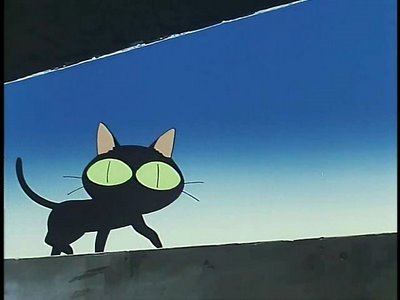 Adorable right? And she's in every episode. Just like an Observer from FRINGE except not trying to kill, or I guess in that one case help, you.
So nifty priest guy, nasty team of bad guys and cute not a guy at all cat. For these three reasons Trigun is worth a gander if you have a few to spare. It wasn't bad but it wasn't my cup of tea. 3 rounds in the cylinder. Peace and love may get you far in life but in most Westerns they won't even get you out of the stable. Keep on smiling Vash and doing your thing. I'm gonna go put in "There Will Be Blood".
That always makes me feel better.
Ride true ya'll.