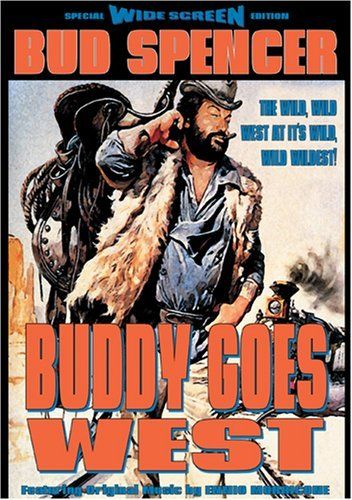 I may spend most of this review working to figure out why I mildly enjoyed this movie when I should at first, second and every glance thereafter dislike it as much or maybe more than a porcupine hair jockstrap. Of course, like you I'm sure, I just googled "porcupine jockstrap" and was bemused when only one image caught my attention: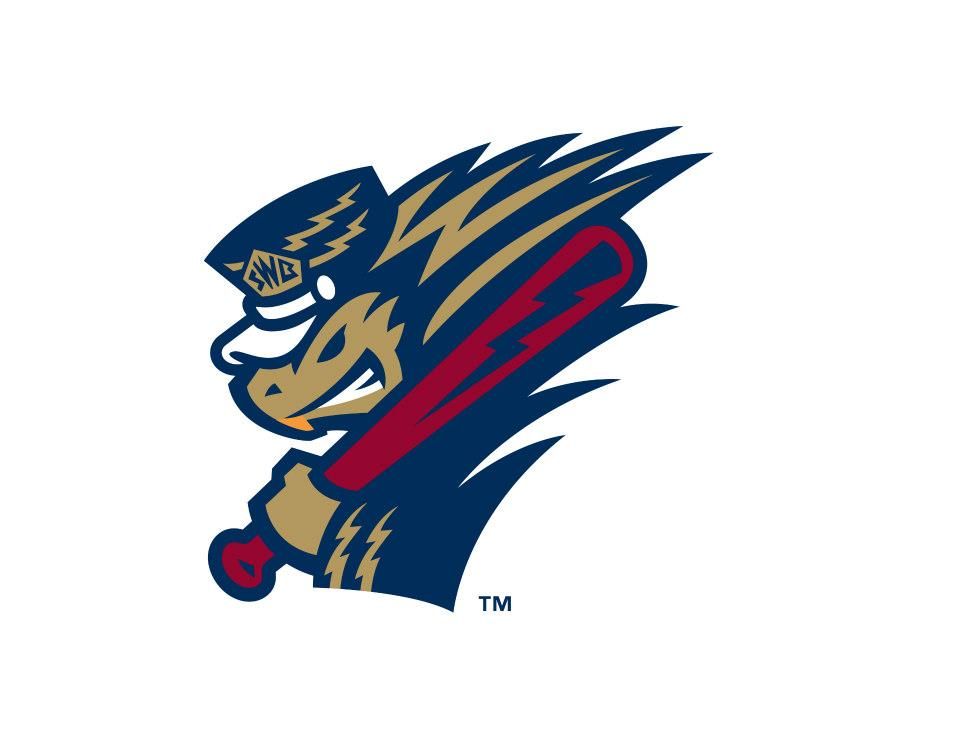 That's a logo for a minor league baseball team out of Scranton/Wilkes-Barre called the Rail Riders. I was in a rough'n'tumble Western mindset though, blogging as I was, and took that name and pic to represent some kind of brutally enforced Pennsylvanian public transit system. Sure, that bat wielding bastard asks nicely for your tickets but only after he beats you near to death with his blood red bludgeon. None of this paragraph has anything to do with Buddy Goes West by the way but neither does Buddy Goes West when you get down to it.
"Odd" is a good way to describe this movie, also "how fucking hard did that porcupine hit me" would be acceptable. Like Little Rita, this film frolics in a funky no-man's land between authentic cowboy romp and asinine cowboy pomp. I wasn't familiar with lead actor Bud Spencer or his likeable partner in crime Amidou, but it seems both gathered a respectable European following over their careers playing pretty much exaggerated versions of themselves. Here they are, Spencer playing a genteel giant of a man, Amidou as a friendly Indian and some drunk Irish guy playing a drunk Irish guy. I'll let you figure out who is who: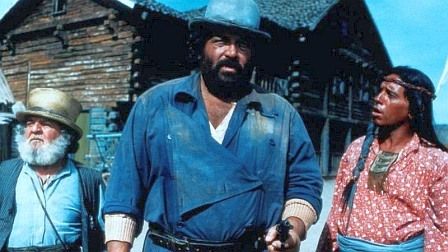 Not so much a movie with a plot as it's a collection of scenes meant to drive home several not-as-hilarious-now-as-they-must-have-seemed-back-then set pieces, Buddy Goes West still manages to show off a sweet heart behind all the overzealous slapstick and overreaching attempts at situational humor. A film that endeared itself to me in the final five minutes with an unforced tip of the hat to finding happiness in making sure others are happy revolving around a lost gold mine (aw, how sweet!) also contains at least thirty minutes of farcical fisticuffs including a musical tune played out with frying pans upon the noggins of several ne'er-do-wells (aw, what the frosty fuck?) A film that has this bud risking his life, more than once, for that one also features a nonsensical Native American who for the most part only says "Chanukah, Chanukah, Chanuuuuuuukah!" because Indians love themselves some motherfucking Festival of lights right? A film that manages to espouse personal sacrifice over personal gain also features the line "Hooray! My bowels are liberated!" But hey, it could have been worse.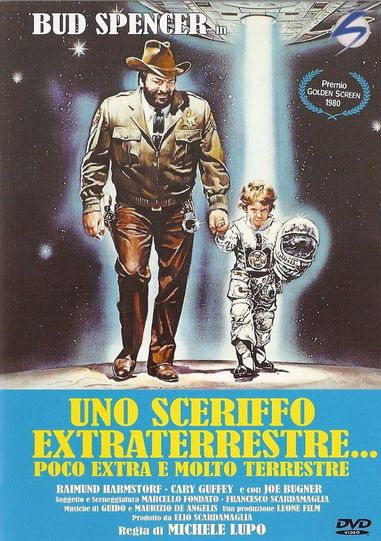 Smokey and the Bandit, Children of the Corn and Mac and Me jump headfirst into a blender. What is whatever the hell that is, Alex? For $200 Chris, you are correct! Buddy Goes West really then isn't terrible and certainly not by traditional Western Watchins' standards. It's not boring, overly illogical, painful to behold or directed by Peckinpah. Despite all the scripted shenanigans both main protagonists were portrayed as largely competent, resourceful and loyal. The story, though simplistic, is nonetheless complete and throws you a nifty curve ball that even justified an earlier gripe I'd had with the film. All of that plus this bandanna:

Is that a fake Indian? Or Buddy? Or an Indian's buddy? The answer to all of these could be "yes" but you'll just have to watch and find out for yourself which no one reading this is actually going to do so I'll just tell you the answer to all of those questions is indeed yes! But why you have to now ask yourself and then not go watch this movie. The "why" isn't explained as much as it's felt, implied as only a large burly man faking a doctorate who hangs out with a Morrocan dude with a great tan playing an Indian dude with his regular skin tone who only talks in Jew-bberish can. Man, two insensitive jokes in one sentence of the review? I'm getting real good at this. Being insensitive I mean, the reviews are still moments of brilliance hanging around Average Town but you're all still here so either you enjoy it or just want to see how big a creative dick I can manage to be each week.
This week I've got 3 rounds for Buddy Goes West. Unexpected and moronically charming, it's a mess of a movie that ends wrapped up neatly and with a bow to boot. It doesn't hurt that Ennio Morricone scored the film either. One of Morricone's most absurdly interesting scores but still Morricone. Always, always Morricone. You can find this film in a Western collection at Wal-Mart, K-Mart or on that aisle no one ever goes down at your nearest Big Lots. From the 80s looking like it was made in the 60s with jokes as dated as its production values Buddy Goes West isn't for everybody and I'm still not sure it's even for me. But I can always find a little treasure among the trash and amigos, you live long enough, you'll find that's a valuable skill to hone.