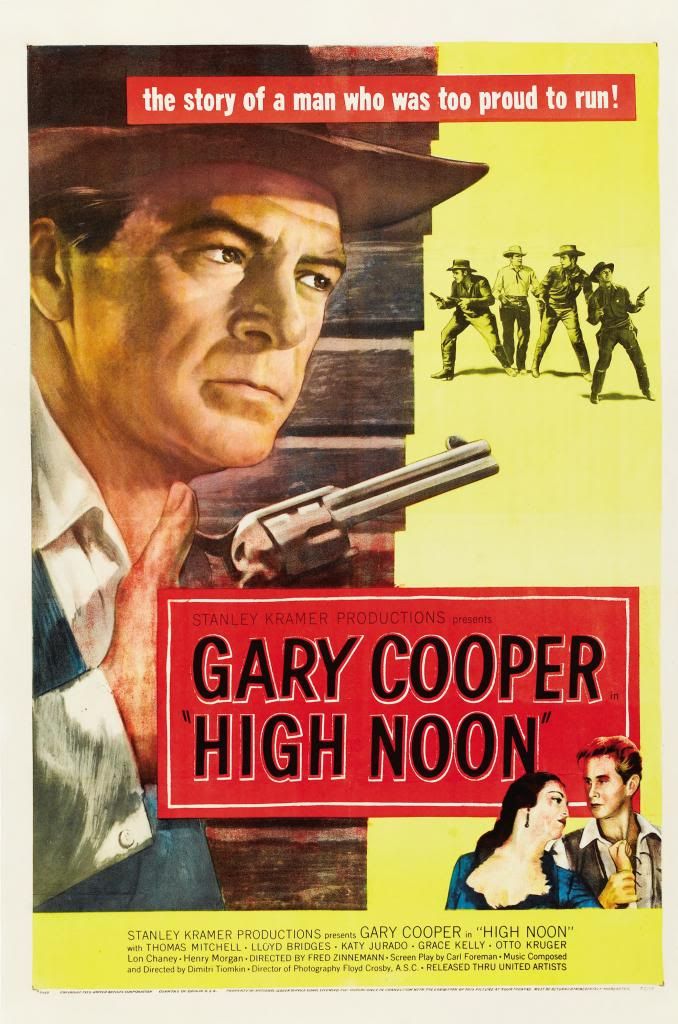 Eventually a whole lot of people are going to let you down. If you're reading this you're probably firmly entrenced in the middle class, you're well fed, enjoy a drink now and then and have your fair share of Facebook "friends". That's in quotes because this world, our easy modern world and our extremely comfortable modern American one, that seeks purity by avoiding or covering up conflict secretly pollutes itself on a daily basis in doing so. By cowering from the muck we only gives ourselves up to sink slowly into it. We have more computer-based compadres than ever before but if a time comes when Lord willing you figure out something about yourself and then God forbid take a stand behind that new revelation the rats fleeing your ship, and your "friends" list, will astound you.
In tough times, facing tough decisions most will tell you "tough luck" before moving on and that's if they don't stab you in the back themselves.
Supposedly High Noon is a Western for folks who don't like Westerns but I love Westerns and enjoyed High Noon because of its non-traditional approach to facing down your tough times, and your foes, wherever it is you find them. Maybe it's that lack of tradition casual fans appreciate or maybe it's simply the fact that this film forgoes fantasy to slam a deliberately stark, colorless and hyper realistic world into our soon to be sore eye sockets.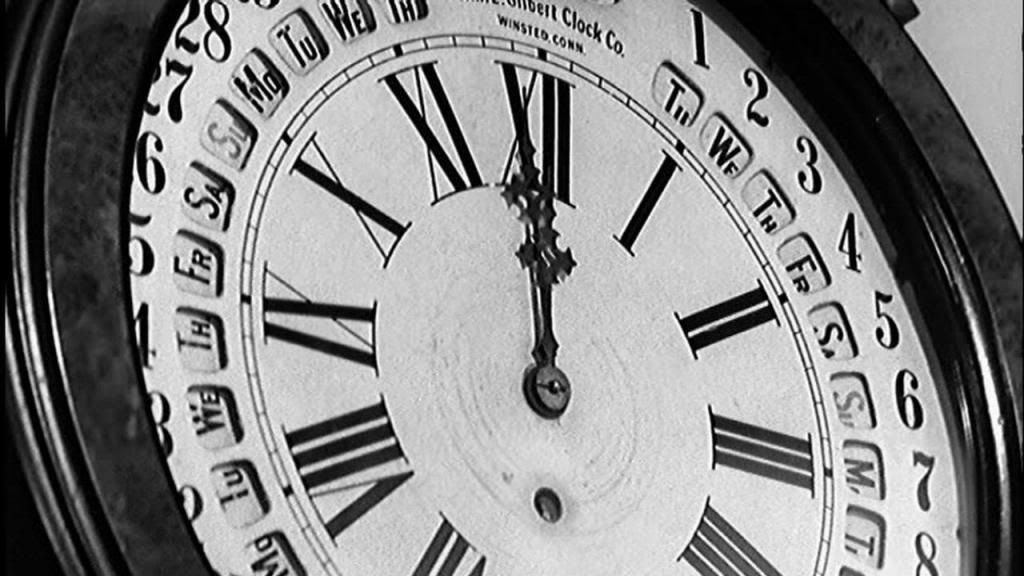 High Noon. The very words conjure up moments of such grand importance like "hmmm, time for lunch" or "hey, it's noon" and who could forget "shit, that dude I sent to jail is getting out and coming back to kill me!" We've all been there. And in High Noon Gary Cooper's there too wandering just about every damn where all over town to assemble any assistance he can for a showdown that's arriving on the twelve o'clock train. And with Hell gunnin' for him, he's letting heaven slip thorugh his hands. He just got married to Grace Kelly!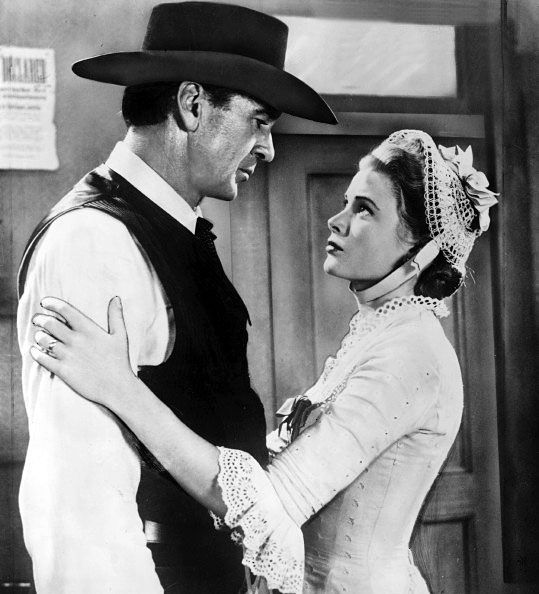 She's a pacifistic Quaker (and some kind of Disney princess if you can believe Wikipedia which I never do unless it's already something I want to believe!) and after years of dedicated service as town Marshal Willl Kane, Cooper is ready to retire and sow her sweet young oats. He's all newly wed and resigned from his position when the bad news hits: Frank Miller's on his way and that either means a shitty 300 sequel is about to be released or you're going to die. Possibly from being forced to watch that horrible 300 sequel and certainly from being shot. So Gary does what he must. He walks.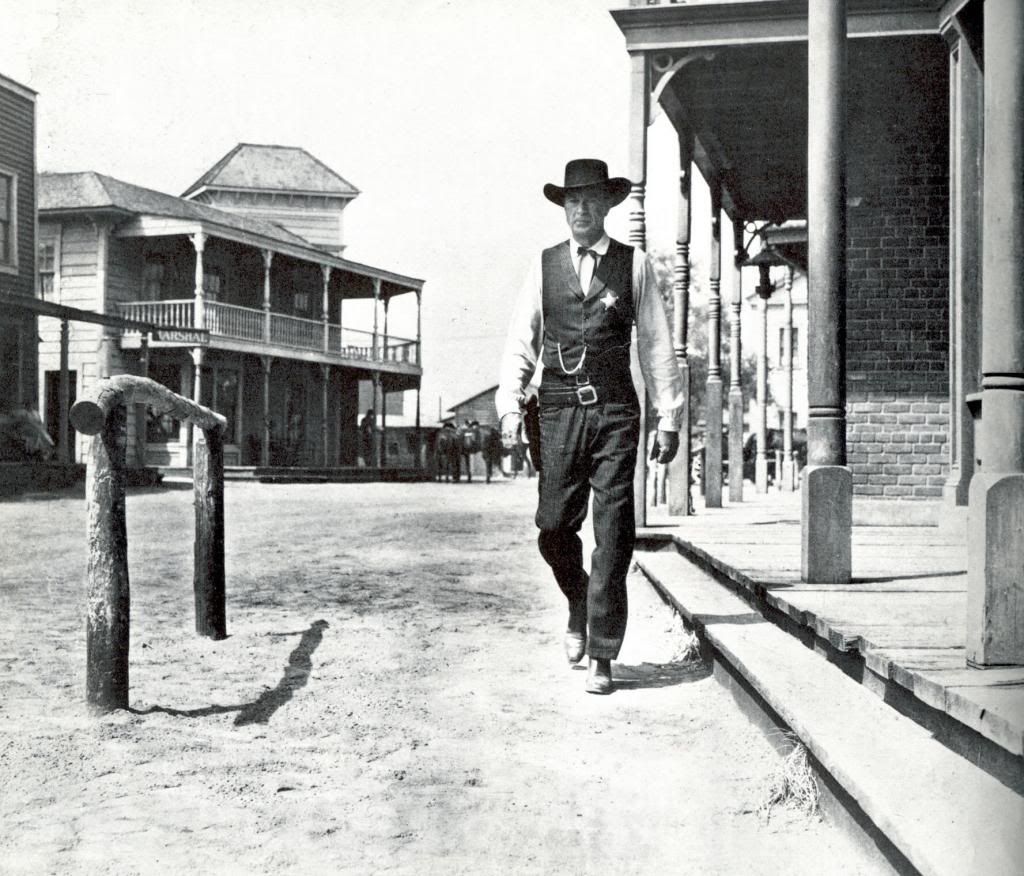 There's more walking in this movie than all the Lord of the Rings trilogy combined and as High Noon takes place in roughly real time you'll get to see exactly how much walking one man can do in just over an hour.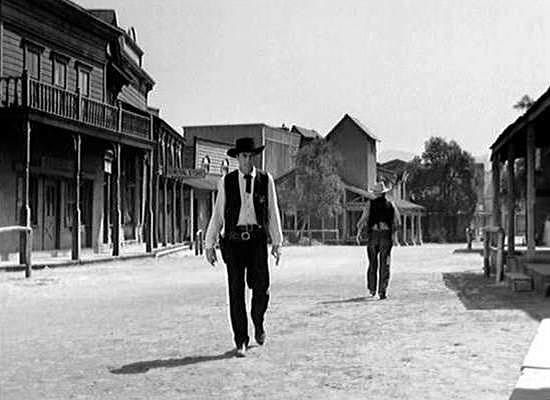 A lot.
Lots of lots.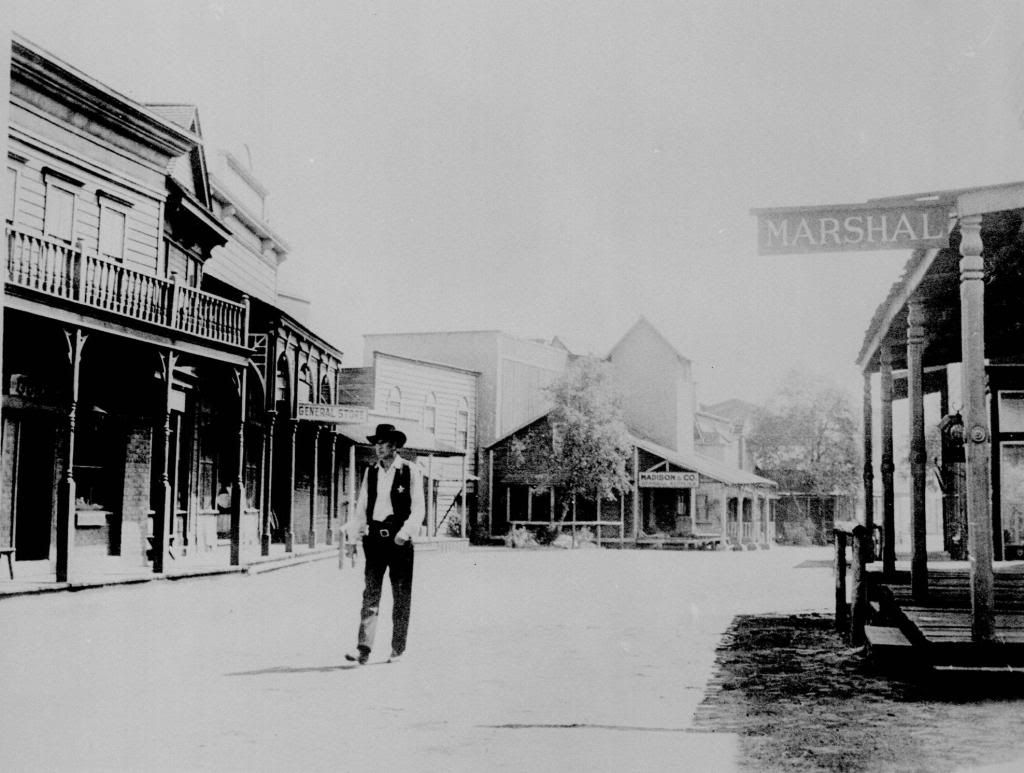 You see so much studio backlot in High Noon that I wouldn't have batted an eye if Bruce the shark had popped up at some point.
Bruce never did show but if he had oh I can tell you he would have heard Cooper's conflicted cry for help and stood bravely by his side. Unlilke many of the townfucks. I didn't spell that wrong. Most everyone in town is a full-on fuck. The film takes place in Hadleyville, New Mexico Territory but with the way all of Gary's old friends and co-workers acted, in his time of desperate need, it might just as well have been set in Fuck-ville, New Fucks-ico Fuck-itory. I don't even know how the marshal managed to stay so clean on his hour long errand due to the fact that no matter where he went he was always tip-toeing past huge pieces of shit. Even the people he found in church, not shocking I know, but it goes to show that those who preach the loudest usually don't make a goddamn peep when it comes time to say something truly meaningful and then back it all up with courageous action. The second biggest kick into Marshal Kane's beleaguered balls actually happens inside that twat filled tabernacle with one of the most unexpected, back handed compliments turned stunning bitch slaps of a speech I've ever seen. It was exceedingly subtle and performed to perfection by one of my old timey acting faves Thomas Mitchell (who I'm sure was Thufir Hawat in DUNE no matter what IMDB or logic says!)
Kane's abandonement is brutal and complete and so brutally complete I was sure I'd get multiple commiserative bleeding ulcers and spend the rest of the day vomitting angry, angry blood. "Social Justice" can suck my dick with a side of politically correct dipping sauce, all you need is justice. No qualifiers necessary. And if it was going to happen the marshal was going to make it so all by himself.
After a little more walking of course.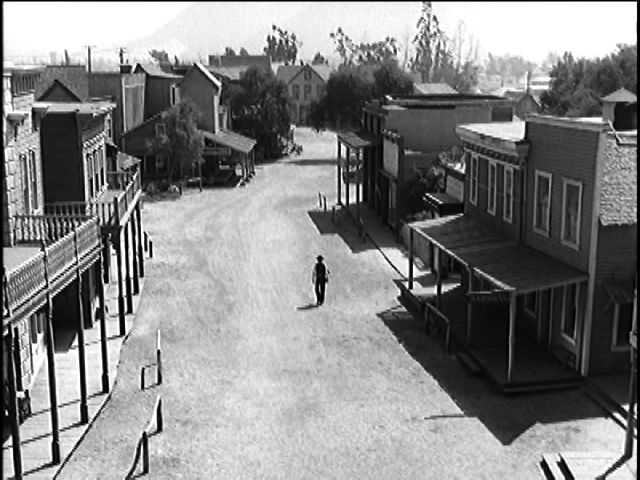 And after all that Return of the King-like walking some metal gets tossed away in this one as well. The finale is both Phyrric and comforting. Fun fact: John Wayne hated this movie. Saw it as a veiled attack on McCarthyism but despite his reservations High Noon went on to be equally appreciated across the political spectrum counting among its fans Presidents Dwight D. Eisenhower (he gave us the Interstate Highway System) and William Jefferson Clinton (he gave us flavored cigars.) Lots of folks seem to like this movie, I did, and maybe you will too. I'm know it has something to say, to anyone who gives it a good listen.
4 rounds in the cylinder for High Noon. This movie's proven to be timeless and convey that timeless message that even if everyone you know turns out to be a fuck that doesn't mean you have to become one too. Stand up and stand goddamn tall. That message resonated so much with one old Soviet satellite state that when it came time to to shove some Freedom up the collective Communist asshole this movie's poster became a symbol of solidarity.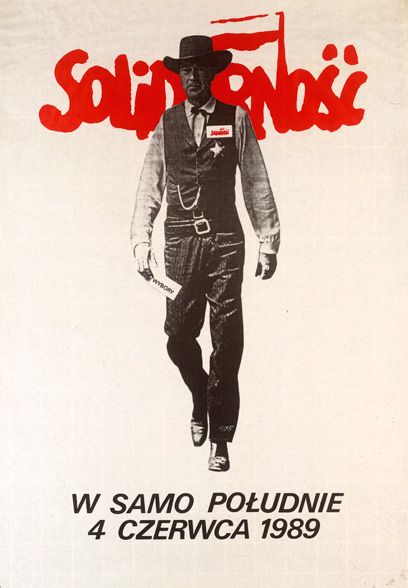 The people of Poland survived their own personal showdown at high noon one long ago day in the summer of 1989. They won their sovereignty and in the process stoked revolutionary fires that would burn totalitarian regimes to the ground all across Europe. Take that you Bolshevik bastards!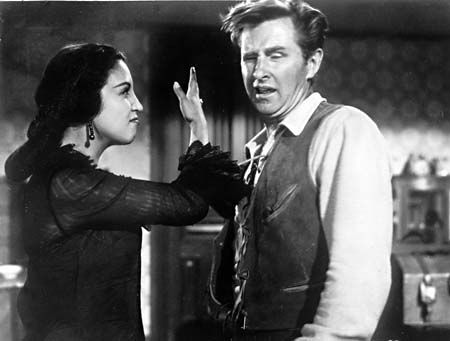 Sure picked a helluva day to stop sniffing glue! Or don't. Sniff away! And drink and laugh and fuck and fight away while you're at it. As long as it ain't hurtin' anyone, live as you fucking see fit. Marshal Kane is a mighty fine example of riding true if ever I saw one. In life, we will all have showdowns headed our way from time to time too amigos, only question is what we're gonna do when they get here.
And when they do, may you have the courage and conviction to answer that question well and proper.