Tentacle Chris
Posts by Tentacle Chris
Good image, but the next one sets a better tone so dos posters por favor.
Aye, yai, yai, I had to see this movie. You can't take in Quigley Down Under and not want to see Tom Selleck in more Westerns. And of course there's Mask that has you immediately thinking "shit, that's one fucked up face" but then Cher gets out of the way and in walks Sam Elliott whose voice is indescribably legendary. How awesome is the gravelly sound that slips past his award winning moustache and penetrates your ear holes like a phallic shaped steam engie hell bent for fuck mountain? So awesome that his co-star in this flick and spouse for the last twenty nine years, Katharine Ross, was married four times before hooking up with Sam. Maybe she just got divorced or maybe they all dropped dead after hearing Sam speak their name! These guys are a Western one-two punch that kicks you in the balls and in The Shadow Riders they play brothers returning from opposite sides of the Civil War.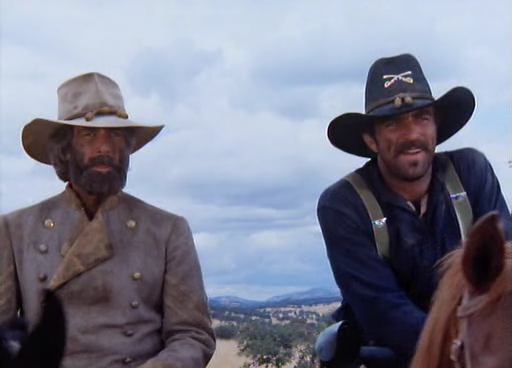 One of them is a Confederate and one's a Yankee but I can never remember which is which. Neither looks more racist than the other but Northerners know how to hide their hate and just call it "Modern Liberalism" so I still can't be sure. State's rights aside, the war was over and most of the combatants were headed home to pick up where they'd left off or at least give it their best shot. Yep, everyone was moving on…everyone except this guy!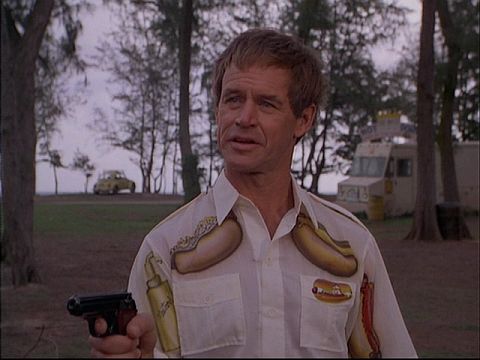 Geoffrey Lewis didn't wear that exact shirt in this movie but I'll bet you've already seen what a Confederate uniform looks like so I decided to show you this pic instead. Hot damn dog ol' Geoff is pissed. Maybe even more than he was in High Plains Drifter because the North has won and he just can't deal with the fact that in a hundred years or so a once great nation will become a welfare state. I think that's what he's pissed about. Or maybe I'm pissed. I don't have a cool hot dog shirt so shit, now I'm really mad! Oh I'll calm down enough to finish this review but you can bet as soon as I'm done I'm headed out to find bicep enhancing condiment clothes before educating random people about how much of a dick Lincoln really was! The real Lincoln not the Daniel Day-Lewis one. DDL is backseat blowjobs awesome! Also awesome (but with less blowjobs) is the ever growing Traven clan.
You know Mac and Dal already (Tom and Sam) but then there's little brother Jesse on the right there and don't forget Uncle 'Black Jack' Traven as well played by acting veteran Ben Johnson. Here's Ben in The Wild Bunch.  


This was the scene near the end of the film when he first realizes that The Wild Bunch stinks more than ten thousand prolapsed elephant anuses steaming in the noonday sun. He was one of the two things I actually enjoyed in that film so to enjoy him once again in something that didn't reek of rectum was an unexpected treat. Now, the older daughter from Poltergeist is in The Shadow Riders too but I don't want to talk about her because she died tragically plus that movie still easily fills my britches every time I see it. Also, Sam's wife, as I previously stated, stars in this as well but I'm not about to go and make some joke about her for fear that either Sam or just his moustache will show up at my house and kick my ass while Tom Selleck and/or his moustache stops by to watch. Think I'm joking? Look at this picture and tell me I'm fucking joking!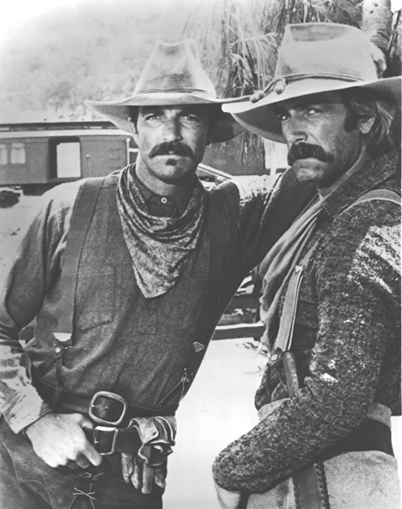 When I grow up I want to be one of those moustaches! Wait…shit no! Gotta be my own moustache dammit! That's the Western Way yo! Working for a better civilized tomorrow but being willing to burn it all down and be all by your lonesome too. Self reliance bitch! You stick to your guns because sure as shit no one else will. And that's one thread that weaves through almost every Western I've ever seen and certainly those canned for TV cowboy adventures. Someone stole your farm or your wife, kicked your dog, wronged your ma or was just a dick and now it's time to get going to get back what's yours or get even anyway possible. It's dirty sometimes and hard to swallow and I believe in it so much so I didn't even make any number of softballed blowjob jokes right here that I could have. Had a friend say to me this weekend when she was commenting on the band of bastards I'd cut loose from the confinements of my camaraderie this past year supposedly earning the title "bully" as a result, she says this to me in response to my actions:
"You're not a bully, you have integrity."
Westerns, The Shadow Riders included, and their prerequisite attitudes and ideologies don't sit well with many folks these days. But those are the same folks who'd fuck you over for a dime just to buy a drink so they could turn around and piss in the wound. The same people who will fight tooth and nail to avoid a conflict of interest in business transactions but think nothing of ignoring conflicts in interpersonal relationships. One side of their mouths will tell you to suck it up, move on or forgive an egregious offense while the other side suckles for shekels on the teets of the very cash cow that is stepping on your throat with alacrity. And they won't see anything wrong with this.
This is the modern world we live in and Westerns show us the way things used to be when folks didn't stand for fuckery. And I for one really revel in that. It's old fashioned and cliched but old fashioned cliches are awesome when they gun down the sonovabitches that kidnapped your loved ones. The Shadow Riders is simple and as routine as your daily dump but even though you know the guy that got shot and sank below the waves escaping is gonna turn back up after the next commercial break and you know the secret plan to break out the hostages is going to go awry this movie will still surprise you. Keeping you as warm and snugly on a cold night as your favorite blanket (or Tom and Sam's moustaches) this formulaic film still delivers on the good old wholesome retribution with a geometrically solid love triangle tossed in all bonus like. I'm not saying it's the most memorable thing ever, hell I had already watched it at some point and forgotten not realizing until a half hour in but still, it was good to me. 3 rounds locked and loaded for The Shadow Riders. There is better frontier fare out there but Tom and Sam seldom disappoint. They alone are worth the watch. Throw in some somewhat sizable set pieces and a solid supporting cast and any negatives you might drudge up can be easily dismissed.
So at this point I've said enough for the week or maybe too much and surely not enough. But I ride and write on amigos. And as always, I do so true. Till next week then.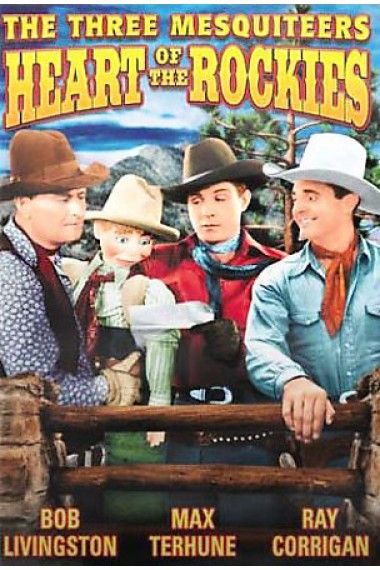 How many nights have I lain awake wondering what it would feel like to have my balls, a handful of thumbtacks and some lemon juice gargled in a goat's mouth? I'm still not exactly sure but I can tell you it would come off as a better way to spend the evening than watching Heart of the Rockies. Part of Republic Pictures' "Three Mesquiteers" catalog I stumbled upon this film as one might stumble into a ravine filled with shit. They made fifty-one of these movies from 1936 to 1943 which works out to one every too goddamn much! This is the same studio that was putting out Rocky Lane's serials but the shoot 'em and show 'em turnaround magic seems to have been altogether lost on this series. There was some innovation here with a moderately intricate plotline and that guy with the ventriloquist's dummy but the former felt rushed while the latter deftly avoids child engaging entertainment and goes straight for the fuck you ever sleeping again. Seriously, if you want to know the last thing you'll see before you're sodomized, strangled and left for dead in a ditch this is it! 

It was moments of whack ass whimsy like actor Max Terhune there and his buddy Elmer (who rode along with him for most of his movies and all of the murders!) mixed in with a sex abuse sub-plot and several savory helpings of righteous disrespect towards law enforcement that firmly plants Heart of the Rockies in the "whaaaaaaa?" category of films. One minute you're laughing because of some slapstick and the next you're laughing even harder as a child is beaten.
But it might have been these outlandish scenarios that drew in such big crowds and draw they did. "Mesquiteer" films were amazingly popular and in my opinion suffered from that unadulterated attention. Mixing traditional with anachronistic images and themes seemed to be a sad sidebar of a we-can-do-no-wrong movie mindset. Like what in the fuck was this? 
A tranvestite Zorro/Shazam mashup is probably the only plausible explanation. This guy wasn't in Heart of the Rockies but this furry fella almost certainly was. 
Heart of the Rockies featured a bear used against his bear-will for nefarious bear related purposes. At one point said bear gets to turn the tables on his captors but since CGI wasn't invented yet a man in a bear suit would need to be used for any hot claw-your-face-off bear on human actor scenes. But bear suits are expensive and not a great investment when one of the actors you already have employed moonlights as a gorilla in tons of films and probably keeps his gorilla suit on him at all times. Ray "Crash" Corrigan (Tucson Smith in the first twenty four Mesquiteer films!) was just that monkey man and so when the time came for a large furry animal to attack a dude during a quick cutaway shot it made total sense to forego any semblance of accuracy in lieu of something that looked (and moved) like a late in life Marlon Brando with discount carpet stapled to his body. And that bearilla thing wasn't the most obviously terrible animal stand-in from the entire film either!
Earlier on, a mountain lion threatens a young boy trapped on a mountainside. Thanks to the Mesquiteers that poor pussy meets an ignominious end with a fabulous cliff dive down into a canyon but not before he dramatically tags the edge of a random ledge. I say "tag" but it's more like a subtle collision so imagine a wet bag of concrete being tossed down a ravine after it's wrapped in fake fur and you've pretty much got it because I'm sure that's exactly what they did to get the shot. And while you only see it for a brief moment and no pictures exist of the actual prop I will bet you it looked remarkably like this: 
For some reason I imagine that if abomination could talk it would sound like Fran Drescher. Anyway, that bear and this cat shouldn't even exist outside of a Clive Barker novel but really they're just symptoms of a much larger problem that Heart of the Rockies was obviously dealing with. When you're producing a movie in roughly seven weeks there's little room for error but even less for caring. These flicks came out of Hollywood faster than Taco Bell comes out of my ass. But people kept paying to see all that spectacular shit so why change it up right? And they still do it today, they just call it the Transformers franchise. You know I'd review those movies but a) they're not Westerns and b) I'm not sure where on my 1 to 6 round ratings scale "worse than boiled buckets of diarrhea" would fall.
Heart of the Rockies wasn't as bad as all that but it was, even at under an hour long, a grueling exercise in giving a damn. 2 rounds. It's not good and only occasionally humorous or exciting. But I did see something in it, something I see in so many of the older films I review. Something that always pulls at me in a real sad way. Yes, this movie was awful but that's because I'm judging it by today's standards. And a lot of "today's standards" chomp turd. See, I know back then was different. We we're all still gullible enough to believe the American Spirit could never be sapped. We we're all still willing to stand up for what we believed in and moreover willing to work for it. We weren't numbed by an over-saturation of "entertainment", we were determined to live our own entertaining lives. We saw heroes and wanted to grow up to become them. When you enjoy each day or each movie through wide eyes like that it's easy to look past poor production values to see, and embrace, values of a different sort. It's important to have those, wherever you might find 'em. When you're heading out for life's long ride remember to pack your bags but also your heart.
Ride true amigos.