Tentacle Chris
This user hasn't shared any profile information
Home page: http://www.tentaclechris.com
Posts by Tentacle Chris
0
People go to Sedona, Arizona for many reasons both natural and supernatural. Whether you like rocks for climbing, divination or both, most can agree that at the end of a long day the energy you expend one way or anther will build within you a mighty, mighty hunger. Calories have escaped you in some creative, invigorating manner and as the sun begins to set one of the absolute best places to reclaim a day's worth is at Picazzo's Organic Italian Kitchen.
Located conveniently along the west fork of the area's main drag, Highway 89A, you'll find ample parking, easy access and an amicable staff waiting to serve you with alacrity the minute you arrive. The atmosphere was casually upscale and made me feel welcome even in just a baseball cap and t-shirt. I also had on pants. A tasteful move on my part for a very tasteful restaurant. And taste is what this place is all about. Their menu is full without becoming fussy. It's an Italian joint, pizza and pasta reign supreme, but surprisingly so too does a huge dose of healthiness not often encountered in places with similar fare. My wifey is gluten intolerant. If she sees a gluten she'll walk right up and punch it in the face! Or just eat it! It's a tough and daily struggle but, when given the chance to dine in a completely gluten free environment (save for two pizza crust options), she's always game. Then it goes and tastes amazing? Wifey goes gaga!
We're also both fans of organic and non-GMO options because Monsanto is a bitch. At Picazzo's it's pretty clear their salivary subtext is this: use great ingredients to make great food. A simple idea that's hard to realize while making you believe you're still cramming your face with old world peninsular born comfort foods. My first time visiting I chose to cram a BBQ chicken pizza (minus the onions, plus the spicy chipotle sauce) into my face. And post crammin', boy was my face a very happy face. Crust, toppings, presentation…all grand. The sauce rode flavorful more than fiery but that was fine with me too. Back again the next night and tried the Tuscan Chicken Breast. That was yummy as well. A milder choice than the previous evening sure, but with a bit of a road trip planned the next morning I was aiming for "watertight" and anything too heavy might sink my ship as it were. Mild doesn't mean meager, only different. Then, we managed one more visit before our trip came to an end. It was Saturday night, September the 10th. The sun was setting over Thunder Mountain and the table was set for one last supper with my family. I was glad to spend those moments at Picazzo's. Chicken Parmesan was the go to, a tried and true simple fave. It was chicken, breaded in Parmesan. It, like all the other offerings, was scrumptious. But to focus solely on the food? You might be missing the point.
While the cuisine was on point, it was the overall feeling we got dining at Picazzo's that kept us coming back over and over and over. I would be terribly remiss if I didn't mention that one very overwhelming factor in our frequent attendance at this particular Italian dinner table was one particular server.
His name? Mike. His talent? Making you and yours feel like a million bucks.
This man was equal parts knowledge and humor wrapped up in a sassy classiness that is often attempted but very rarely pulled off in such a adroit fashion. I loved this guy. My mom and dad did too. And my half-Italian wife adored him. Kudos then sir, to you and your staff. You started the week as "guy working our section" and ended as a pal. A title I don't hand out willy-nilly. So thanks man.
And thank you to everybody at Picazzo's for being spectacular. The salutations…the savoriness…the sunsets.
You filled our stomachs folks but more importantly, you filled our hearts.
0
A week ago right now I was getting ready to run another Panel About Nothing. There are many like it but this one is Angie's and mine. We were at the Florida Anime Experience and I for one was excited. I'd done all this before (especially "story time") but something had been on my heart and it was time to take this crazy train up a notch. It was only day one of the con (two if you're counting set up Thursday afternoon and evening) and little did I know but this seemingly standard weekend of Oriental shenanigans would come to affect me more than most. And in some of the most amazing ways.
It was a P.A.N. just like any other until it wasn't. I felt the need to challenge the audience to go beyond the drunken revelry, which I love and wholeheartedly take part in as much as my liver allows and then usually more, but this was a challenge to take the energy of our get together, the good feelings, the "I'm so fired up about this X, Y and/or Z" zeitgeist and use that to actually make a difference. I was done talking, it was time for everyone else to take the mic.
In what I've been told was a somewhat rousing speech given while Lorde's rendition of "Everbody Wants to Rule the World" played as a backdrop, I encouraged anyone who felt the call to stand up and speak out about whatever was on their heart because the current state of affairs all over the globe is so negative I figured there was no better time than right then to hear some stories of bringing light into this world instead of darkness. I asked and damn if I didn't receive:
One young sir shared that his desire had been to start a video podcast so he got off his ass, did it, and is happier every day that he did.
Then a lady spoke about strange twist of fate that saw here being the one responsible for saving a man's life. A man on the other end of a routine phone call during her routine day, two normal daily occurrences for her that this day ended up being part of a miracle.
Then lastly a young man came forward and shared something he had never shared before, with anyone. A story of his father's unexpected death during his youth that led him down a spiraling path of suicidal thoughts that only abated after a distant relative made it his mission to make sure that another life so full of promise would not end prematurely.
The audience and I, we were inspired…then amazed…then shown the very definition of bravery.
Our two hours of fuckery now came with feeling! A positive and hopeful feeling. Maybe everyone there would go home at the end of the weekend and start following their dreams, no matter how impossible. Maybe everyone would go home and live their lives more aware of everyone else living theirs and act more kindly to their fellow humans. Maybe everyone would go home more sensitive to those hurting around them everyday and make it a point to reach out a helping hand. I always wanted more for the P.A.N. and that night just seven days ago showed me that "more" is very, very possible. We would always be a party, but now we had a purpose.
The rest of the weekend, as most cons are, was a blur. Sunday arrived before I knew it (and strangely just before Monday!) My last official onstage duty as host and emcee of the weekend was to run an auction. A very special auction and one close to my heart. Many of you know I raised money last December to buy as many toys as I could for Toys for Tots. I sold off many of my own toys and collectibles to do so and, thanks to the generosity of many fine folks, we raised around $3,500. This year, as I was nearly out of things to sell, I was going to need some help. More valuables and more venues too.
So F.A.E. calls and wants to see if we can double our haul from last year. My first thought was along the lines of "fuck, shit, uh…well…maybe…don't look at me I'm a secret pessimist" but I accepted nonetheless. We had items donated from fans of the P.A.N., Lyn and John Adams gave up some sweet Pirates of the Caribbean statues for the kids, Point of Contact Booking and Talent for Cons both sent me a stash of outstanding autographs and several outright donations poured in all weekend including one from Ron Methvin (a guy I haven't even met!) who, after working another convention with Green Mustard Entertainment a few weeks ago, heard about my fund raising efforts and wanted to give me all his per diem for the cause. Last but certainly not least is the guy who called me one night to talk first about cars and then about compassion. You can say what you want about Tom Croom (and since this is the internet I know you already have) but he made this spearhead possible. He was ballsy enough to suggest a $7000 target for this year's endeavor and I was foolishly wise enough to accept. He gave me the time, the promotion, the stage to stand upon and at the end of the day we took in just over $1600 kicking off our campaign to make sure not one kid round these parts goes without at least a little joy this coming holiday season.
One event and we're almost halfway to last years total and that's with 8 months and at least 4 more auctions to go before all is said and done. I'm usually a real glass is half full, and cracked, and on fire, kind of guy. But I do believe we're going to fill this one right up and then to overflowing.
The Florida Anime Experience was very good to me this year. I was encouraged by so many unique interactions with people all over the place. Some expected, some there would be no way I could have anticipated. All important to me. I was encouraged, above anything else, to never stop using my gift of the gab. Last weekend reminded me the good I could do in this world as long as I didn't stop talking.
Trust me, that will not be a problem.
1
Christmas is done and with it that all pervasive spirit of "not being an asshole" that follows most December holidays around with loving alacrity. But I'm here to tell you folks that it doesn't have to be that way. Not at all, not ever. Together you and I and others from sea to shining sea raised almost $3,358 to buy gifts for Toys for Tots. Then a few late donations came in and got us to just under 3,400! You've seen the pictures and must know the impact you had in hundreds of lives in the weeks leading up to the 25th. Dinosaurs, dolls, puzzles, princesses and pilots, cars and crafts, bots and kid friendly versions of the goddamn Batman. Things to roll, things to ride, things to stack, things to pass, kick and throw. Things to hug and all these things to bring comfort…Angie and I've smiled a lot lately when thinking of all the adventures we've had a hand in encouraging thanks to the mighty charity of so many supporters. Feels good to have put the call out, feels good that the call was heard, embraced and explored more fully than I would have ever cynically expected. The secret to that success is really no secret but it's one that in my age and fear I had simply forgotten.
Generosity.
When you are generous, with your words, your ears, your blood, sweat and tears, when you are unabashedly giving of that which you might usually cling desperately on to, you will discover a peace within and in the world around that is without comparison. Because everyone was picking up so much of my old shit I had to dig deep to find more shit to get rid of lest a bunch of deserving kids end up shit creek without a paddle not covered in shit! I pulled out more and more boxes (from places around my house I'd forgotten about) followed by some big gun items turning my attentions (most hesitantly) towards a few pieces that held immense value both on a monetary scale and once gauged solely in sentiment before I dragged my emotionally bloodied body towards what was truly one of my most prized and desired possessions: my San Diego Comic Con Exclusive Transformers 25th Anniversary Soundwave. He even came with Laserbeak, Buzzaw, Ravage and Ratbat.
Fuck!
Fuck was right. And I was that fuck. If I played with just the toys I still have displayed in my house at the moment, one new toy every day, it would take me months before I'd hold a repeat in my hands. Take in to account everything that isn't displayed and we're talking years. That I would even hesitate to part with a piece that could do so much good by going (and not a damn thing by staying) was the ultimate reminder of the greed that lurks alongside the benevolence in my heart. I wrestled long on this subject. Kept the damn box near me for days as I did so. Thankfully, the more altruistic angels of my nature won the day. And the rest is history. But you don't know all the history just yet, so here's where it gets really historic and more than just a little humbling.
You already saw my "Captain America/hero" post (and if you didn't, c'mon man, keep up…this is important! I mean at least moreso than "What 'Force Awakens' character am I?" quizzes and the like) so you know how I feel about being pedestaled in that way. In part, it was the strength of Angie's belief that lead me to give up (Soundwave) and go beyond (my miserly mentality), ensuring a confirmation that my recent toy drive was meant to be extraordinary.
And driven I was. This year, the last few months in particular, have been a brutal slap upside the head that life is brief. Full of sound and fury and, if Facebook is any indication, signifying nothing. But not this time. This time life, my life, would be more than just pissing off and pontificating. I took one pic, me in Cap's shield with Soundwave ready to go, and wrote out my heart. And I saw my heart return to me. I posted my offer late at night, challenging anyone who read it to step-up (out of true desire) and step-out (of their comfort zone) to change not only the lives of countless children but to challenge themselves into some fantastic personal growth as well. I went to sleep. By the time I woke up one single donor had given $500. At my insistence, one particular robot became his as he'd secured so many others a Christmas they could never have dreamed of. Five hundred bucks from one guy of humble means who you may never personally know and didn't expect anything in return. Just a few hours after "giving up" something I'd held so dear the generosity of another had made it possible for the hopeless to know hope. That day was grand. Another young lady and her husband, who had forgone giving each other presents for the holidays in lieu of finding something worthy to pour into instead, threw another several hundred dollars our way. Person after person after person gave and gave and gave.
One small generous thought had cascaded into a defining moment. And then the next morning came…
We we're on our way to spend the day playing cowboy in Frontierland and were meeting and old friend to deliver the items he'd picked up in our purge. After I'd given him his gifts, he said he had something for me. Something from his own collection he knew I was a fan of and thought I might enjoy. He handed me a package, wrapped with holiday cheer. I knew immediately what it was but wouldn't allow myself to assume. He implored, I opened. And held in my hands something that cemented for me, forever, that giving fully and from the heart is never without reward: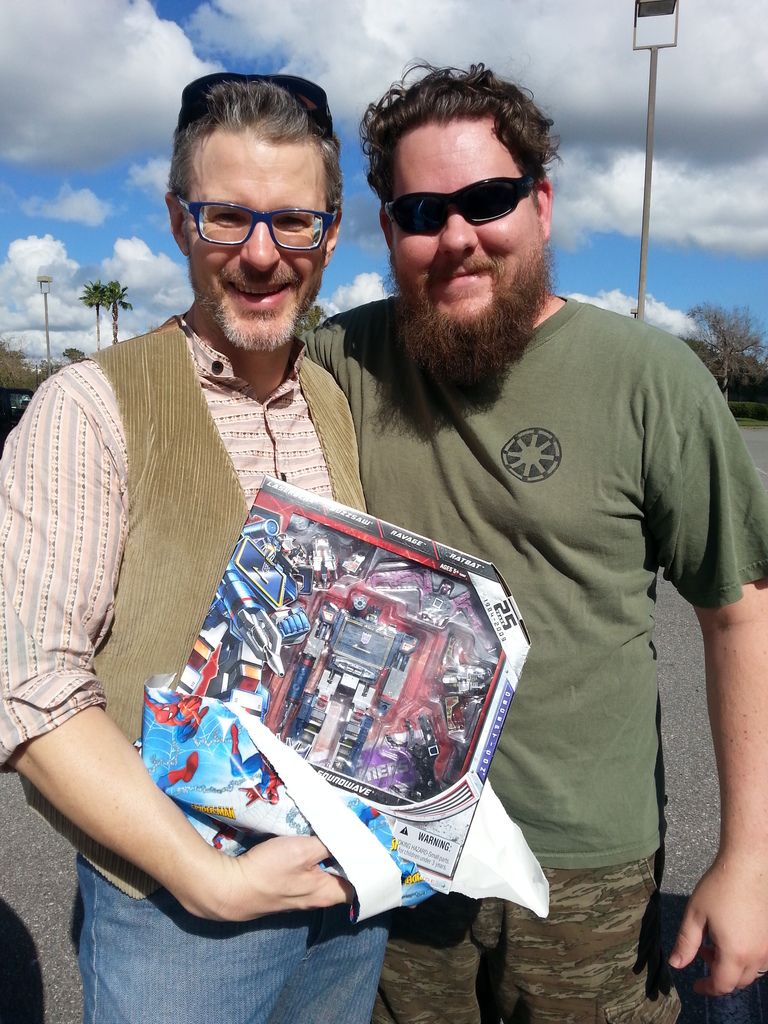 For anyone who doesn't know, that is one of the exact figures I had just given away a little over 24 hours before. I let mine go, no heart strings attached, and was immediately blessed to find it back in my hands. Whatever you believe in, God, the Universe, Buddha riding the flying spaghetti monster around Loch Ness, you'll have to admit, that's fairly fucking coincidental. I don't often adhere to coincidence. No. What I was moved to do had blossomed into so much good for so many people and someone sent me a reminder that this, this right here, was the way to go through life. When we give, freely and without expectation, when we give of our money, our time and our talents…can't you see?
It is always worth it.
I don't say this because I got Soundwave back. That was just a glorious goddamn bonus. No, I say this because when our hearts grow stingy, whether by design or ambivalence, those opportunities for the miraculous to occur vacate the paths we tread. We walk through an average life, filled with average moments all the while longing for the extraordinary. We hold back, clinging to fear of the unknown and grasp at so much for ourselves we never notice everyone else living in this world along side us. We do ourselves and all those others a great disservice. In diminishing ourselves, we diminish the world. This year has reminded me, in a terribly beautiful way, to stop holding back and if you've read all my words thus far I would encourage and challenge you to do the same.
The holidays are over but kindness knows not the date or time of year. Having a generous spirit on Christmas day is expected. Having a generous spirit everyday is exemplary. I'm here to tell you, it will change lives for the better. Yours and countless others.
Here's to this day then. Not because it is particularly special, but because the magic in your heart can make any do so. 
0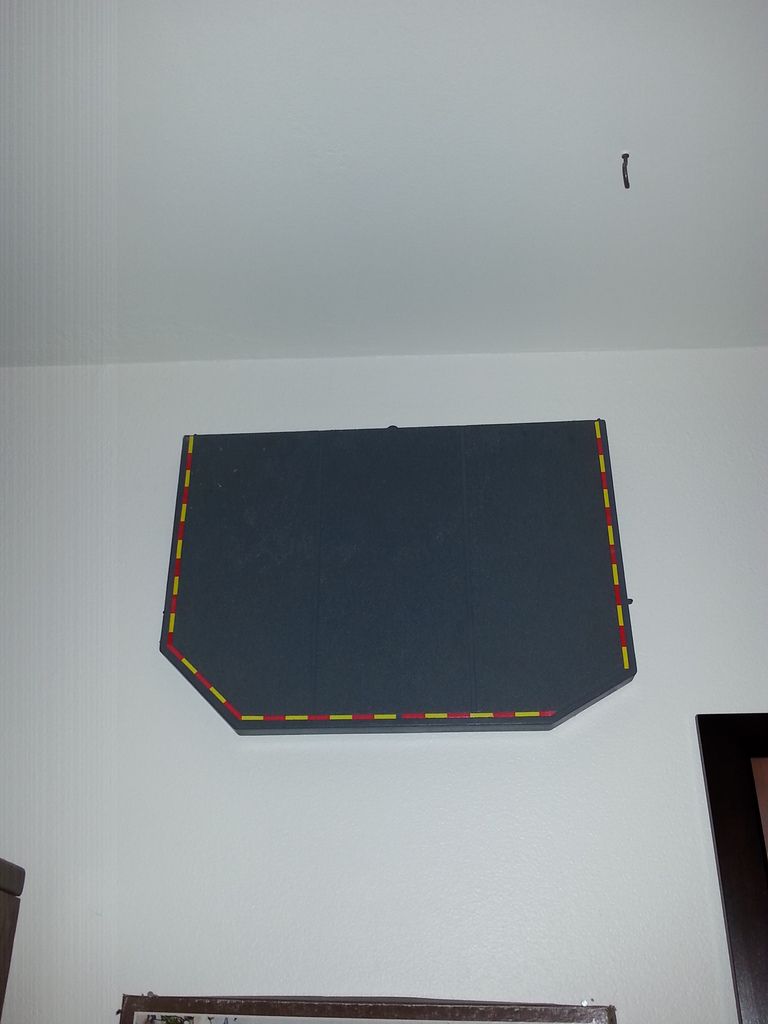 Season's greetings folks! That right there is the elevator deck from the U.S.S. Flagg. In 1985 she first shipped out across millions of collective imaginations and, if you were lucky enough, your living room as well. That piece is all I have left of mine but it's better to love and lose than to never love at all I do believe. I'm glad to have sailed with her on many occasions and although the rest is long gone I can never lose the memories of the adventures we had nor that initial feeling in my heart when I first saw one enormous red present placed beside our Christmas tree. "Beside" because the Flagg was huge, six feet in length, with packaging to match. That moment forever looms large in my child's mind and often brings a smile to my face even to this day. The memory of receiving and enjoying a beloved toy has magic in it. A special and lasting magic.
I love toys and if you're on my friends list chances are you do too. That said, there are a lot of kids (actual kids, not 12-year-old 40-year-olds like many of us) but real damn kids having some bad damn days and, with the promise of presents right around the corner, this time of year can seem extra damn rough for those who don't have multiple repaints or re-issues of the same toy to wallow in, on or about with abandon. 
So what do I have planned to help change that?
Well, I've gone through my own collection handpicking a great many toys that I'm glad to part with. Starting tomorrow and running through December 12th there'll be a pic up on my page everyday with 12 curios for you to peruse. If you see something you want for your own collection, or someone else's, just PM me. Offer a fair price and the toy is yours. Once a toy disappears a new toy will take its place and a new pic will be posted keeping an even dozen gifts up for grabs throughout the run. Simple Santa right there. The good news is that something nifty I don't need gets to go on to a new life in another loving collector's home. The better news is that loving collectors will be procuring some really nifty stuff. The best news?
All the money that's raised from this event will be in hand when Angie and I go shopping for toys, toys, toys, buying as much as we can for a happy huge donation to Toys-for-Tots!
My house becoming more minimal and your collection growing more complete feels pretty good. A whole mess of children that will get to open a present, maybe for the first time ever? Well that feeling is indescribable. Knowing that, minimum bid on everything is $10. You low-ball me, that's a dick move. You low-ball this gift for a child, that's a huge holiday dick move covered in slimy Santa sap! All the items are small-ish and/or light ergo the winner will cover shipping too unless you're local and we can arrange a pick-up/drop-off to save you a few bucks and me a trip to the post office. Minimal effort on all fronts, maximum smiles on several young faces.
It's easy for us to take for granted how much we all really do have. If this is in your budget and in your heart please consider grabbing one of these memorable treasures of mine.
In doing so you'll be giving some children the chance to play, making memories of their own as they do.
2
Hear ye, hear ye! As in everyone else yells here on blogs and The Book so it's time I tossed my kepi just some hat into the ring! A dear friend of mine, you might call her a "close female friend" or even "a naughty lover" or "my wife" perhaps, has pontificated with a post both sarcastic and solemn in that since we're all jumped up on the banning wagon in the name of ending hate, racism and maltreatment of other human beings that mayhaps, despite a flag coming down in South Carolina (and Disney) along with the removal of the bigoted benchmark that is The Dukes of Hazzard, we as a society have not, dare we dare say it, gone far enough!
These things were stricken from history as of late, tossed unforgivingly into the black hole of current public outrage, because they were seen to idolize and celebrate a treasonously dark and terrible time in our past. A time when some of us (not me, I was born in Ohio!) saw fit to use our numerical and technological advances to squash an entire race of people in the hopes our tight fisted trampling would further our own dreams at the cost of those trampled. "Step in line" was the word of the day and any deviation brought swift punishment, even unto death. The South, and by default all Southerners (including transplants from Ohio that may or may not have a battle flag pillow and/or belt buckle in their possession) are absolute pieces of shit bent only on keeping "the man" down. No, no…this can not be argued!
And it presents to us all a unique and upsetting challenge.
Which I will get to, monumentally, in short order. But! Being a man of humble of heart I realize that even though I am overly blessed in the realms of intellect, event hosting ability and physical fitness, the grasping of such a delicate and time trodden affair might indeed escape me so I turn briefly now to look for guidance from a great man, a hero to one and (most) all, whose thoughts on the subject will surely elucidate these issues with a kind clarity
Abraham Lincoln.
He may have said it best when he uttered "I have no purpose to introduce political and social equality between the white and black races. There is physical difference between the two which, in my judgment, will probably forever forbid their living together upon the footing of perfect equality, and inasmuch as it becomes a necessity that there must be a difference, I, as well as Judge Douglas, am in favor of the race to which I belong having the superior position."
And who could forget those equitable, progressive and healing words "As long as blacks continue to live with the whites they constitute a threat to the national life. Family life may also collapse and the increase of mixed breed bastards may some day challenge the supremacy of the white man."
I can't be too sure what all this means as I'm a modern, college educated man after all and thus at odds with the delicacies of discernment however, the one thing I can gather, the one aforementioned monumental conclusion that I in my limited faculties can arrive at, is this:
Disney must close.
This may seem ludicrous, reactionary, even sofa king 2 pid, but when you consider the righteous groundswell that has brought such radically overdue reformation to the backs of pick-up trucks and T.V. Land's evening schedule these past few weeks it become stupendously unarguable and not as 2 pid as you might have at first thought.
The Confederate Battle flag and all its ilk are now effectively outlawed as our country takes a stand against inequity. Lifetimes of hurt feelings hand in hand with a whole bunch of "I'm really mad right now because social media sure is" are walking towards a bright new tomorrowland. A tomorrowland that ironically should not include the House of Mouse. Just look at their "Tomorrow Land" for example.
Besides being Brad Bird's weakest offering to date, the actual place offers nothing but a white-and-chrome-washed version of the future. Remember how fun the worlds of Elysium and Battle Angel Alita were for the common man kids? Then let's go and have that Wall Street wet dream of a utopia shoved down our throats like some kind of Stanley Kubrick's 2001 (percent am I right?) The whole right side of both flagship parks flaunts a lifestyle that none of us will ever be able to afford. And that's after we walked down mainstreet.
"Mainstreet U.S.A." Does it get any more exclusionary? A lot of minorities live in or near cities. Not in the suburbs and never on any Main Street. So hurry, get the hell out of there. Quick! To Fantasyland! A entire world populated by…fairies? But, that's a pejorative in some circles. Even their leader Tinkerbell has had her good name tossed about as an insult in the past so here, now, at the happiest place on Earth we're reminded that this glossy, kid-funded empire featuring finely flitting fun-loving friends is just a cover so that secret slandering can occur daily, and right in your face! Off to Adventureland I supposeeaaaoooSHIT!
Another prime example, forced down our throats, of white European privilege. Look at that "Swiss Family Robinson" house built all up in those trees. Sure Disney, remind me again how easy it was (and still is!) for White America to insert themselves into and subjugate "the jungle". No nudging or winking needed here you crass, corporate curs. We all know exactly what you're saying with this kind of display. Moving on then I suppose, to the biggest offender of them all.
Frontierland.
Fun fact: Thunder Mountain is built on an Indian burial ground. Well not really but seeing as this country was ripped from the hands of those folks who already lived here when we whites, blacks and every other color but red showed up hundreds of years ago it sort of is. Nope, living together, sharing the resources, that wouldn't be good enough for the founding fathers. Time to manifest some motherfucking destiny and decimate and entire culture along the way. All this took place under Spanish, British and yes, American flags but strangely no one is calling for a ban on those. You could fill Splash Mountain ten times over and the Rivers of America while you're at it with all the tears shed from the Native lives, the Native families, the Native generations shredded in the name of our collective bright new day. Frontierland  is a giant playground celebrating a time when our journey was beginning just as so many others were coming to an end. Under the heels of our boots.
My tongue has been nestled in my cheek for much of this Disney diatribe and while you could make several humorous cases that the parks point out what you can't financially attain tomorrow or today while questioning your sexual proclivities and asserting Anglo-Saxon dominance, the woeful reality of that there Wild West wonderland is striking in just how hard it's overlooked. Folks will bitch up the biggest bitchstorm in recent memory to the point that some executive somewhere preemptively pulls a harmless old series off the air in the fiery name of fairness. But I'll bet those same folks couldn't tell you one goddamn thing about Geronimo. And they would stand there on property waiting for the afternoon parade gleefully washing their ignorance down with a side of pulled pork.
We are so absolutely vitriolic about 1865 but completely untroubled by 1885.
If we're banning shit, let's ban all of it no?
Tentacle Chris's RSS Feed