Archive for
December, 2012
0
Pharaoh's Army was good. Real solid. Just don't let Kris Kristofferson fool you, he's in it as much as good acting is in a Twilight movie. Which is not much. He's intriguing and mysterious sure but so are most people at the grocery store you spy in passing as they move in and right back out of you life. Who are they? What's their name? Would they blow me behind the organinc bananas in the produce section? All relevant questions two of which I asked myself in relation to 'Tofferson's brief appearance. Which was eerily aloof but as there were no bananas around I will move on just as the story did.
Yeah I know! A story? I haven't seen one of those in weeks! Save for the expulsion of El Guapo of course but damn I was in a desert devoid of solid story telling before that for what felt like forever. So parched for a drink of passable dialogue, believable characters or development of the same that I was very near to Waterworld-ing my own emotional urine just to find the strength to take another stab at a random Western.
But that's what this trip is about: shots in the dark. Random, dangerous and exhilerating. You miss a lot but when you do hit, damn, it feels good. All of this and I stay true to my original intent and to you the reader. A movie a week for who knows how long. Now I should say an average of one a week actually as sometimes once a week just ain't enough. Sex, drinking, gaming, running and Westerns…never just once a week. So, I'll review one per week but I may watch more just to keep the stable growing and strong. And everyone I do watch, to completion all (see sex/drinking/gaming/running above), I will at some point shortly thereafter put cyber pen to cyber paper and get my rattling thoughts a bangin' about the page. Pals, we're on the trail, and sometimes off it, but we'll see this through to the end whenever that may be. Till then, back to Pharaoh's Army.
I don't even know why it's called that. And I don't want to know. But know this: this movie, set against the backdrop of the caucaphonous and all consuming American Civil War is conversely quiet and set on such a scale that you almost feel you're watching a staged play at your local community theater except that it's enjoyable and everyone can actually act. Huge performances from everyone and hugely personal. The tagline "A very private Civil War" is pretty much perfect in describing what you 'll spend not too long at all taking in over a 90 minute run time. Shit, Disney's Up was 96 and all it managed to do with its 6 extra minutes was piss me off more than the previous hour and a half had already done. Yeah Up sucked for being emotionally destructive without, despite it's misleading title, enough uplifiting moments to balance all that shit out so what I'm saying is Kris Kristofferson really isn't in Pharaoh's Army but that's okay becuase it's still great and there are no dead inside old people or fat Asian kids to ruin it for you!
But guess who is in it? Richard Tyson from Three O'Clock High! Remember him? He played big baddie Buddy Revell who was intent on beating the crap out of Casey Siemaszko who was Charlie in Young Guns which is also a Western! That's Crazy (Horse)!Also in it is Chris Cooper and he's just amazing. Just look at him in this tiny picture!

Chris Cooper is the guy. I don't know the horse's name. I'll just call him "Mr. Carrots" and move on. Back to Mr. Cooper who, astride Mr. Carrots or not, was outstanding. As the Union officer in charge of a small scouting party he is equal parts intensity and serenity as his command is strained once he and his come upon a Southern woman and her son's small isolated abode deep in the Kentucky woods near Meshacks' Creek. He, along with his foil Patricia Clarkson, is approachable and even vulnerable torn inside by the situation at hand while still managing to remain believable at all times. The whole movie does in fact. What could have easily turned into one Hallmark moment after the next doesn't and we aren't fed the easy resolutions that many movies in the presented predicaments might have doled out for the mundane masses to ingest. None of Pharaoh's Army is really easy to swallow. But that's what makes it so tasty.
Some reviewer on Amazon.com had this to say: "This film illustrates some of these issues in a very meaningful way." I would agree and I don't even know what he's talking about. Learn to write random reviewer from Amazon! Learn or Kris Kristofferson will not show up very long in one of your favorite movies at some point in the near future! Anywho, I'll give four in the chamber to Pharaoh's Army. I still don't know what that title means but I know that I liked it. And I'll leave you with this. It's some foreign movie poster.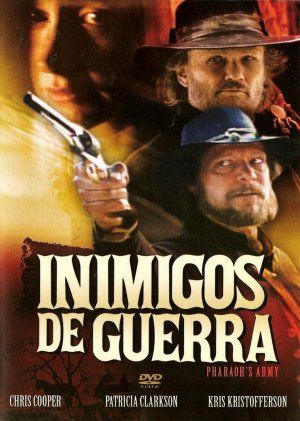 What the Hell man? Kristofferson is still there! And not Mr. Carrots? That's a damn shame. And that's what you'll be left feeling come the end of this flick. It's easy to mention in passing how rough "brother fighting against brother" must have been but it's another thing to take in a really damn well done portrayal of one small scene that must have been repeated time and time again across those four horrible years. What a damn shame that amigos would become inimigos, that friends would turn into enemies. It happens all the time. Still not any easier to watch but worth doing so at least in this case.
Come on Mr. Carrots, let's go have some whiskey.