Archive for
May, 2013
1

I want to tell you why I really like Rango but I know I can't. I probably shouldn't like it due to many of Johnny Depp's liberal leanings and yep, I know, "he's just an actor" or "that chameleon isn't him" but I've always had a hard time separating a real person from the fake one they're playing. I'm Tentacle Chris on stage and pretty much him off it as well. I wouldn't expect you to laugh at my jokes or be amused by my stories or enraptured by my deep well of talent if you and I disagreed on some personal level. I'm weird like that I suppose in this feel good let's rub each other's dicks even though your punching me with the other hand kinda world we all live in these days.
People think I'm angry, dark and that I hate everyone. What I hate is the pussy in them. And I hate the pussy in me too. The pussy that sells out in the name of money or multitudes of meaningless friends. Look in the mirror long and hard and live just as that person staring back at you truly would and you'll shock more than you'll snuggle in this life.
But most of us are afraid to really look. To really challenge ourselves. To really go beyond the billions just barely breathing day in and day out and hol-eee shit Chris I didn't come here to think about such grand and meaningful things.
I thought the same thing the first time I saw Rango.
It was subtle. I see more each time I re-watch it and I see more questions popping up each time too. But that doesn't upset me. How could it? I mean look at this guy. 
That's our hero before all hell breaks loose. Master of all he surveys! But that's the catch. His field of vision is colossally limited. It takes one life shattering event (literally) to put him on the path to widening that view. Gone is the plastic cocktail sword and the safety it represents replaced by a six shooter, some new found pride and a fascination with the unknown. An unknown that is good and bad and all other sorts of things he makes of it.
With a little help from some friends along the way of course. Like this owl mariachi band. Adorable!
Or old Sergeant TurlLLLRrrLLLllGGGRRRrrggGBBBLLEaaghhckkk!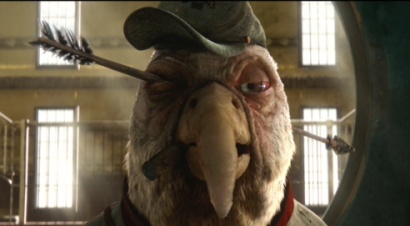 Mmm, sorry about that. But look at this guy's face! Yes that is an arrow going through his right eye, yes the other ostensibly good eye has conjunctivitis and yes it almost makes you puke when you see him on screen. Every time! Stare into that face long enough and it's easy to see why Rango took home the Oscar for Best Animated Film. Kung Fu Panda's compadres just can't hold a candle to the likes of Sergeant Turley, a (director Gore Verbinski voiced) wild turkey who apparently fought for the South during the War Between the States. And he's just one of dozens and dozens of unique critters (including a cat I swear is the High Plains Drifter!) to take in on screen alongside what may be one of Rango's most mesmerizing offerings: that goddamn beautiful desert scenery. 
Slap my sandworm and call me Sally I just love the desert. The panoramas you'll experience in this film will have you feeling as if Ford and Leone must be smiling down with approval from those fluffy clouds. Then combine all of those views, with all the varmints and somehow you get one very sincere love letter to the Old West. This thing is choc full of tipped hats and raised glasses to everything from El Topo to Once Upon a Time in the West.
(We will pause briefly here in case you need to go masturbate due to the greatest fucking Western of all fucking time and the almost certain fact that you became savagely engorged at the mere mention of it's title)
Annnd…we're relieved and back! This movie is really good my friends yet my authentic thoughts and didactic dick jokes are still no closer to knowing why, or conferring to you how, this movie touches me so. I can tell you it's not a kid's movie. Not like Caligula isn't a kid's movie but still not a kid's movie. So it's like Caligula but with less fisting. Here's Gore from an old interview with another way of saying it:
"We're all sitting here talking about family entertainment. Does animation have to be family entertainment? I think at that cost (of a professional, feature length CGI film), yes. There's the bull's-eye you have to hit, but when you miss it by a little bit and you do something interesting, the bull's-eye is going to move. Audiences want something new; they just can't articulate what."
Rango is not what you'll expect it to be. Good. Westerns, more than any other genre perhaps, rarely are. I think because of their innate wildness much of what you come across is unexpected and unnerving. Days gone by are days forgotten and when that's thrown in your face you're dumbstruck.
Or better yet: awestruck.
I was the latter because, even though I didn't have all the answers at that moment, I started asking myself some awful big questions. I wasn't arrested, I was amazed. This little cartoon with a great big soul reached out a shook something in my lizard brain. Rango isn't a bad-ass. You know what? Neither am I. He, by nature, pretended to be something other than he was just to make life bearable. But come the end of it all and for the first time in all his years, in a place he never expected to be, he was truly living.
The time you're gonna spend here…do you want an adventure or just a destination? If you're just waiting to stop then go ahead, do it, and save yourself the effort. Skip Rango too. It'll be pretty to look at but you'll miss the point. That damn narrow view has got you good. And until you get shook up it always will.
What Rango has from me is 6 rounds in the cylinder. Yep, it's that good and I still can't tell you why. You'll have to be brave one of these days and just see for yourself. I could be reading too much into some silly little movie but I don't think so. I saw this right when I needed to. My prayer is that you'll do the same.
Till then, ride true amigos.