Archive for
November, 2013
1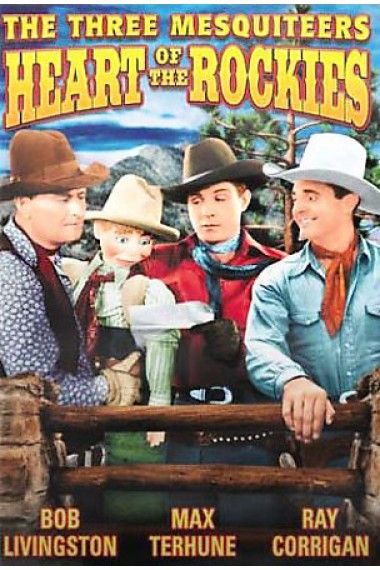 How many nights have I lain awake wondering what it would feel like to have my balls, a handful of thumbtacks and some lemon juice gargled in a goat's mouth? I'm still not exactly sure but I can tell you it would come off as a better way to spend the evening than watching Heart of the Rockies. Part of Republic Pictures' "Three Mesquiteers" catalog I stumbled upon this film as one might stumble into a ravine filled with shit. They made fifty-one of these movies from 1936 to 1943 which works out to one every too goddamn much! This is the same studio that was putting out Rocky Lane's serials but the shoot 'em and show 'em turnaround magic seems to have been altogether lost on this series. There was some innovation here with a moderately intricate plotline and that guy with the ventriloquist's dummy but the former felt rushed while the latter deftly avoids child engaging entertainment and goes straight for the fuck you ever sleeping again. Seriously, if you want to know the last thing you'll see before you're sodomized, strangled and left for dead in a ditch this is it! 

It was moments of whack ass whimsy like actor Max Terhune there and his buddy Elmer (who rode along with him for most of his movies and all of the murders!) mixed in with a sex abuse sub-plot and several savory helpings of righteous disrespect towards law enforcement that firmly plants Heart of the Rockies in the "whaaaaaaa?" category of films. One minute you're laughing because of some slapstick and the next you're laughing even harder as a child is beaten.
But it might have been these outlandish scenarios that drew in such big crowds and draw they did. "Mesquiteer" films were amazingly popular and in my opinion suffered from that unadulterated attention. Mixing traditional with anachronistic images and themes seemed to be a sad sidebar of a we-can-do-no-wrong movie mindset. Like what in the fuck was this? 
A tranvestite Zorro/Shazam mashup is probably the only plausible explanation. This guy wasn't in Heart of the Rockies but this furry fella almost certainly was. 
Heart of the Rockies featured a bear used against his bear-will for nefarious bear related purposes. At one point said bear gets to turn the tables on his captors but since CGI wasn't invented yet a man in a bear suit would need to be used for any hot claw-your-face-off bear on human actor scenes. But bear suits are expensive and not a great investment when one of the actors you already have employed moonlights as a gorilla in tons of films and probably keeps his gorilla suit on him at all times. Ray "Crash" Corrigan (Tucson Smith in the first twenty four Mesquiteer films!) was just that monkey man and so when the time came for a large furry animal to attack a dude during a quick cutaway shot it made total sense to forego any semblance of accuracy in lieu of something that looked (and moved) like a late in life Marlon Brando with discount carpet stapled to his body. And that bearilla thing wasn't the most obviously terrible animal stand-in from the entire film either!
Earlier on, a mountain lion threatens a young boy trapped on a mountainside. Thanks to the Mesquiteers that poor pussy meets an ignominious end with a fabulous cliff dive down into a canyon but not before he dramatically tags the edge of a random ledge. I say "tag" but it's more like a subtle collision so imagine a wet bag of concrete being tossed down a ravine after it's wrapped in fake fur and you've pretty much got it because I'm sure that's exactly what they did to get the shot. And while you only see it for a brief moment and no pictures exist of the actual prop I will bet you it looked remarkably like this: 
For some reason I imagine that if abomination could talk it would sound like Fran Drescher. Anyway, that bear and this cat shouldn't even exist outside of a Clive Barker novel but really they're just symptoms of a much larger problem that Heart of the Rockies was obviously dealing with. When you're producing a movie in roughly seven weeks there's little room for error but even less for caring. These flicks came out of Hollywood faster than Taco Bell comes out of my ass. But people kept paying to see all that spectacular shit so why change it up right? And they still do it today, they just call it the Transformers franchise. You know I'd review those movies but a) they're not Westerns and b) I'm not sure where on my 1 to 6 round ratings scale "worse than boiled buckets of diarrhea" would fall.
Heart of the Rockies wasn't as bad as all that but it was, even at under an hour long, a grueling exercise in giving a damn. 2 rounds. It's not good and only occasionally humorous or exciting. But I did see something in it, something I see in so many of the older films I review. Something that always pulls at me in a real sad way. Yes, this movie was awful but that's because I'm judging it by today's standards. And a lot of "today's standards" chomp turd. See, I know back then was different. We we're all still gullible enough to believe the American Spirit could never be sapped. We we're all still willing to stand up for what we believed in and moreover willing to work for it. We weren't numbed by an over-saturation of "entertainment", we were determined to live our own entertaining lives. We saw heroes and wanted to grow up to become them. When you enjoy each day or each movie through wide eyes like that it's easy to look past poor production values to see, and embrace, values of a different sort. It's important to have those, wherever you might find 'em. When you're heading out for life's long ride remember to pack your bags but also your heart.
Ride true amigos.