Archive for
February, 2014
0
"Brother" is a strange powerful word. Whether related by genetics or something else, if you have a brother you've got either your best friend in the world at your side, or your worst enemy. Many times both. Most people in this world would fuck you over for a French fry then stick their saltly fingers in the wounds and family, extended or otherwise, is always closest to your plate. Ubisoft capitalized on this fact with it's Call of Juarez prequel Bound in Blood riding that creeping paranoia all the way from Georgia to Arizona into Mexico and back again. It's an old fashioned shooter filled out with a few open world style flirtations that makes for fun evenings when you might not feel like jumping into Red Dead spending hours hunting down and repeatedly killing some teenage shitbag who thought it would be funny to snipe you as soon as you spawned into the damn game.
That's never funny.
But hounding you till you quit, your face covered in tears and Cheetos dust? That's fucking funny.
Bound in Blood has a multplayer mode as well but I have not yet tried it. I can only assume there will be shitbags to gently educate. And speaking of that school of hard knocks, meet Thomas and Ray. With a choice between them as playable characters on most levels you'll have two very distinct ways to get your learnin' done.
Thomas looks like a slightly stoned Christian Bale and Ray looks like a man who's currently holding in an entire life's worth of farts. Thomas and Ray are brothers. The McCall brothers to be exact. In case you forget, they will both remind you almost constantly of their relationship. It must have looked good on paper but hearing "A little help here brother" and "nice shot brother" or "brother, brother cactus brother brooooother" gets old (brother) and fast. If Hulk Hogan had shown up with a writing credit at the end I would not have been shocked. There's even a third McCall brother, William, who narrates most of the story as he's not much use for anything else. At least he doesn't say "brother" every other word like his older kin. And all the duplicative dialogue, annoying as it is, can be easily overlooked once all big brass balls start rolling.
And they're rolling from the start, rolling all around the trenches of a Southern standoff set during the Civil War. Lots of heroism (by you) followed almost immediately by cowardice (not by you…by some fuck!) Your commanding officer didn't hold to the promises he made you so you go AWOL off defending your nearby homestead comitting in his mind an act that will see him hound you the rest of the game. Ever had an agreement with someone only to have them renege and then think you're the asshole? Hey asshole you're the asshole, asshole! Undertand? I do. As I think you, my faithful readers, do also. I know you'll understand the McCall's pain.
And pain it is, the proverbial thorn in one's side as the boys are just lookin' to move past the war seeing as in a hundred and fifty years it'll be forgotten anyway that many fine folks died on both sides of the Mason-Dixon to insure that everyone would be free to work towards the American Dream instead of sitting around collecting welfare. For an institution that was supposedly abolished centuries ago there sure seem to be a lot of slaves around these days to those healthy government handouts. So again, I understand the idea of just saying "fuck it" and heading off with the focus being on taking care of you and yours. The McCalls headed west to do just that and along the way stumbled onto the path of a legendary fortune.
But remember you can't spell "fortune" without an "aw goddamit what the fuck Thomas, Ray and/or William I mean SHIT(!) Indians and that asshole Colonel from the last paragraph and some Mexican chick with a nice ass but no character development then more fucking Indians (!?) and explosions and horsies plus 3,211,420 uses of the word brother, wow I should be so lucky!"
And that's the game. I mean it gets a little more involved but that's pretty much it. Yet, since getting there is half the fun I will expand my exposition a bit for your sake. So you can pick Thomas or Ray depending on how you want to get after the revenge having and gold finding. You could loosely label them as long distance (Thomas) or up close and personal (Ray). Thomas can use a lasso and a bow while Ray has a dual wield option and gets to throw dynamite but other than those differences, and the cosmetic ones, nothing seems sets the brothers apart gameplay wise in my experience. I rarely used the dynamite (surprising and you can play any Gears of War with me to find out why) and fired the bow even less. I defaulted to Thomas most of the time just 'cause I thought Ray was a dick and not in that glance down at the dude next to you in the stall and say "nice job there fella" appealing kind of way but more in that "why are you looking at my dick" off-putting kind of way.
The choice is yours though and like I said do not seem to effect anything other than a couple of in-level route deviations that are forgettably minimal. Whoever you choose you'll still get to duel with bosses:
And ride all over the comfortably expansive-for-a-shooter landscapes:
Plus, you'll get to stare at this ass!
One might I add that, no matter if it's through Thomas' or Ray's eyes, will still appear awkwardly animated to the point you're thinking they might have gotten a tantalizingly passable tranny to mo-cap that intriguing sashay because, while not quite feminine, you are still getting an erection. And if being attracted to chicks maybe with dicks isn't enough for you, feast your eyes upon the inexplicable appearance of multiple Wes Studis!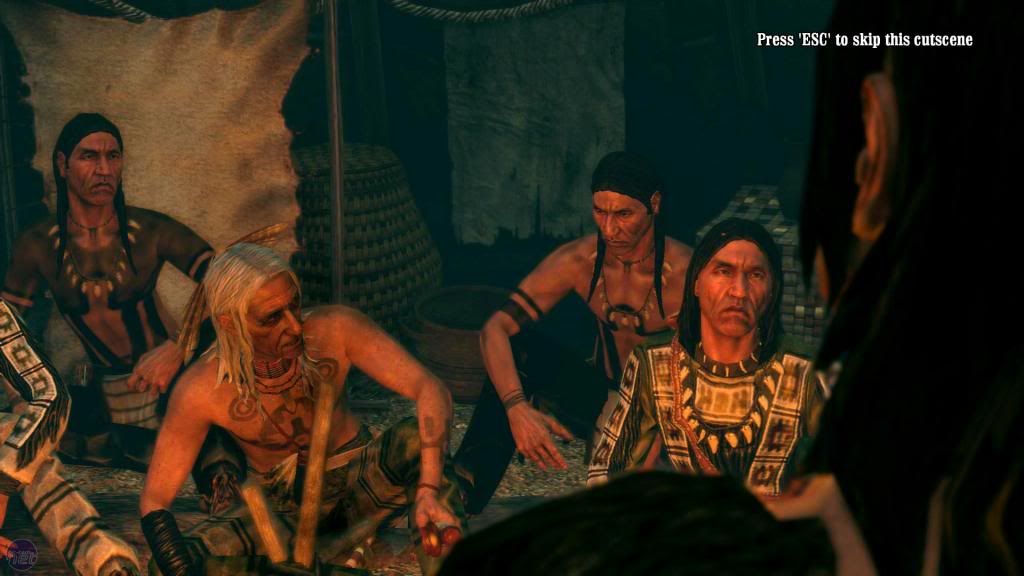 I tried to track down any information that Wes was involved with this game but found nada. That's totally him though right? Totally three of him in the same scene it looks like to me and it looks like us white devils weren't content with just taking all those poor bastards land so now we've started stealing faces too. It's like America stood next to the Indian Nations at a urinal and it was all "nice job there fella" but then they went ahead, reached out and took that dick for themselves becoming an ever bigger dick in the process of befouling both original dicks.
History is terrible sometimes and full of dicks always.
Always something out there to learn right amigos? I wouldn't say that Call of Juarez: Bound in Blood is the preeminent text on the Reconstruction Era in these United States but, albeit not without flaws, it's not a bad game either. I'll load 3 rounds into the cylinder for this one but realize I picked it up on sale around Christmas. For $12 to $15 you'll feel you got a fair shake, even a bit more than that and you'll feel shorted. If I'd paid full launch retail for Bound in Blood I would not be happy with the expenditure and would have given this title a 2 or worse depending on how drunk I was. The story is alright but the dialogue is pretty bottom of the barrel and the voice acting at times can make your taint cringe. The finale and denouement are wholly gratifying but a shiny button looks out of place when the rest of the garment is moth-worn. Gunslinger gives me hope that developer Techland is headed in the right direction with the Juarez franchise so there's that but I'd go back and play 'Slinger or Rango or GUN again before I'd be likely to pour too much additional time into this one. Good and sturdy but not great, the Western genre deserves more effort than Bound in Blood is willing to offer.
So now it's time to ride on and do it the only way I know how: true amigos, true.