Archive for
March, 2014
1
With the stink of last week's Gang of Roses 2 still hanging in the air like a ghost's asshole I needed to remove myself, and my next review, as far as possible from that stench. Really far. Like back to 1903 far. Back to one of the earliest remaining examples of a motion picture in all of motion picture history. It cost $150 to make, only lasts about eleven minutes and is completely silent. It is The Great Train Robbery and it is greatly enjoyable.
The wilds of New Jersey stood in for some nondescript western location in this film but because all the bad guys, and every one of the posse that would eventually hunt them down, wore cowboy hats our minds tell us this action must take place far from the civilized Eastern seaboard. There's also tons of gunplay which of course happens out on the unruly Western frontier. So the stage is set and set to be robbed. It's not really a spoiler if it's in the title and I for one wish that kind of honesty still pervaded the cinema today. But I reckon "White Man's Guilt Will Win Us An Oscar" just doesn't sound as artsy as "12 Years a Slave." I know I'm horrible but I'm also fairly sure no slaves read this blog so no one's going to be offended anyway. Not as offended as this guy at least.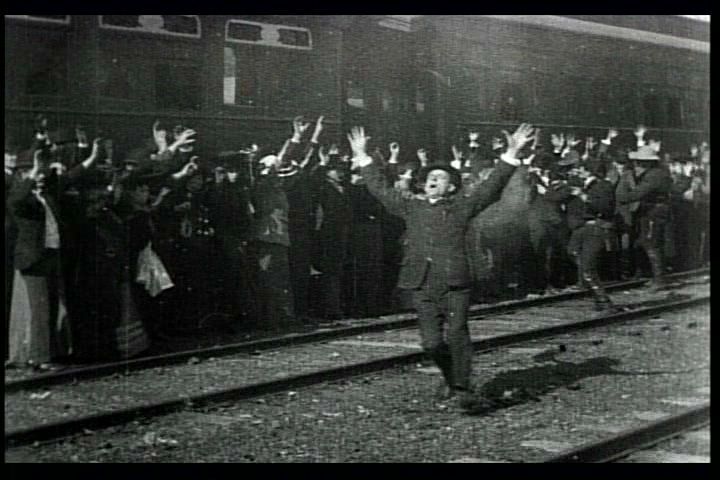 He was going to prove he could run faster than a bullet but it's at this exact moment he realized he could not. He was actually shot for trying to start the "Y.M.C.A." or for being a pussy. You choose, based on whatever helps you sleep better at night. Seriously, the bandits were just robbing the passengers up until Johnny Sprintstoslow ran off and got killed just to move the narrative forward. And move it did! Not a word, not a sound from this film and yet I was engrossed from start to finish. Because I cared. Most movies today can't seem to reach that kind of emotional attachment relying instead upon slick graphics, product placement and A-list a-holes to put butts in seats. A plot? Who needs it when a robot that can turn into a truck decides it's a cool idea to ride a dinosaur instead. And what's character development compared to hundreds of nameless Jedi on the screen at once? Even though The Great Train Robbery doesn't put any names to the faces or leave us with any terribly fleshed out folks you are still rewarded for investing in this sawed-off cinema classic.
You'll be concerned when the lonely train station telegraph operator dude gets beat down and tied up! You'll possibly be more concerned when whatever the hell this is comes through the door to save him: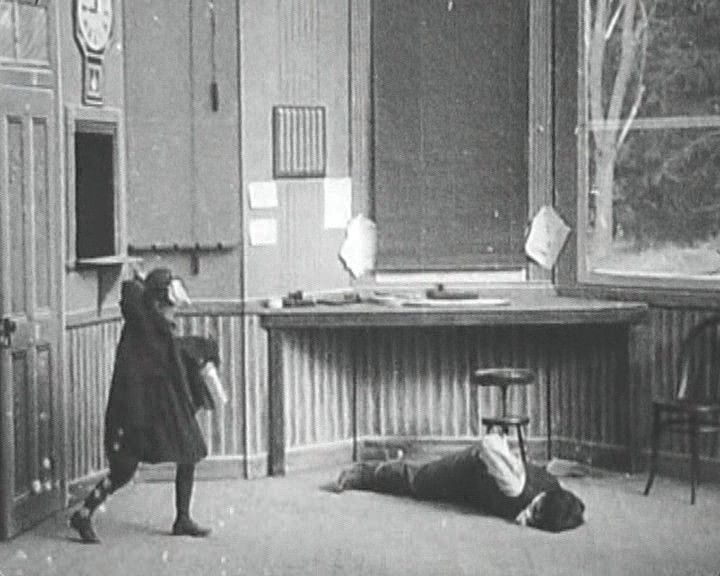 It's supposedly his daughter but fuck that. She moves with all the grace of a Nosferatu and carries a huge knife for some reason. I suppose it was a different time and you'd send your kid to school dressed like a garbage bag bogeyman while brandishing butcher level cutlery but it still wigged me out a bit. Still the point remains, I was right there in the room with that guy and his demon child thinking "oh the bastards that did this are gonna pay!" And as soon as his one day serial killer of a kid cut him free he was off to rally the troops. Who were having a hoedown.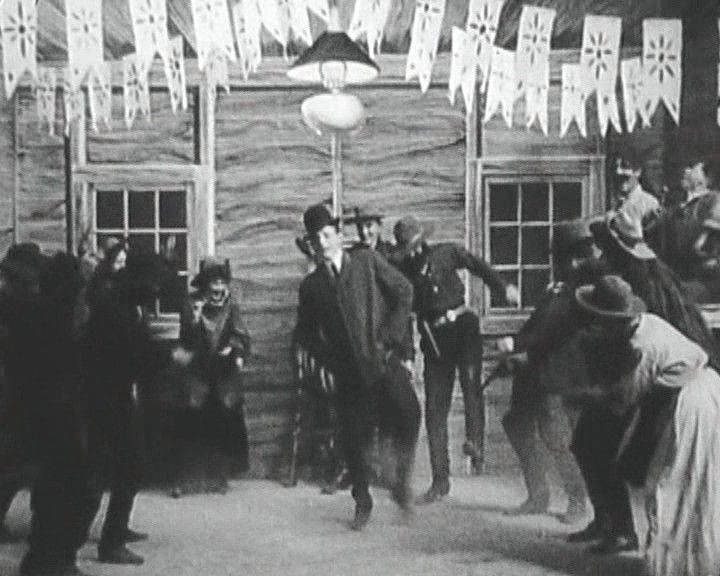 Look at this poor prick dancing a lively jig as several assholes do that old shoot-at-the-guy's-feet-to-make-him-dance thing probably for the first time actually. And those assholes all chase him off and laugh at him and then dance with some ladies. Then that train employee guy shows up and he's all like "Jesus Christ my kid is probably going to grow up to be a serial killer" and also "shit man, the train's been robbed!" And then you realize all those dancing assholes are going to go track down the bad guys because those assholes are the good guys! Nothing one dimensional here, no sirree. The filmmakers could have just shown us the bandits jumping the train and then some marshals making things right. Instead we learn that the posse members are men of action and dancing assholes! They're also pretty good shots or rather they just shoot the shit out of everything till all the dicks are dead. Stay with me now, don't go getting your dicks and assholes confused! We did that the last two elections and fucked ourselves so hard as a country we'll be tasting shit, semen and socialism for years to come.
Folks stood up back in the day, for right or for wrong, but they stood up and did what they felt they had to do to make it in this world. A few generations later and it seems most have evolved past the need for a spine, content to slither about, heads down and hearts empty.
When life's parceled out to you that's no life at all.
Not that a life of crime is to be admired per se but I'd rather regret a few things I've done during my life than regret not living each moment to the fullest as I saw fit right then and there. We all have choices to make. The Bandits in The Great Train Robbery made theirs and dealt with the consequences. Sometimes in glorious partial color.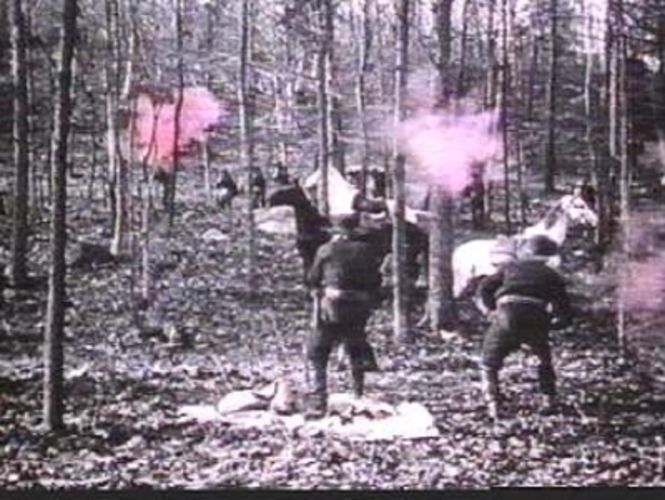 It's 1903 and not only am I seeing moving pictures convey a complete narrative but now parts of it are in color? Brainpan blown! Yes, a few prints of the old G.T.R. were released with colored elements. In the chromatic sense, not in the Roots sense. And if you're not at least cracking a smile right now it's probably because that huge stick up your ass is touching a nerve or something. Everyone used to make fun of everyone and now we live in a world where Ellen DeGeneres can't poke fun at drag queen idol Liza Minnelli for maybe actually being a drag queen in disguise at the Oscars. That's a real damn shame and also "drag queen in disguise" already sounds like a better premise than Transformers: Age of Extinction.
All the special effects in the world can't spruce up a film with no purpose. The Great Train Robbery was already cake so those few garishly dyed moments were just a little extra icing for the crowd. I saw a totally black and white version the first time and prefer that unsweetened offering to the variant one. A climactic shootout with orange and pink gunsmoke doesn't work for me because it's like watching everyone get murdered by cotton candy. And all the cotton candy I've ever known was delicious and not at all pestilent.
Oddly hued gimmicks aside, The Great Train Robbery well earns its 4 rounds this week. It feels like one of those lazy afternoon adventures you made up and played out as a kid. It's great and great for many reasons. It's straightforward, exciting, funny and even managed to shock me with a few instances of unexpectedly brutal violence. I've always thought beating a man to death with your bare hands before crushing his skull with a rock is a classy and timeless way to end anyone and this movie efficiently proves my argument. This great, great, grandparent of modern movie magic still has a few things to teach anyone who'll listen. Hollywood could sure stand to lend an ear for a minute or two. Short but nonetheless spirited, they certainly don't make them like this anymore. Bang.