Archive for
April, 2014
1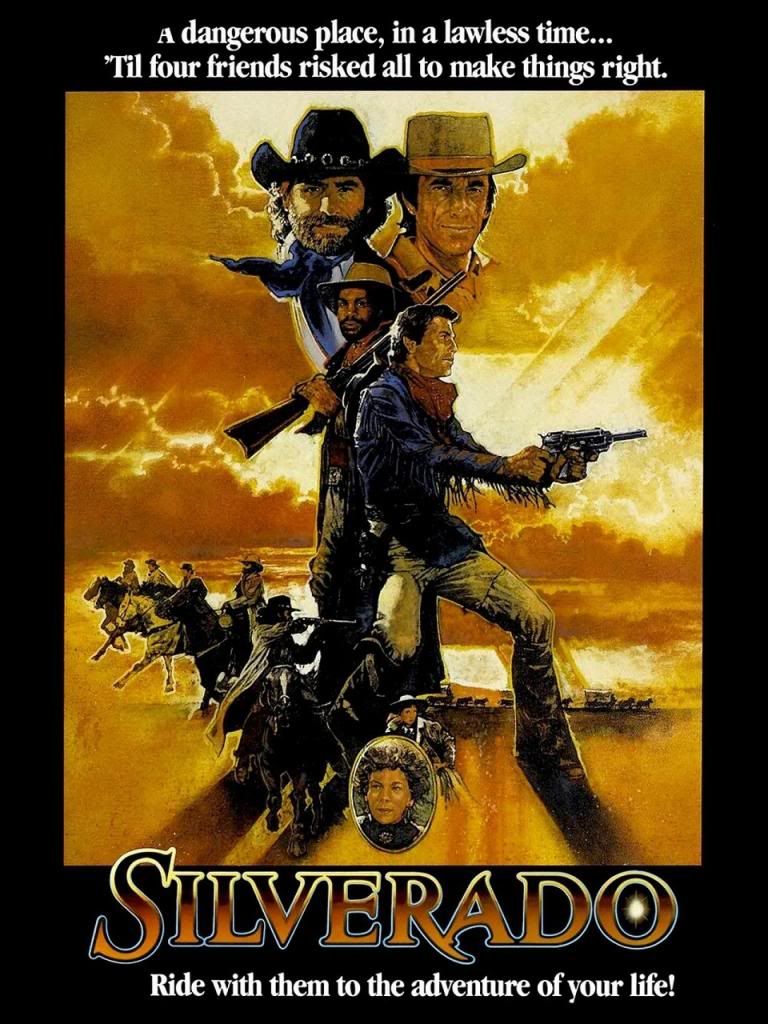 Legends exist for a multitude of reasons. We want them, we need them, some of them even contain nuggets of truth to them buried deep in legendary bullshit. And usually however they come we love and, more importantly, accept them. I can't recall when I first heard mention of Silverado but whenever that was and whenever it still is I hear the hushed tones and see the glazed eyes of a true believer spreading its gospel. Once I was even threatened with bodily harm were I to denigrate this most hallowed of horse operas. But I'll need to risk that black eye to speak my blunt truths. Silverado was average, and I'm being several sorts of generous. And here's exactly why.
Lawrence Kasdan wrote, produced and directed Silverado back in the halcyon 80s days. Kasdan's pen brought The Empire Strikes Back and Raiders of the Lost Ark to life. Also Return of the Jedi which is the best Star Wars movie thus far. You can try to argue but you can't ever beat Admiral Ackbar so go fish-man fuck yourself. Of course old Larry was responsible for Wyatt Earp too which is right up there with shitting thumbtacks, so this one could have gone either way. And ended up going both. Silverado is one of the best examples I've seen of a good movie dressed up as a bad one.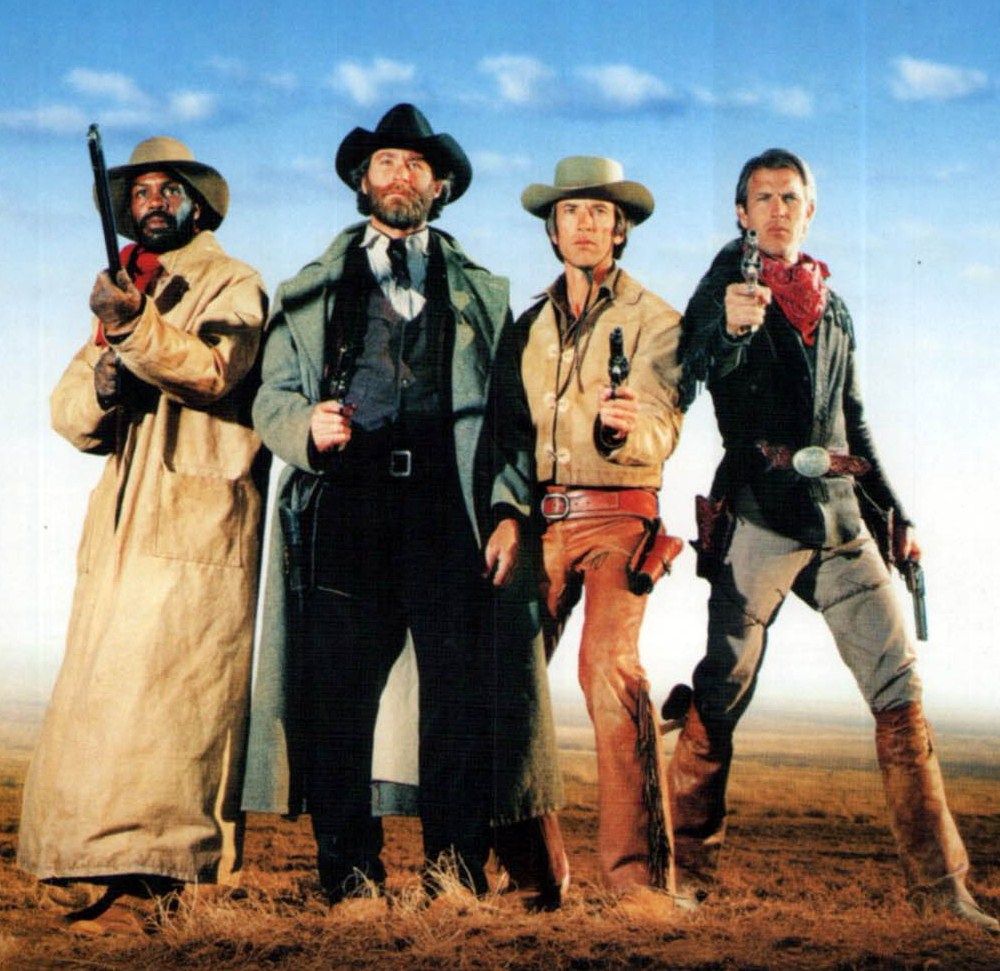 You can't fault the cast. Except for that Socialist sumbitch Danny Glover. I mean he was okay in this but I have a hard time separating what I know of the man nowadays with his on screen portrayal. Never been good at that division of mental labors when it comes to business and pleasure. For me, if you're a fuck in your personal life why would putting on a suit and tie make me forget that? It never does, and I never forget. So Glover was hard to swallow but as the least interesting of the heroes anyway he wasn't much of a bother on the whole. Kevin Costner was the perfect wacky, Kevin Kline quietly world weary, and Scott Glenn understandably worn out. They were you as a kid, the man he grew into along with the mistakes that he made and the old timer who had forgiven himself or at least come to terms with it all and was finally ready to move off into the sunset but not before dealing with one last load of shit. That's most Westerns anyway right? Easy as 1, 2, 3.
1) Shit's pretty good.
2) Some shit goes down.
3) Western folk don't take no shit so they gather their shit before kicking all kinds of new shit out of any number of shit-filled asses.
Black and white (and sometimes grey) but all actions and consequences boyos. The Spirit of the West is at times not so holy as it is holy fucking hell. The good guys of Silverado are more than willing to set things right, but are the bad guys ready to let them?
Oh damn it's Brian Dennehy, that mother fucker is always ready! Whether he's running a town with an iron fist or sending old folks off into space with an alien one he's pretty awesome. You can tell in that pic he's thinking just that "fuck, you know who's fucking awesome around here? Fuckin' me!" Ready, awesome and particularly imposing in this film too. My two favorite moments revolve around this subtly scary bear of a man. You never see him do anything outright evil on camera but he always has that look like you know he just got done stabbing crippled children to take their lunch money right before he fist fucked them to death. With his foot!
Dennehy and his men are a deadly and numerous force to contend with laying all over the territory like a wet blanket snuffing out any sparks of hope that deem to flare. They're nameless and mostly faceless save for Jeff Fahey and his creepy ass eyes. They scurry and attack en masse like cowboy cockroaches giving you the feeling our heroes might never be able to get rid of them for good. But Kevin Cline and crew are more than moderately capable of delivering in a finale that aims for "epic" but hits "just all right" between the eyes instead. It doesn't so much build towards that last trigger pull as much as it pans slowly from kill to kill in a muddily muted fashion. There were memorable moments, including the conclusive Dennehy/Kline dust-up, that belong right up there with any other great gundowns you can recollect, but together they fail to carry Silverado completely into fabled lands. Not even silly walks could save this one.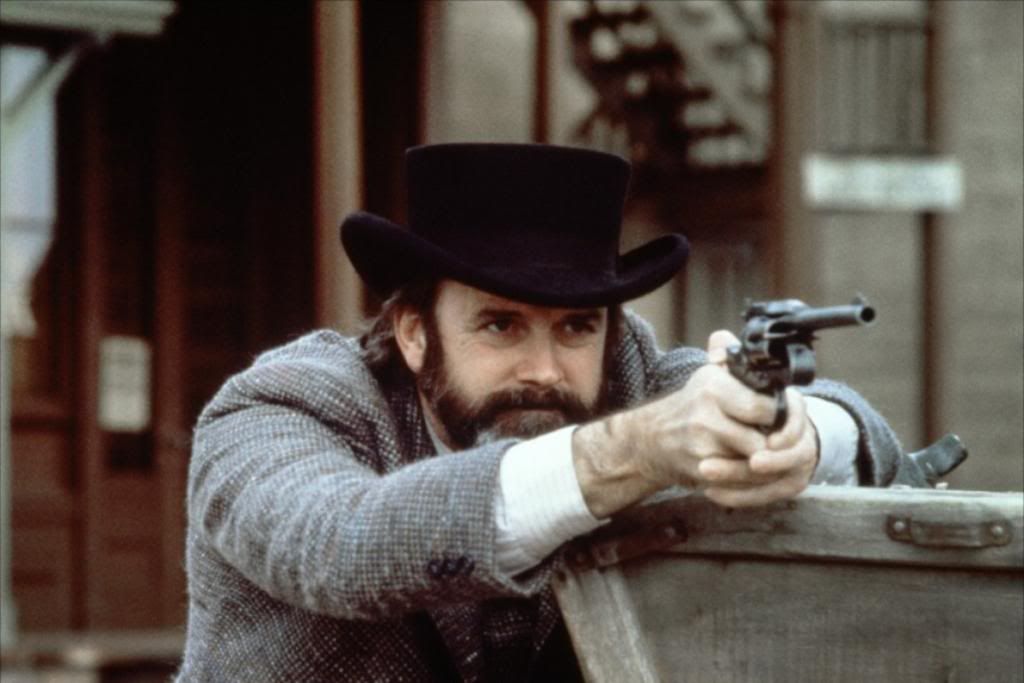 John Cleese nod-nod, wink-winked his way through a few scenes admirably.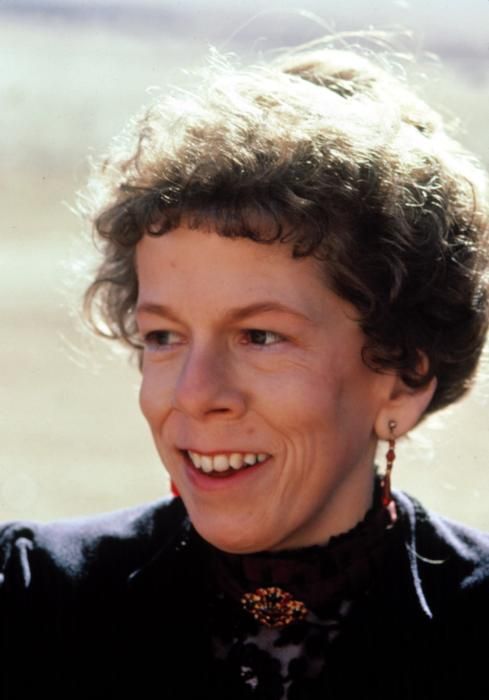 And always awesome Linda Hunt brought a spectacular weight, and possible romantic interest, into her role as saloon manager Stella.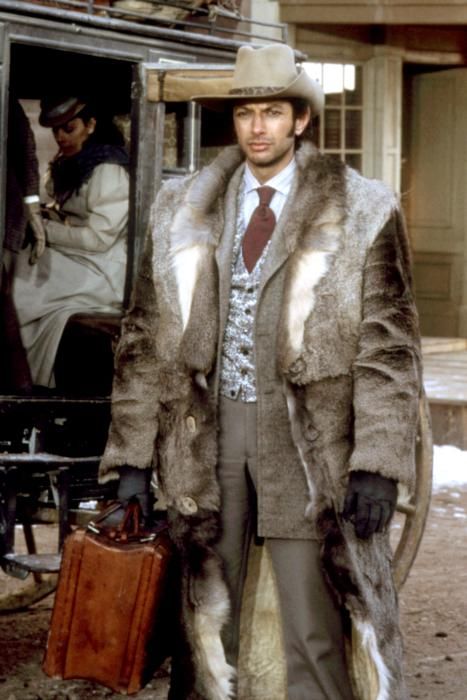 Jeff Goldblum "ah…err…uhhh…mmmmm…ahhhhh"-ed his way all over town like he does in every movie but surprisingly never turned into a fly which would have been perfect as he could have just sat on himself being the huge pile of shit he turned out to be. He's a gambler named "Slick" so this is not at all a spoiler. Thankfully for all the fucks in this movie, some real good folk make appearances too. Like here in a scene with Danny Glover, it's Uncle Remus!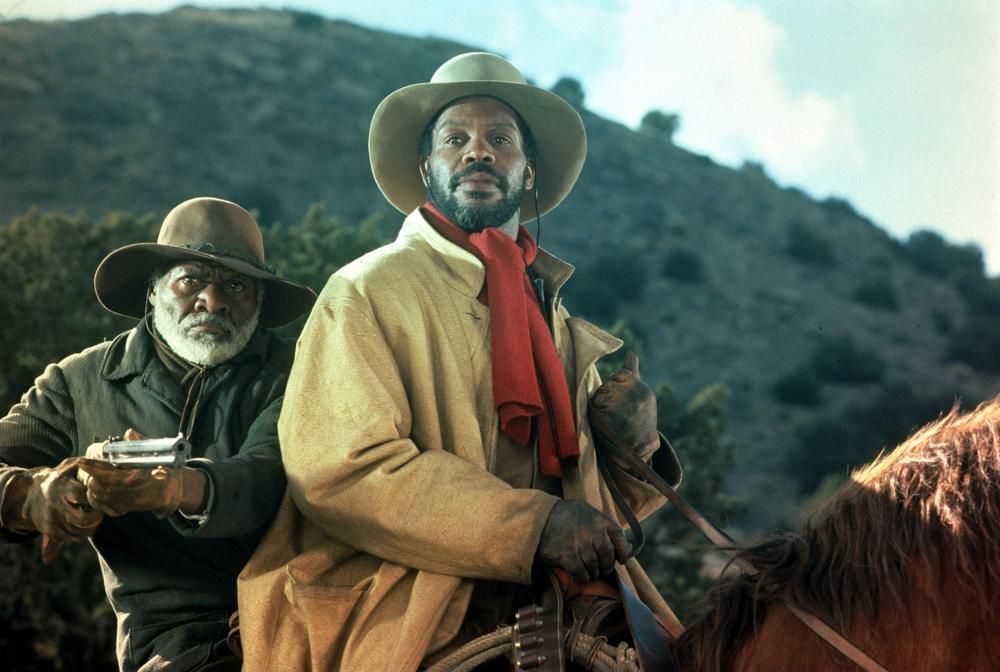 That's him isn't it? I can't tell, they all look the same to me. People with beards I mean. And sadly, to the chagrin I'm sure of at least two good friends I can think of at the moment, Silverado looked the same to me as many other Westerns I've seen over the years: nothing outstanding, spectacular or impactful.
3 rounds in the cylinder for this one, a legend through word of mouth and fond memory but not from any actual deeds that I could interpret. I'm glad to have seen it and admire any cast list that takes me a few solid minutes before there's someone billed I don't recognize but all that talent was wasted without good strong direction. Lawrence Kasdan directed Wyatt Earp nearly a decade later but hadn't seemingly learned as that one suffered from the same blundering missteps as Silverado. Both had an abundance of actors, picturesque settings and gorgeous wardrobe but all of that was left sitting aimlessly at the bar until it got so drunk on potential it puked all over itself in a disappointing rainbow of regret. Silverado is memorable only in that it's brilliantly forgettable given what it could have been.
Things don't always work out like you planned though, yet you must keep riding true. Maybe it's exactly the movie Lawrence wanted and I can't ever fault a man for sticking to his guns. Just doesn't mean I want him heading out along the trail with me. To each his own after all, but for me that won't include Silverado. And I'll go toe to toe with anyone who disagrees.
Except Dennehy.