Archive for
June, 2014
1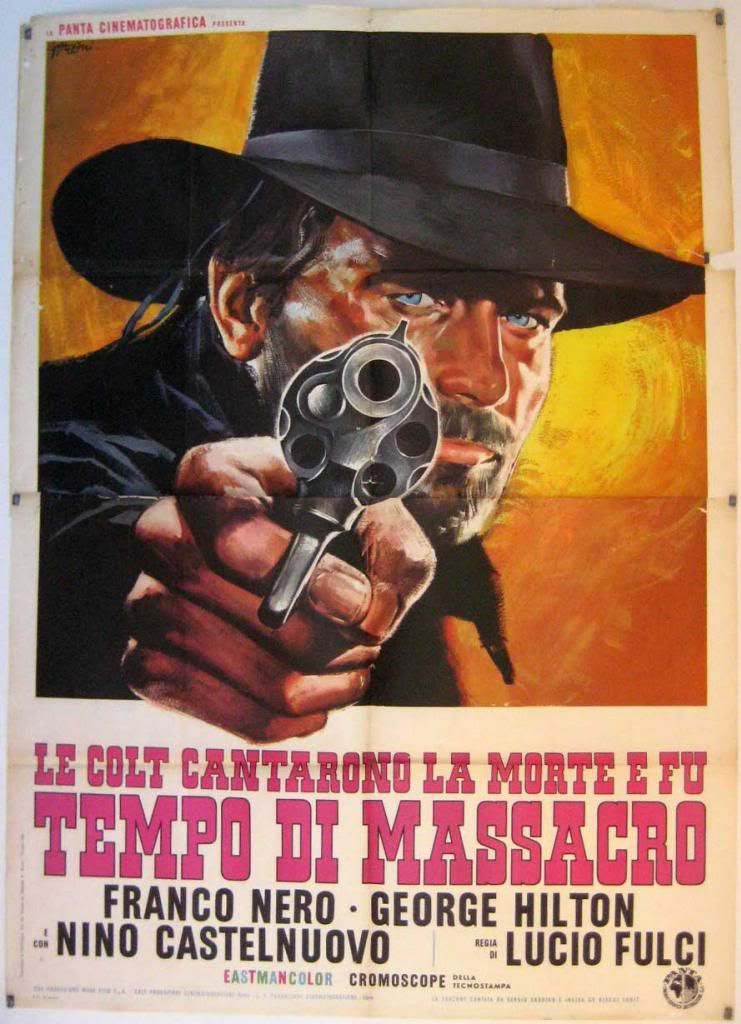 There are so many fakers in this world. So many fakers looking to pull the wool over your eyes just to blind you to the fact they're about to slide a dick or a knife into your sensitive pink parts. Franco Nero is a badass and as far from phony as Miley Cyrus is from not being disease free. He'll always have a special place in my heart because when I first began "Western Watchins" it was with The Mercenary and who could forget Django Unchained when Jamie Foxx mutters "D-J-A-N-G-O, the 'D' is silent" as Nero, the original Django, replies "you know Electro's a white guy right?"
Franco's characters never seem to mess about and when it's time for a massacre, it's time! Unless it's Massacre Time then it's really more of a deaths equitably spread throughout with a slight traditional uptick near the end kind of time. Massacre Time is a bit of a misnomer but it's way better than the alternate title, The Brute and The Beast, used on some old DVD releases. For several reasons Spaghetti Westerns often suffer the confusing indignity of being endlessly and thoughtlessly re-named. Sometimes to cash in on another popular title (see any of the almost three dozen unofficial "Django" knock-offs out there.) Sometimes because distribution rights changed hands as when Storm Rider (this makes no sense) became The Grand Duel (ah, that makes sense!) And then sometimes because a guy pulled random words out of a hat (and came up with The Brute and the Beast.) Who was supposed to be "the brute" and who "the beast"? I don't think anyone honestly knows. But I can tell you Franco Nero is pissed!
He's Tom Corbett in this and he was panning for gold all peaceful like when some dude from his hometown shows up out of nowhere to bring news that the old stomping grounds are getting the shit stomped out of them by a land baron, his wack-ass son and several men in ponchos. Nobody flaunts a poncho in the name of evil in Franco's neighborhood, nobody!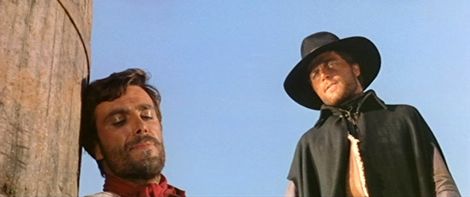 And so he dons one fucking awesome poncho and heads off to find his brother Jeffrey who's become the town drunk after realizing he'll never look as fucking awesome in a fucking awesome poncho like Tom does. Poor bastard is in it and in a real hard way. "Massacre Time" might actually be referring to the damage this guy does to his liver and kidneys. He spends ten minutes getting every shit he will ever take kicked out of him in a bar because he's literally more interested in a shot of tequila than he is in defending himself. 

It's a funny sad scene that Nero takes in with an amused and mournful gleam in his eyes. You can tell he's thinking "damn, what a beautiful and wretched thing this is" while his poncho is thinking "damn, I'm sooo fucking awesome!" No room for egos here though, Tom (along his poncho) and Jeff (along with what's left of his ability to metabolize alcohol) will have to get past their differences in order to bring justice back into the world. Though after meeting ruthless yet clueless despot Mr. Scott and his subtlety and vertebrae challenged son "Junior" I would settle for just some sense.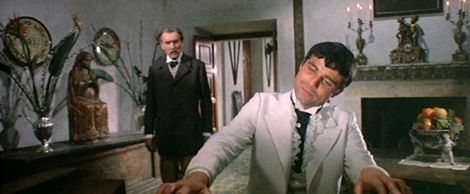 In what has to be one of the greatest introductions of an antagonist (Mr. Scott) and an outright villain (fucking Junior!) you'll be taken from complete sanity right into Crazy Town before you can blink. Adam Saxon from last week's Grand Duel wore a white suit too and was fairly outlandish. Junior's wearing a white suit too but he makes Adam look like school boy. This guy is entire cave's worth of bat-shit crazy. The coming on to your father in the hopes of cumming on to your father kind of Jesus-fucking-Christ-a-bat-just-shit-in-my-eye-and-some-got-in-my-mouth-I-think crazy! An he loves to use a whip. A whip is great when it's in Clint Eastwood's stable hands as he rapes you to teach you a well deserved lesson not so much in the grip of a man banging your butt just so he can lube up for father! Tom brought that difference up at a dinner party dad and Junior were throwing. It did not go well: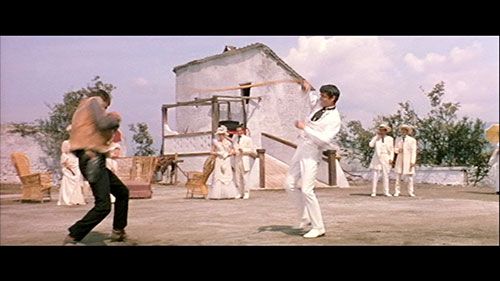 Franco Nero took it like a champ which certainly upset and excited Junior both but what pissed me off the most about this scene was that Mary Poppins, Bert and two Colonel Sanders just sat by and watched! That's what's wrong with this country! Everyone's a tight-lipped pussy these days and while tight pussy lips are fucking fine for fucking they mean fuck all when someone needs your fucking help. Plus, wearing all white seems like a swell idea for those sweltering desert days but you still end up looking like a douche. That's probably what the party invite said. "Come to my douche party. Bonus points for dressing up like a douche. You douche."  
That guy was a piece of work and you got the feeling that his dad was caught headfirst in a creepy downward spiral with no idea how to stop the spin. It's no excuse, none at all, but he loved his son so you could at least understand the outrageous oversights on behalf of his psycho spawn. You also understand that they both need to be stopped. No matter how many dudes they hire in ponchos.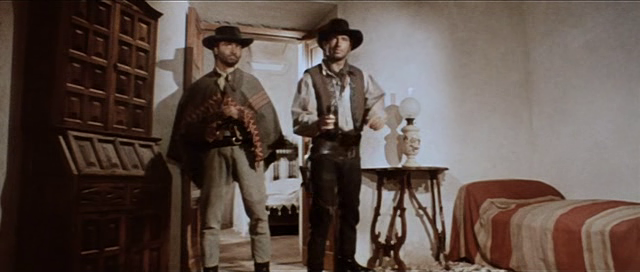 Now while that poncho is surely awesome it's nowhere near fucking awesome and that was this dude's first and last goddamn mistake! Tom and Jeff have come a knockin' and Jeff's even gotten in on the cool fashion accessory game now.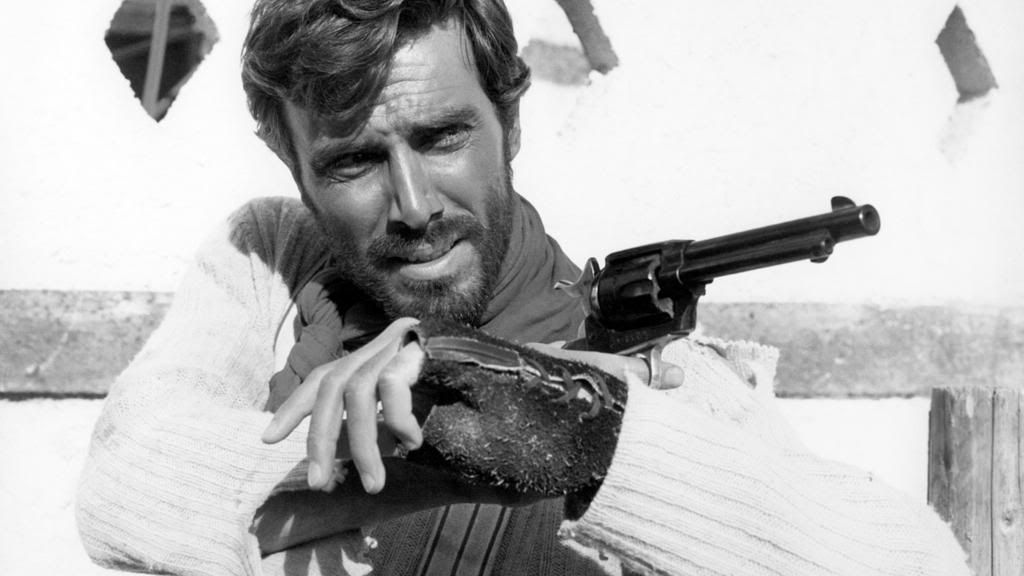 Yeah it's just a rough hewn, shoddily sewn forearm sock thing but that worked for Mick Foley and it allowed Jeff to back his brother up in the final adobe storming finale firefight while still having time tween shots to locate and drink tequila throughout the house. Thanks glove thing 🙂 Sorry liver and kidneys 🙁 Jeff doesn't need to stay conscious that much longer anyway, just gotta kill that meshuga matador looking mother then we can wrap this all up with an 80s style freeze frame finito.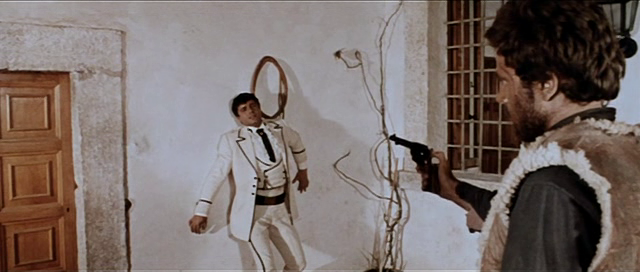 Funny that the white suit almost acted like adobe-flage. Also funny that there just happened to be whip hanging on the wall right there. Even funnier that the whip wasn't used at all. Nope, no weapons. This one went done mano a mano. Franco didn't even have his poncho. His poncho was back in town fucking two chicks at the same time. I told you it was fucking awesome!
Massacre Time was also pretty fucking awesome. Not very polished but still not a turd. Four rounds on your hip this week. It had countless crackerjack characters, one nice plot twist, tons of revengening, an amazing Asian stereotype and the single best backflip you've ever seen in a Western. And let's not forget that poncho shall we. From now till the day I die, whenever I sling on a serape not only will Clint come to mind but also one other. And I'll be looking fucking awesome too.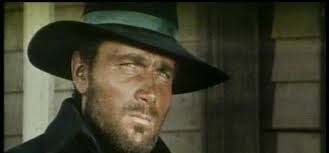 All right Franco, but I'll be pretty goddamn close.