Archive for
July, 2014
2
This is a title card: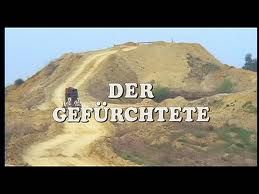 That's German and it means "the fuck?" Which is what I was thinking at least every thirty seconds or so during Sartana and the Valley of Death. Much like the Django character, Sartana had an original run of core movies and an additional dozen total rip-offs looking to capitalize on the name alone. These unauthorized sequels were pumped out with all the polish of a watery turd. Ill formed and difficult to look at (watery turd) there were bits of humor and entertainment to be had during its merciful 79 minute run time but I don't believe any of them were intentional. These films were meant to be gritty not shitty, but want in one hand and make this movie with another and see what you get. I could see every attempt at spectacle coming a mile away the likes of which would have made the outcome of a T-ball homerun derby at the Special Olympics unexpectedly engaging by comparison.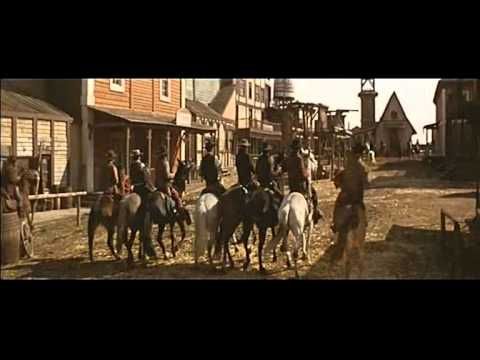 At one point our protagonist, Lee Calloway, is trying to GTFO and ends up cornered between two advancing lines of angry townsfolk. Slowly being corralled towards a seemingly inescapable doom this moment has all the tension of an original Star Wars film and all the fucktardery of a Star Wars special edition. How does our anti-hero get away? By shooting the ground till it explodes of course causing all the horses to scatter just like The Duke and Clint always did. For the record, when this gets re-released in fifteen years or so it will be edited so that the ground shoots first. So, Lee avoids both capture and competent storytelling by heading off into the badlands with a trio of bastardos he released on their word that they would cut him in for 50% of some gold they just stole. Things don't go as planned however: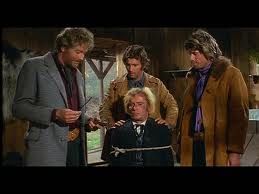 Up to this point all the negotiations had been proceeding heavily in Lee's favor as the percentage he was owed kept climbing for reasons I have thankfully forgotten. Rest assured, if you've ever seen Nucky Thompson work a room to his advantage then you might just compare this movie to Boardwalk Empire, of course I might just punch you in both fucking balls if you do. I'm just kidding, I will punch you in both balls if you do. But let's let things you nor your balls have ever probably thought be as water under the bridge eh? We shouldn't be getting our blood up for a film that doesn't even, at any point, feature it's titular character. Sure, IMDB lists Lee Calloway as "AKA Sartana" but he's never referred to as such on screen. Imagine having a woman over for adult activities and she gets naked and you get naked and she's like "what the hell is that?" once she spots your flagrantly tiny penis to which you reply "that's my flagrantly tiny penis AKA huge goddamn cock!" The producers of Sartana and the Valley of Death were without a doubt betting on the fact that by the time you figured out the Sartana you knew and loved was nowhere to be found in their film you'd just sit there and finish what you started to slink away, just like your date above, once the deed was done bathed in lackluster cinema and below average sexual performance. Don't be ashamed though Lee, this happens to a lot of fellas your age.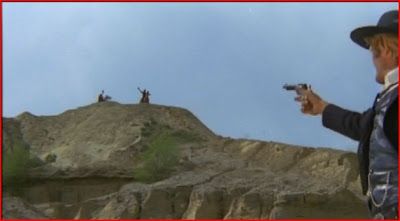 About the time things go all to shit in this movie, well, beyond when I pressed "play", we find Lee wandering hopelessly in a Valley of Death so at least the title got that part right. But no one accurately figured the effective range of the pistols he fires at those double crossing dicks who are dogging him from on high. I'm not expert but the dude empties a gun belt's worth of ammunition from what looks like anywhere between 30 and 50 yards and never even gets close. This guy shot the dirt earlier and it blew up so he should be causing avalanches with his mind by this point by no, instead we're treated to this film's version of Blondie's famously tortuous death march across the wilderness from The Good, the Bad and the Ugly. I would bet you twenty percent of this movie is spent of Lee listlessly stumbling over some Deustchland-y desert. Laborious but expertly so, Leone's journey was deftly delivered to us with the skill of a master surgeon. By contrast, this scene in Sartana is like checking your own prostate with a crow bar after slathering both hands with Vaseline. By the end of it all you feel about as good as Lee does: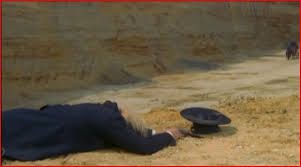 I simply cannot impress upon you how grueling it was to watch all this. I have had more fun watching documentaries about the Holocaust. I took a slap-shot to the balls once: immeasurably more enjoyable. One time I had blood in my stool and every thought of what that might mean was more stimulating to me than anything I had just seen. Here, these are called "sailing stones."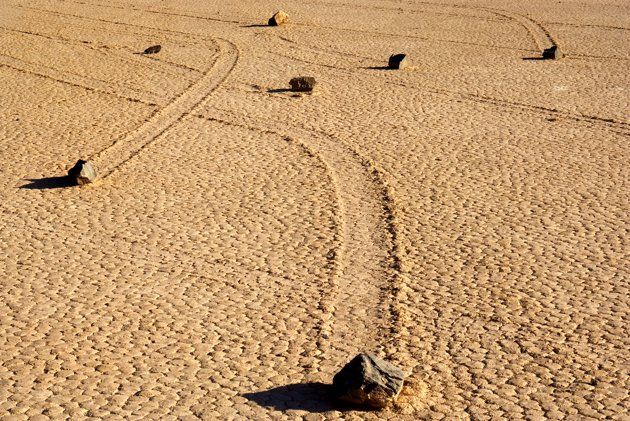 Until now scientists have often wondered how they seemed to moved unassisted across the sands. I can answer without reservation that it's because these rocky motherfuckers are just trying to get as far away from this film as possible. Pacing then is just one casualty of this film. Women's lib is another. Whether we're talking about the poor country bumpkin girl who sounds like she's one of Bo and Duke's lost cousins, the charming Southern Belle send-up with such breathy dialogue she'd make Marilyn Monroe roll her eyes or the lounge singer who comes off about as bright as your standard pool float, every woman you see on screen is there only to make you and your flagrantly tiny penis feel good about yourselves. It's as if the casting director once heard Andrew "Dice" Clay's famous "two tits, a hole and a heartbeat" bit and thought "that's exactly what we need!" A one dimensional object would look morbidly obese next to any of theses women who are so devoid of personality beyond a regional accent that the gas you last passed would be more engaging to converse with. A great Western, any great movie in fact, relies on memorable action, notable words and souls, troubled or otherwise, swirling behind the eyes of its characters. All Sartana and the Valley of Death brought to the table was comically inept editing, troubled scene continuity, an oddly named gunman whose skill with a pistol came and went like the breeze, three silly bitches and a hillside of mechanical Mexican dancing dolls trying hard as fuck to make the finale artsy and fartsy. They failed at one of those attempts.
2 rounds in the cylinder. I've seen a hell of a lot worse but this was still a damn chore. A chore like having to do the dishes while blindfolded only using your butt cheeks. You get through it, but by the end you're wet, confused and your ass is all kinds of cramped. You are however still alive and you've learned some important lessons. Like never watch Sartana and the Valley of Death and forks can do a surprising amount of damage to your ass if you're not careful.
Even in the deepest of crevasses, ain't life just grand sometimes?