Archive for
February, 2015
1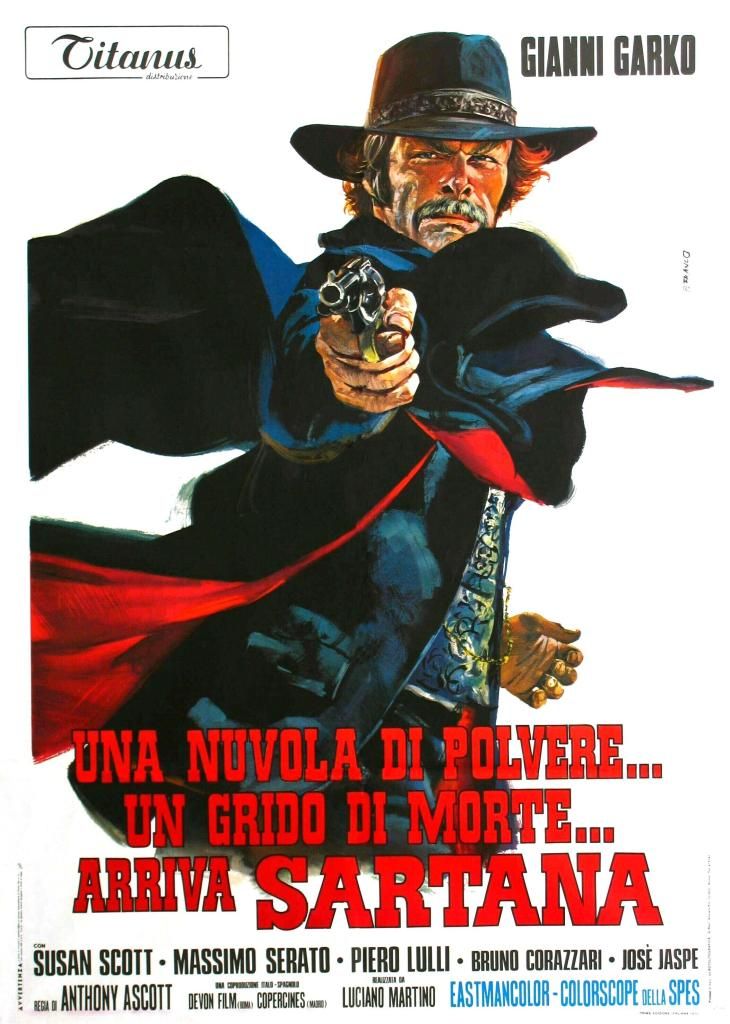 We've had three weeks full of buffalo followed by one week full of bull. To shore up our cinematic smorgasbord, and bring you as many tasty treats as possible, it seemed like spaghetti should be on the menu this week. Light the Fuse…Sartana is Coming fills that bill perfectly. The original Italian title was Una nuvola di polvere… un grido di morte… arriva Sartana. That translates to "A Cloud of Dust, a Shout of Death, Sartana is Here." If you've been paying attention that's not so much Light the Fuse…Sartana is Coming but let's not let language ruin a foreign language film. The five canon Sartana films are remembered well and well deserving of that remembrance. Full of violence, nifty weaponry and absurdly byzantine plots, the originals were successful enough to spawn about a dozen piss poor knock-offs including Sartana in the Valley of Death which if you'll recall was about as fun as watching paint dry. On your balls. That you just accidentally cut off. With a corkscrew. Thankfully Light the Fuse…Sartana is Coming will keep your balls attached and even engaged as its own balls do a satisfactory job of staying to the walls. A big reason for all this testicular contentment is due to the film's lead, Gianni Garko.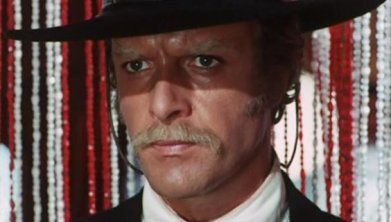 He is Sartana, who acts all classy and kicks every ass-y. A finely dressed farrago of the Man with No Name and James Bond, he was the gunslinging glue that held all the disparate directions of this narrative together. Interestingly enough, you may not be familiar with Garko until you recall he's also Keith Carradine: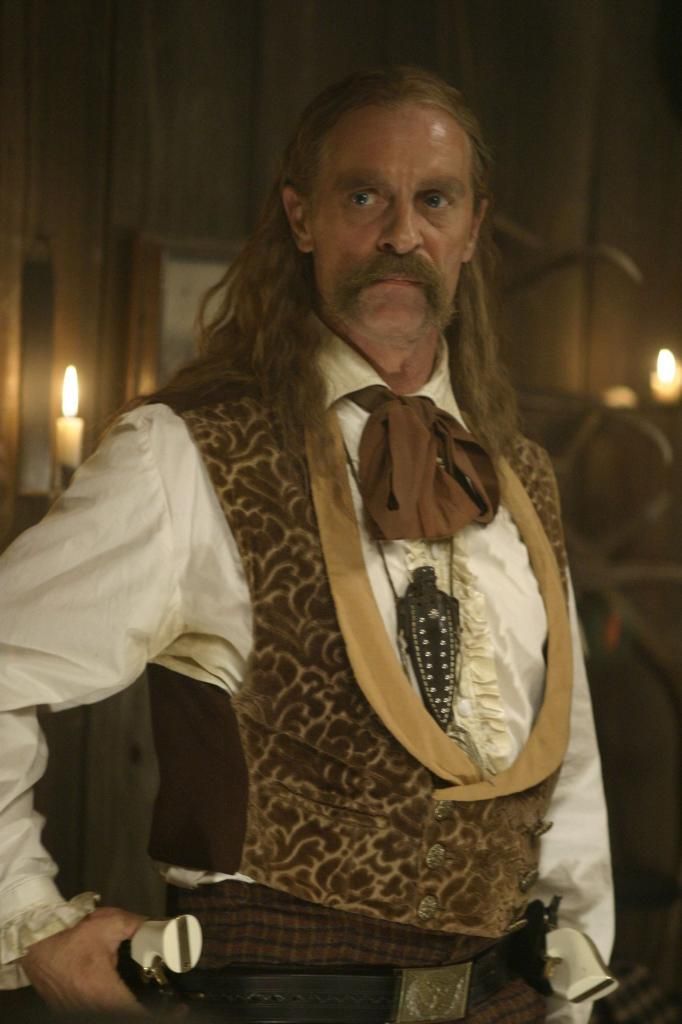 Garko strolls all over some unnamed Southwestern locale gleefully playing everyone against the middle. It's A Fistful of Dollars taken up several notches. One of those said notches being a robot. You might think I'm shitting you but check yo' self and find no shit! Sartana uses a blowgun, a grappling hook pocket watch, a trick derringer and a clockwork tiki head named Alfie:
Alfie's involved in the only scene to make use of dynamite and it's Sartana that uses it despite the title leading you to believe the only course of action, should Sartana indeed be coming, is to light up some explosives. Even without outrageous amounts of big-bada-booms I didn't feel slighted by the show at any point. Sartana is a hero, he's your good guy for the extent of the film, so I found it even more fascinating that his motivation was ultimately a selfish one. Don't confuse selfish for disrespectful neither. One requires thoughtfulness, the other a lack of caring thought all together. I consider myself selfish. I don't want kids because I value the many bonuses that come with being childless. I want something I get it. Wine, women or song…I do not hesitate to satiate my needs. But disrespectful?
Never.
You can take care of yourself without being a hurtful prick. You can be greedily mindful of your finances, energy and time without betraying your friends. You can be aimless without being aloof. Immature people do not act selfishly, the act disrespectfully. Of themselves and of all things around them. The world at large misinterprets this as rank egoism but the vainglorious can find glory. Those without courtesy however will forever be deprived. Sartana worked an entire territory, leading barmaids, brigands and all sorts of other bastards towards a showdown with one another simply to clear a path promising millions in gold and counterfeit cash. Revenge isn't a central motivating theme here. Self-preservation and personal gain is all Sartana needs. Well, that and a pipe organ filled with dusty, desert death.
What?
You doubt Sartana?
Bad idea.
Do that and he…will…fuck you!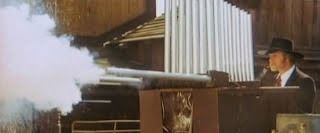 Several fucking ways actually. This thing is a cannon, a mortar and a machine gun and everyone he hadn't previously fucked got fucked by this killer fucking keyboard. Suddenly Alfie doesn't seem so far fetched. This scene was ridiculous but ridiculously entertaining. Lots of movies come close to this kind of not-at-all plausible perfection on the whole but they end up missing out for lots of reasons. Pacing, cinematography, a crappy script or crappy actors or both. I was surprised by this one because it came in a box set with God's Gun, The Price of Power and Sundance Cassidy and Butch the Kid, a movie I have not yet watched but will undoubtedly despise. You can imagine my unexpected pleasure then at finding this needle (made of Sartana) in a haystack (made mostly of shit!)
4 rounds in the cylinder for Light the Fuse…Sartana is Coming. This production zigged and zagged just when it needed too and when many others would have done exactly the opposite. It won't be released from the Criterion Collection anytime soon but it did almost make purchasing that sad-sack twenty pack worth it all on its own. I'm quite sure I'll watch it again one day. A day when I'll drink some whiskey, and laugh with some friends, and just need to see some old time piano sort of thing go all WMD.
Amigos, that's gonna be a pretty damn good day.