Posts tagged
Buffalo Trace Distillery
1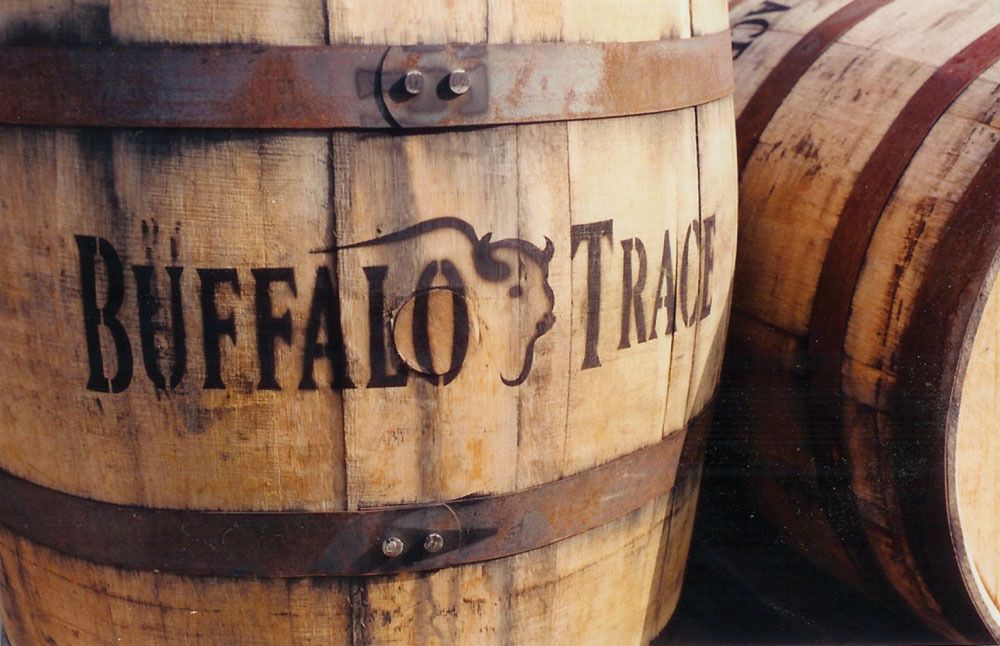 Years ago great herds of bison traveled through Frankfort, Kentucky and when the time came to ford the comely Kentucky river legend has it they did so at a locale just north of the current Buffalo Trace Distillery. Legend also has it that those same buffalo built the original distillery with their very own hooves. You can doubt me, or that part of the legend I just made up, but I have whiskey so soon I won't care what you think. I'm kidding, I don't care now. But, I do care a lot about fine whiskey and even more about the mighty buffalo who made this distillery, the oldest continually operating one in America, a must see for little old me.
And what a sight it was: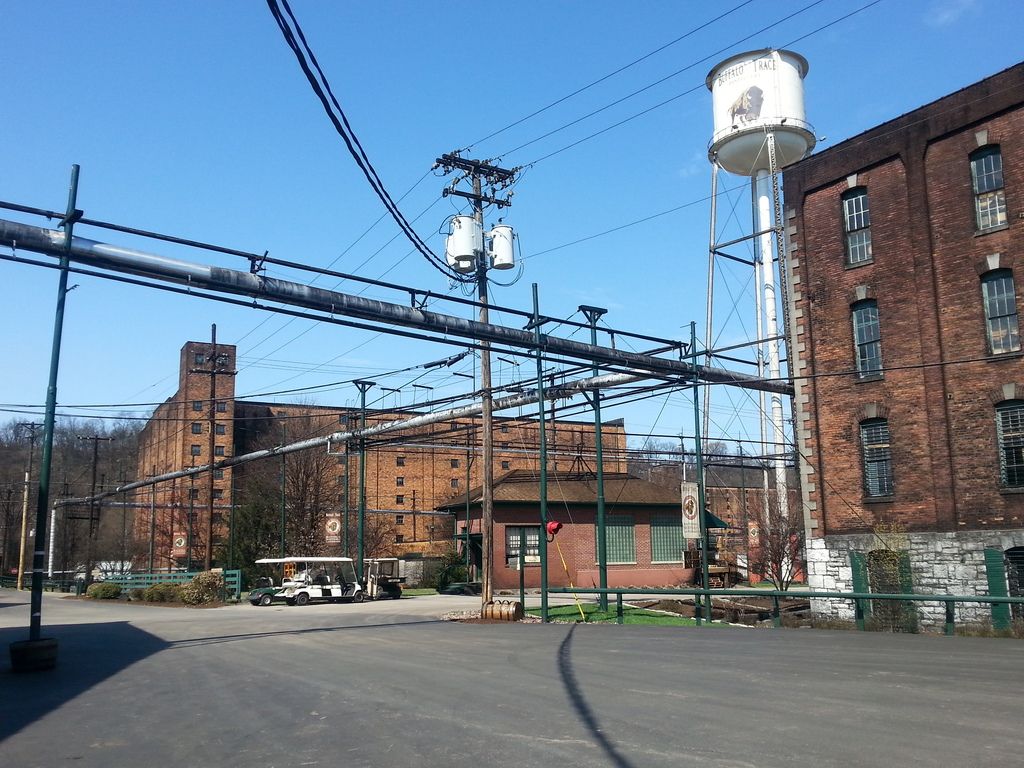 As soon as you park you'll know you're someplace special. Look at that brickwork! Look at the water tower! Look at the sign that says you're missing the last tour of the day! Oh shit on every shingle, we're going to miss the last tour! This can't be happening. And it wasn't. After straining to keep my cool while running like a lunatic into the gift store the assembled staff, lovely ladies all, smiled past my coolunatic exasperation to assure me that while the online information was up to date the onsite signage hadn't been changed just yet. I was relieved. Details like this one don't often escape me. I'm so anal-retentive I have backed up bowel movements from kindergarten and the thought I had blundered with the buffalo so close at hand had me concerned. The staff's kind reception immediately turned that dismay into delight: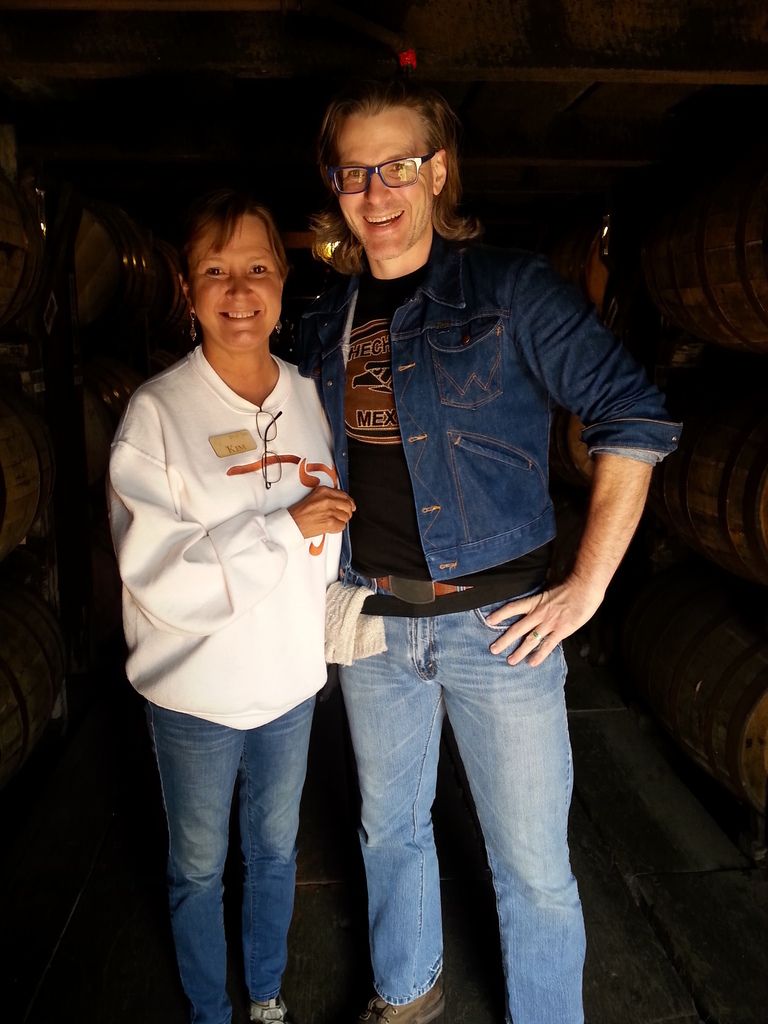 That's Kim on the left, with her easy smile that let's you know she's just full of Southern hospitality. And that's me on the right, with my idiot smile that let's you know I'm an idiot. Or at least as happy as one. If you were seeing what I was seeing, you too would gladly smile any smile that came to your lips.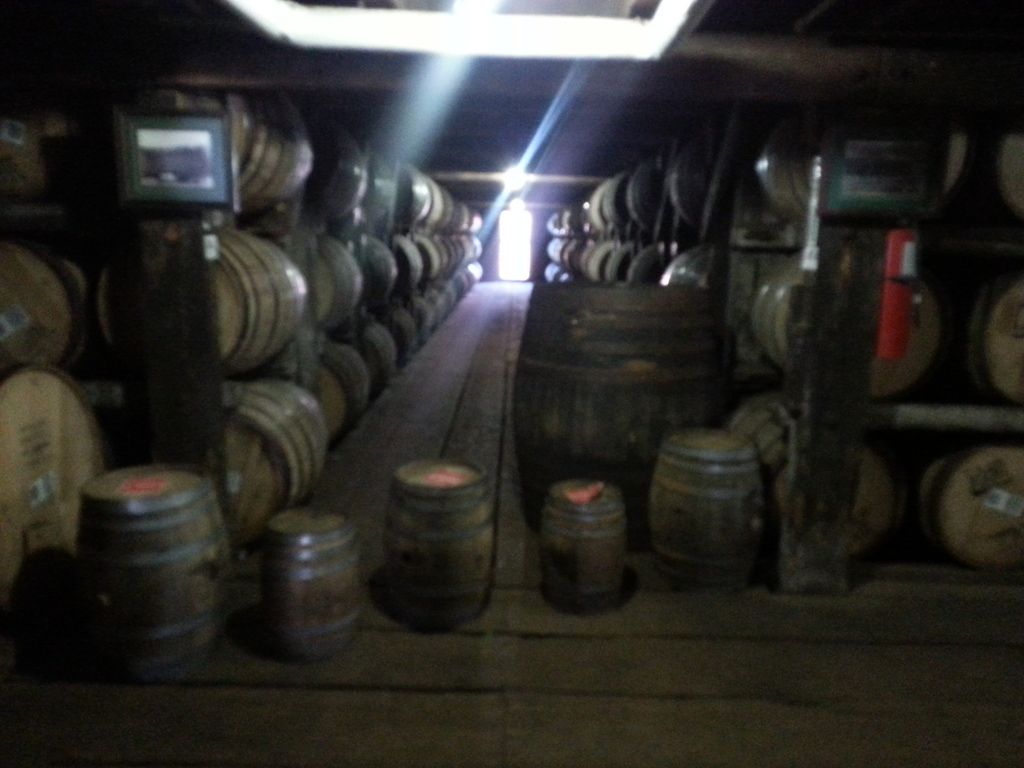 We're deep inside "Warehouse C" now. It dates back to the 1700s and holds 24,000 barrels, give or take, tenderly within it's wooden guts. With almost an hour to go before the last tour began proper Kim walked Angie and I over and allowed us a few moments to stand quietly in what is basically a bourbon lover's Holy of Holies. The angel's share hung heavy in undisturbed air and with each rarefied breath I drew came the realization that this was another of those perfectly imperfect moments we had been blessed to experience damn near constantly as we drove around the heart of Dixie. Just my wife and I wandering amongst delicious oaken history. I couldn't thank Kim enough and the actual tour hadn't even started yet. And then the actual tour actually started!   
We kicked off with a recounting of where the distillery had come from surrounded by artifact full shelves (full of artifacts!) and pictures from every era and incarnation of the property. There was no mention of the original buffalo that had built the place but other than that oversight the facts we were presented with were numerous and tantalizing.
Another fabulous building and a good shot of the ubiquitous flags proudly proclaiming that the Buffalo Trace Distillery is a National Historic Landmark. Presumably because of the buffalo builders I'm sure existed. What also exists in this picture, unbeknownst to both myself and my lovely camera girl at the time it was taken, is that unassuming little building in the distance. It's called "Warehouse V" (that's awesome), it's the smallest bonded aging warehouse in the world (that's incredible), it has held every millionth landmark barrel since 1952 (that's outstanding), and if you get too close buffalo will run out and trample you to death (that's hopefully true!) Before I could confirm what I already knew to be indisputable buffalo facts, we took a load off in here: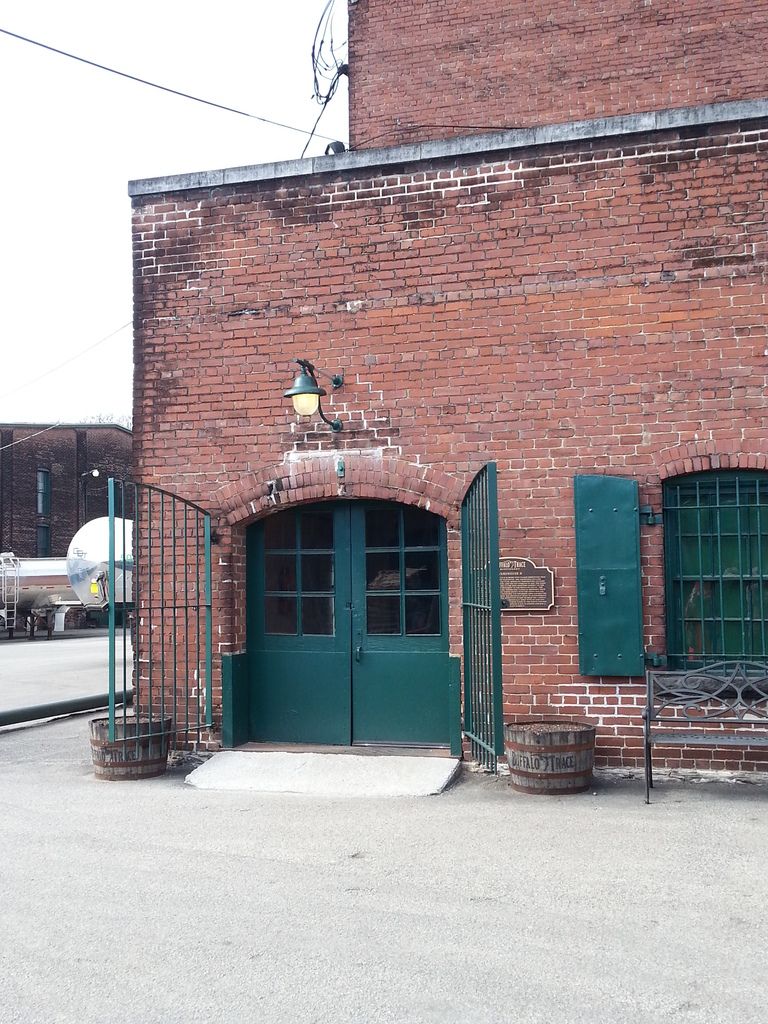 There were old church pews and more neat old things all around then you sat down and were treated to a short, endearingly cheesy, all-American retrospective on why whiskey is great and Buffalo Trace among the greatest of whiskeys. We were ready to roll over to bottling when our guide Scooby-Doo-ed this secret door open: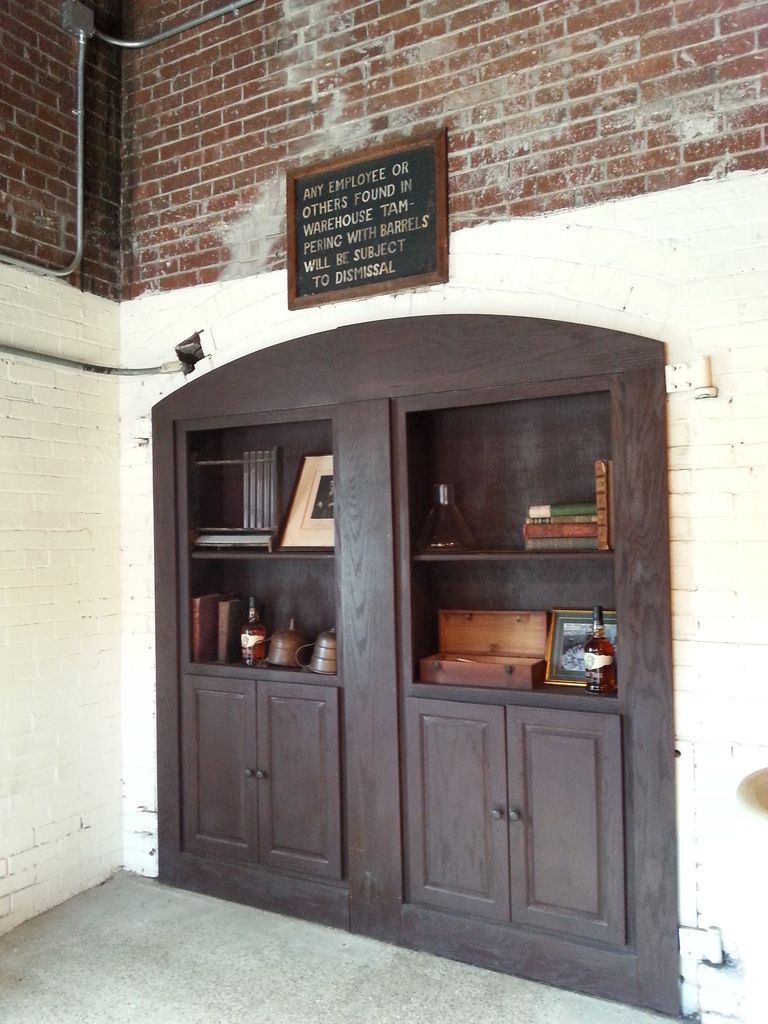 This led into another warehouse stacked full of barrels. A secret whiskey warehouse! That bookshelf was like the door to whiskey Narnia and I imagined that once inside a good, kingly lion would not have to die for my sins but rather get loaded with me before we both went and committed some. You can never tell what a sip from those experimental barrels might lead you to do and while on prominent display here (check that pic again for the labeling) Buffalo Trace's master distiller has experimental barrels stewing all over the place. His name is Harlen Wheatly and he's a bit of a madman which makes for a bunch of amazing tastes coming out of Frankfort. This warehouse and that one too, Harlen's got 'em in all the warehouses, and even one ("Warehouse X") that holds nothing but whatever curious concoctions he just came up with in a building specifically designed to vary and monitor the influence of temperature, humidity, light and air flow. It's the one environmental impact study anywhere that I actually give a shit about because it isn't full of shit and is being utilized to make more delicious shit that one day I can put into my mouth exclaiming past the flavor "this right here is the shit!" Lord Wheatley even makes vodka. So whiskey and vodka and buffalos all in one place. I checked my pulse and was still surprisingly alive.
After stumbling (still alive!) around the grounds for a few more minutes we came upon Blanton's Bottling Hall. Tis a magical place wherein spirits are put into bottles for shipping unto you at which time those spirits will be removed with earnest. There's a pride in this room as, like Maker's Mark, every bottle is hand touched for a fine finish before it leaves the door. The folks inside were genial and hardworking, grinding out arduous hours so that you and I will never be without those wondrous whiskeys.
I was moved to the point I almost considered playing "Love Will Lift Us Up Where We Belong" on my phone just so I could pick someone at random to carry outside triumphantly as the tune crescendoed. However, unlike Richard Gere, I did have somewhere to go and a handful of stranger, albeit a pleasant one, would have prevented me from filling my hands with the forthcoming samples.
And Buffalo Trace has a lot to sample.
Eighteen brands to be exact and at the end of the tour we got a mouthful of four of them in their under construction/soon to be renovated tasting parlour. Two were familiar to me: Buffalo Trace Straight Bourbon Whiskey which tastes like a warm afternoon in the sun and White Dog which tastes like giving the sun a blowjob. One is a pleasant burn filled with flavor, the other is an opened Ark of the Covenant burn filled with regret. How the delectable former evolves from the damnable latter is a mystery I need never understand but will forever appreciate. Just as I appreciated Maker's Mark Mindy for giving Ang and I the heads up that we absolutely needed to knock back some Bourbon Cream. Beyond any doubt, Bourbon Cream is the elite of all like libations. Right before we had tried Eagle Rare and it was good, Angie's new favorite in fact, but Bourbon Cream is fuck my face five times till Tuesday flabbergasting. And it made raiding the gift shop far too easy.
That's a real happy camper right there but the location, liquor and loot had little to do with that. Spending some time anywhere with someone you love any day makes that precise moment one of the times of your life. That day the clouds were growing grey to match my hair and I ached a bit from the road but I was standing at a place where pioneers used to walk and pioneers still do, my beautiful wife and I among them. Man and beast had been drawn here through the ages, not hard to figure out why.
6 rounds in the cylinder for the Buffalo Trace Distillery. Our tour here had a different pace and different things to peruse compared to Maker's but it was just as enjoyable if for different reasons. One way to sum it all might be to say that in Loretto we learned about the feeling behind a great whisky while in Frankfort we learned of the facts. Here our guide was a former state folklorist and what he lacked in comfortably conveying his thoughts he made up for with his quirky tidbit-based breadth of knowledge. Mindy, you took the blue ribbon on that front but Buffalo Trace still got a hold of me as only something buffalo themed ever could. I'm a sucker for that kind of sentiment. I was a fan before I stepped hoof on property, after the tour I was a diehard. That was from just one tour. The distillery offers five distinct versions and all of them free of charge. Plus they host a 5k run every Fourth of July? Well damn amigos, I'm brassbound and bison proud, guess another turn at the Trace is in my near future. So now…what about you? 
Why not have yourself a drink and then an honest think, about where'n you might like to go.
Then, by all means, go!