Posts tagged
Game Reviews
1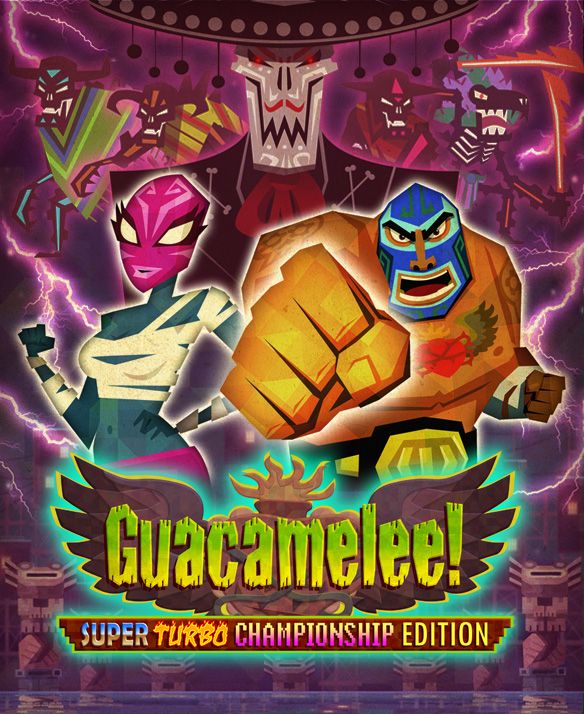 People often ask me what I think about whichever recent football or basketball game just aired and was terribly important to at least them. I never have the answer they're expecting as I don't waste my time with such banalities. No, I follow two sports only. The two only real sports of any consequence: professional hockey and professional wrestling. Say what you want about either because a) I can't hear you and b) while violence is a central theme of both endeavors, disagreements get handled on the ice or on the mat and not usually in a nightclub or Vegas elevator. Plus most hockey players and pro wrestlers are decent if not exceptional on a microphone. They can conjugate verbs and form complete sentences. Listen to that kid who just got drafted after supposedly graduating from Wherever State and tell me you can understand one thing he's saying. "You're a bigot, Tentacle Chris! Stop belittling our culture!" Illiteracy is not a culture you philistine. And "philistine" has more than one meaning, look it up. You can't change what color you are (and shouldn't have to) but you can change if you're fucking ignorant (and fucking should!)
I was ignorant to the mysteries of Mexico at one time in my life but now embrace her with open, damn near needy arms. Her greatest export, besides Jarritos and upsetting crime statistics, is the masked wrestler: the luchador. Hailing from place unknown, with face unknown, but talent, charisma and machismo totally known these bemusing badasses fling storylines and themselves around with obvious dexterity. They are national heroes and your next door neighbor, for all that stands between you and lucha glory is a cover for your face and cojones for your balls! I was swelling with excitement then (you know exactly where) when I stepped into the ring with Guacamelee: Super Turbo Championship Edition. I may never actually be Mexican but I could be an actual pretend Mexican wrestler. So after turning into a chicken with "Pollo Power" and training with a part goat, part man, ALL goat-man named Uay Chivo, playing the demo became buying the full game because chickens and goddamn goatman!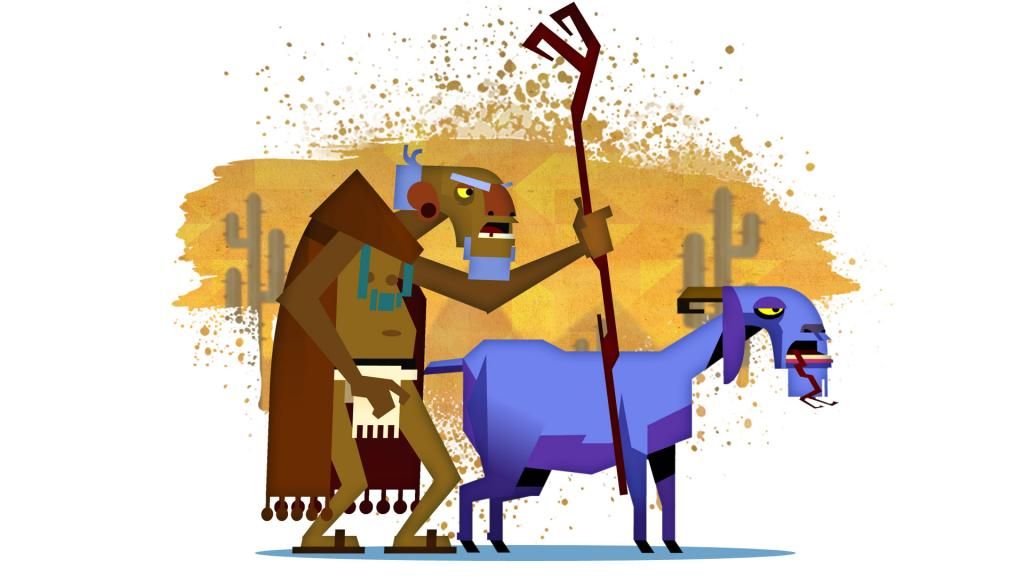 Uay Chivo's the name and giving you shit is just his game. Like mocking your outfit or deriding your interpersonal communication skills before he grants you one awesome super power or another. So both kinds of shit he will give, insults and assaults. The former is great for starting a scrum, the latter for ending it. Like this enemy ending Rooster Uppercut for instance: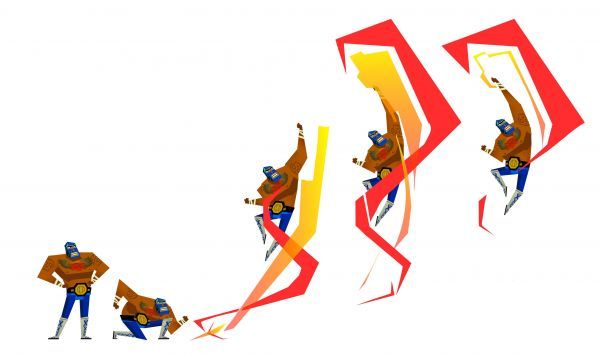 Thanks Uay, that is some cool shit. Your boy Juan, or your boy you, depending on how into character you get, will need an arsenal full of acrobatic attacks to stem the tide of nightmarish creatures that have flooded into Pueblucho, the humble hometown of our hero, and the surrounding areas. Aluxes (sort of Mexican gremlin things), alebrijes (sort of Mexican chimera things) and skeletons (skeletons) all seek to thwart your every effort to save the love of your life, El Presidente's Daughter, from the clutches of a bastard charro returned from the grave named Carlos Calaca.
You'll fight Carlos and his minions in both the living world and the world of the dead, once you learn how to swap dimensions of course using the aptly named "dimension swap". And swap you will! Like a 70s swinger, you'll be back and forth and back again till you don't even know which way is up or whose dick is in you mouth. The taste of adventure, not unlike that of an inexplicable dick, is fresh on your tongue now! You've got twice the game to explore as you did before and twice the game to suplex some ass all over: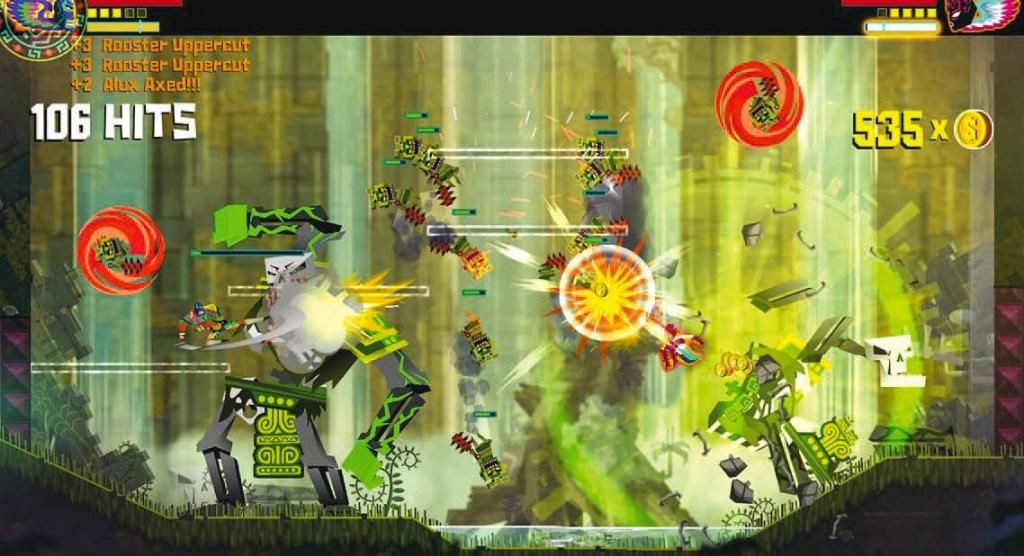 What the hell is all that? Don't look at me, I'm not sure either. I'm just drinking tequila, mashing buttons and drinking tequila. Confusion and concussions! The only thing I know for sure is that a lot of things are getting punched in the face and it's my fist doing the punching and some other face (not mine!) doing the getting punched in itself. Plus I look good doing it!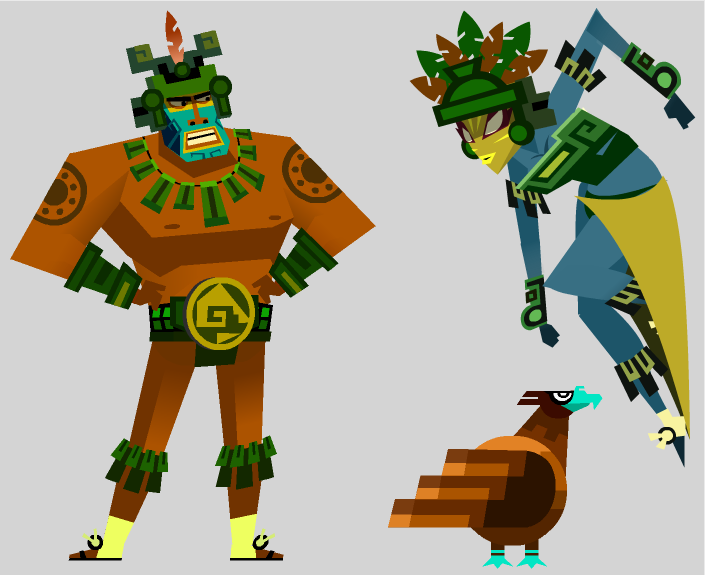 Numerous humorous wardrobe choices are just one more reason to love Guacamelee. This skin here's called "Mighty Warrior" and hearkens back to when the majestic Mayan ruled much of Mexico. That hawk on the bottom right is actually you as a chicken dressed up as a "Mighty Warrior". It's a cock in a hawk in a Juan, it's dick-ception. Call it whatever you want, but it's awesome, because whether you're a football goaltender, piñata or the Devil himself, you and your poultrified alter ego will both get to play dress-up. By the way, that girly on the right is Tostada, a playable character in co-op so a friend can help you on your way towards destiny. She's in both of the above pictures but don't risk the madness of that battle scene. Looking into it is like staring down Ghost Rider. You'll just end up in a pool of sweat, disoriented and full of shame about that time you masturbated twice while watching Troll 2.
No shame in this here game though. The score is fantastic, the locations plentiful, the action unceasing. Clever, heartfelt and well researched, this game is a feast of quirky quesadillas for all your senses. Available on the PS4, Xbox One, and 360, plus the Wii U means the only reason you wouldn't play this title is if you have something against fun or Mexicans. Either way you're racist. So race your black, yellow, brown, red, white and/or blue bitch-ass over to that console and grab some Guac! Es muy delicioso (if you can't read that you are still racist!)
Not me though. Hell no. I'm 100% fake Mexican just like the made in Toronto by way of Nogales Guacamelee: Super Turbo Championship Edition. Our friends to the North and those South of the border came together to craft an experience fabulously cheeky in its execution yet completely respectful of what inspired it. I luch-adored it and reckon you will too. 6 rounds strewn about the ring for this worthy opponent. They'd be in the cylinder but this game gave me what for and gave it more than once. Most of the gameplay is of average difficulty making for a lightly challenging run through if you possess even modest platforming skills but two specific levels tested my dexterity, patience and sanity. Completing them was truly monumental and they'll stand as the greatest trials I've ever faced in gaming for a long time to come, my numb hands and bloodshot eyes are sure of it. I'm not a pro gamer but I'm no newb either and shit tons of fucking shit…this was the easiest and toughest game I've ever gotten through.
I failed and failed and failed with failure on top. Then I failed before failing a few dozen more times. It was failure after failure. But I never stopped fighting. Sounds trite, sounds silly, but it sounds like Life and like the ring of fucking truth. My life has been full of missteps and mistakes and falling short more often than not. But every bit of that has made every success so goddamn sweet I can barely even remember what defeat tasted like. I say "barely" because it's important to stay hungry for what you want most. Past all the pitfalls and fuckups, hunger for the good stuff, the great stuff, the best stuff.
That's out there for all of us amigos, don't settle for anything less.