Posts tagged
Westerns
2
If you ever watched Jaws 4: The Revenge and wondered if it could have been a better movie had a buffalo been chasing Ellen Brody around the Bahamas instead of a tired rubber shark, then 1977's highest grossing film about a white buffalo (entitled The White Buffalo) might be just the kind of film about which you were wondering. This time around, the tortured soul tormented by an animatronic asshole animal is none other than Charles Bronson. Death Wish minus one architect vigilante and plus one inexplicably demonic bison is basically this movie. 
There will be a reckoning, but Charles arrives out west in need of redemption moreso than revenge. He has some Native American issues and some buffalo nightmare issues neither of which are fully fleshed out, moderately explained or even intensely alluded too. A few throw away lines and a few dream sequences, to ensure the producers were getting their robot buffalo money's worth, is all as an audience we're going to get from this movie. The White Buffalo is by far one of the hodgiest and podgiest creations I've ever come across during my walks through the Western genre. It's a frontier Frankenstein's monster featuring many historically authentic pieces that never congeal into anything at all resembling actual history. If you're looking for a great example of this, look at this great example: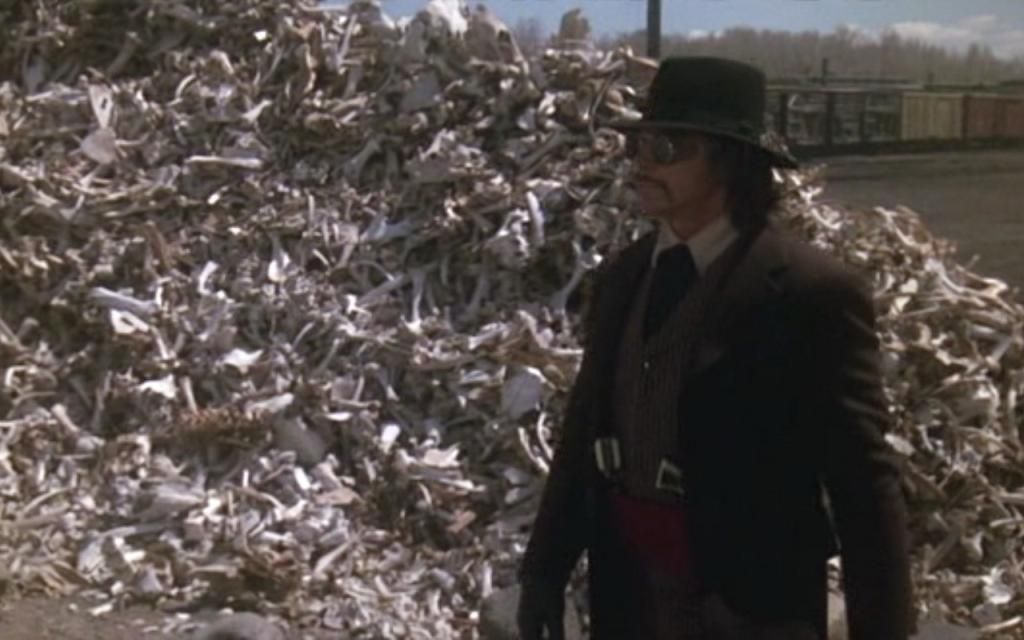 Framing our protagonist is an iconic mound of buffalo bones, symbolic of the gross disrespect we as humans are capable of, the pile grim down to its last alabaster piece. Scenes like this were commonplace back in the outrageously over-hunted 19th century. In front of that sickly stack, wearing the goggles, fedora and not even one Colt 1851 Navy, is Wild Bill Hickok. Scenes like this never happened because history isn't fucking stupid. The real Wild Bill would surely admit that the co-opting of his namesake for purely, I guess, narrative validity purposes was a bigger blindside than anything he ever encountered inside of Nuttall and Mann's. Nothing at all against Bronson's acting but his character had nothing at all to do with James Butler Hickok. Call him "Feral Frank Fuckit" and this would have instantly been a better production. Even "Santa Claus and Doctor Octopus Save Cheyenne" makes more sense than most of the mismatched material here. And at least the look was there for that one:
The ham-fisted fist-fucking of facts didn't stop with Bill either. Tom Custer shows up but is never distinguished from his more famous brother George Armstrong Custer. He has a hard-on for Bill and his cavalry troops are gonna be the ones to give him his Happy Ending. Why does he hate Bill so much? Why does the white buffalo? Why do the writers of The White Buffalo? None of this gets answered, but it is true that the real Wild Bill took on at least two drunken 7th Cavalry douchebags one night in Kansas so see kids, Bronson really is the not real Wild Bill after all. And his hunting partner is none other that Charlie Zane. The real Charles Zane had a white beard, probably didn't personally know Wild Bill Hickok, was a territorial judge in Utah and hated polygamists. Movie Zane had a white beard. The only quarry real Zane ever hunted was Mormons and that was only in courtrooms as far as I can tell. I gather that the only thing Jack Warden hunted down while portraying movie Zane was the craft services table. And don't forget everything you know about Crazy Horse. Or do. It's not going to matter.
Will Sampson of course kicks ass in the role. Few people can pull off sensitive masculinity, shading vim with vulnerability, as he always did. He was amazing as Ten Bears in Josey Wales, a character loosely based on an actual Comanche Chief and he's amazing here as Crazy Horse, a character loosely based on words pulled out of a bag at random. Like cast mates Bill, Tom and Charlie, "Crazy Horse" is mildly recognizable and was thus included to lend his street cred to this gutter trash of a yarn. It's as if the writing staff needed you to know a great deal about American history and then also be fucking retarded.
What wasn't suffering from diminished capacity was this tale's true star. The White Buffalo:
Here he is with Charles Bronson at the film's premier and although he may look fake and plastic I can assure you, that is the real Charles Bronson. Creature effect duties fell to one Carlo Rambaldi. Does that name sound familiar? It did to me too, so I searched the internet and found this picture of him with a maquette of Hilary Clinton: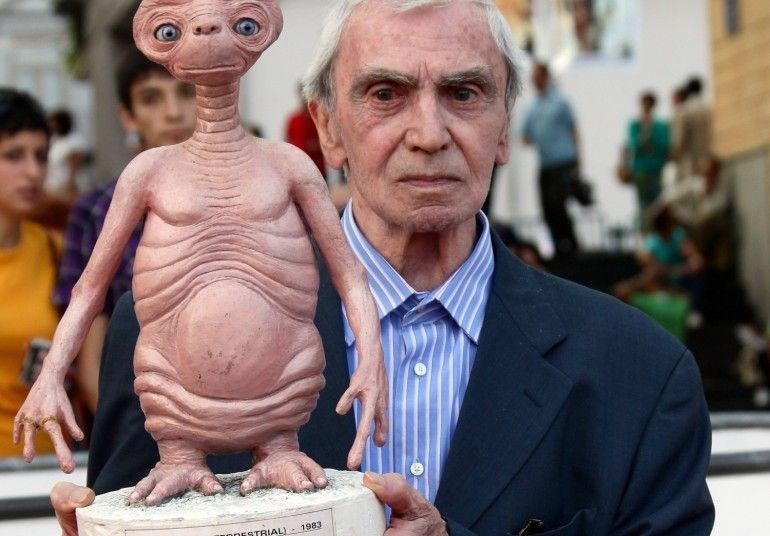 Rambaldi, an Oscar winning special effects maestro, was most well for his work on Close Encounters of the Third Kind, various versions of King Kong, something called E.T. and…wha…DUNE and ALIEN!?!?! That Rambaldi? Jesus Christ, how retarded am I? Maybe I wrote The White Buffalo? Proper historical placement was lacking in this movie but the same can never be said of proper prop buffalo placement. He did drool a bit too much, like a Krispy Kreme icing waterfall or whatever you call that thing at a Krispy Kreme that glazes the "hot-fresh-now" doughnuts that I want to lay under or put my wife's ass through, but yes, Rambaldi's buffalo is a bit ambitious on the salivatory side still performing well however in all other aspects.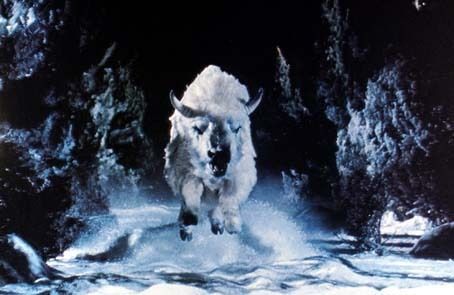 Here's the beastie running full tilt. Many critics, who are assholes, argue that you can often see the mechanisms propelling him down the buried tracks upon which he trounced. Today this critter wouldn't fare any better than a "B" movie but we weren't all jaded, critical assholes back in the 70s. You could argue that modern technology has rendered practical effects obsolete but look at this CGI buffalo flying along from The Last Airbender: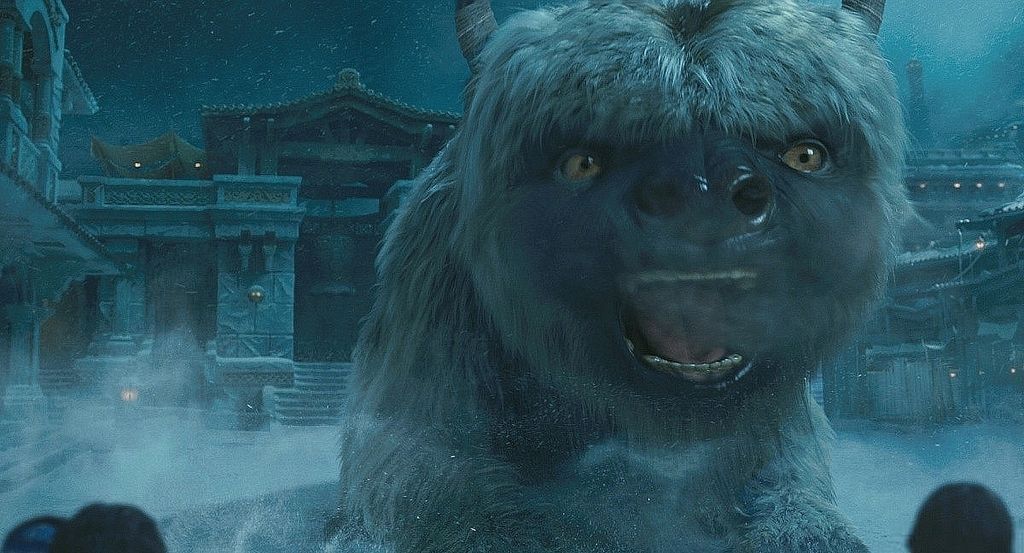 Who's the asshole now? It's you asshole! CGI is slick and has its place but it should be a tool used in modern live-action cinema, never the whole tool box. White Buffalo's action sequences were edited in a way as to cover up most of the shortcomings. If they were there I didn't notice or didn't care. The bottom line is that robotic buffalo always look cool. If you don't feel the same way, feel free to take your concerns up with:
These robotic buffalo from EPCOT's "The Land" ride/attraction!
Or Terrashock the Buffaloid from the new Transformers: Robots in Disguise!
Or this amazing metal statue of a buffalo that just hasn't realized he's a robot yet!
Or this awesome buffalo-a-coaster that is also not a robot yet still speaks to me! For bonus confirmation ask the Indian between passenger cars four and five. That fucker knows himself some buffalo!
Or "Whitey B", as I call him, the white buffalo who has more movies under his belt than most of us do!
He wasn't just cool, he was cool as fuck. When he came charging at the camera it really did look a whole lot like someone was about to get fucked by one gigantic, drool dripping, fur covered, fuck machine.
WARNING: Do not Google "gigantic, drool dripping, fur covered, fuck machine."
3 rounds in the cylinder for The White Buffalo. It's not a masterpiece of the Western genre, it's not even a masterpiece of the Sunday morning when I watched it instead of dusting, but I was enamored enough. Some sensible performances and immersive, period-accurate-to-the-point-of-confusion dialogue both had trouble making the meandering script do much except bring you from the title card to the credits. Lots and lots of famous figures in this one too but, like a bucket of big, dry dicks, putting them all in just because you can doesn't mean it's going to feel that great. I will never know why the buffalo was so mad, his I'm-going-to-mow-you-down motivation to remain forever a mystery. In the end though it wasn't about the buffalo's journey, or even Wild Bill's. This movie was really only a complete and reasonable chapter in Crazy Horse's life. In that way, this movie that made no sense makes a lot of it. 
We all play parts in each others' lives, at times never fully grasping the good, bad or ugly we may have brought to our sisters and brothers. It can be obvious but more often the moments slip by without seeming important to us. We have to remember that those moments might have been entirely for someone else.
You ride true and it has a way of making more than just your own life better amigos. So, whether you're facing down the storm or just a saccharine sunset, I think you know what to do.