2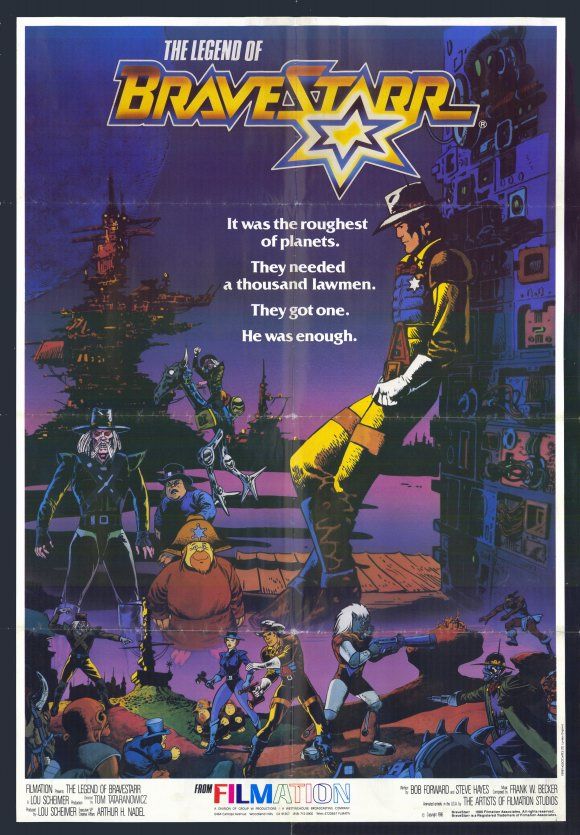 I get a nice little perk at my job that comes in the form of awards for staying active. I run and lift weights anyway because I like being healthy for when this world eventually goes the way of Thunderdome so an Amazon gift card to buy fun things with is just bonus. And thus I had a bit of indulgent spending to do with last quarter's fit funds and spend I did on, among other things, BraveStarr: The Movie. Alternatively called BraveStarr: The Legend and Bravestarr: Aw Hell Yeah it's a BraveStarr Movie! Wait, What? The Series got Cancelled? Well Fuck my Ass Sideways with a Steamroller! it's the movie that started it all…debuting after the series had already wrapped. Filmation was floundering so you can't blame them for scheduling or production fiascos and I for one actually applaud them for putting out such a memorable and surprisingly mature title as the whole company was gutshot and riding off into the sunset. BraveStarr: The Movie is one giant origin story. The origin of New Texas, its precious Kerium deposits, the locals, the settlers, the good guys, the bad guys and the one guy they're all looking to: Marshal BraveStarr.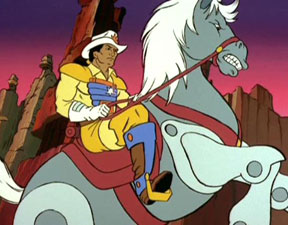 Here he is now, riding his best friend! That probably sounds weird but it's really not when you realize that his mount, Thirty-Thirty, is a sentient techno-horse that can run on all fours or morph to stand upright on his hind legs at which point he can use firearms and presumabley buy beers and condoms for "Craigslist night." If you're still concerned about this groin-grinding bromance rest assured that feelings are mutual tween the two as tastefully expressed in one of the first scenes they share together that I will now transcribe as faithfully as memory allows:
BraveStarr: My apologies for just hopping on back there, it's awkward I know and I don't want to presume.
Thirty-Thirty: Ah shucks amigo, no shame, you can mount up anytime!
BraveStarr: Hell yes, I'm gonna mount up big pard! You're a goddamn robot-horse!
Thirty-Thirty: Best of both worlds and I can stand upright too. I got your back in a firefight and when we go out drinking.
BraveStarr: Talk about a wingman. Best ever!
Thirty-Thirty: Well, I am hung like a me after all.
BraveStarr: Uh…that might not be so great for my dating prospects…
Thirty-Thirty: Sheeeeit, don't let that worry you none I'm the last of my race.
BraveStarr: Wow…that's really sad…I'm sorry.
Thirty-Thirty: Better to burn out than to fade away mother fucker! Jump on, let's ride!
BraveStarr: Yeaaaaah, goddamn robot-horse!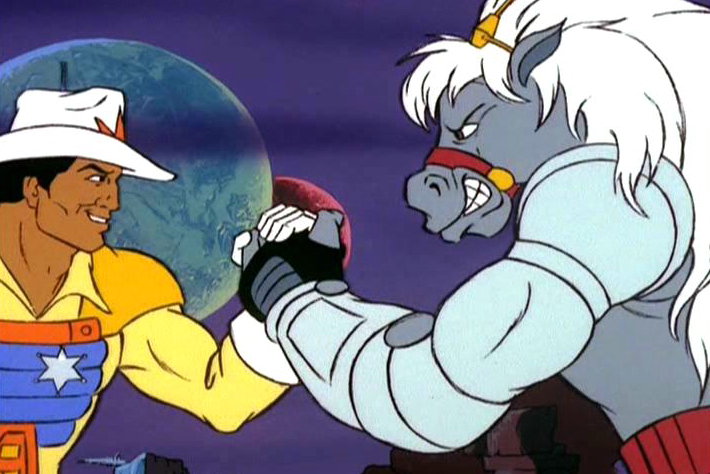 And the two would go on to have many adventures together drawing strength from their friendship. While their first meeting may have not gone exactly like that, the fact that both the marshal and his mighty steed found someone they could trust their lives with is indisputable. This movie didn't shy away from breeching adult situations and all the complex emotions, decisions and ramifications that come with them. It's not Watership Down but it's well beyond what other syndicated shows were attempting to do at the time. Public service announcements and moral lessons pervaded all the product shilling productions of the 80s including this one but the non-chalant integration of those kinds of teaching into this movie (and series as a whole) make it stand out among its peers. Being a Western didn't hurt the easy wholesomeness of the presentation none either. I mean sure, Gung-Ho wanted to make sure I wasn't sniffing glue while I touched myself and stared longingly at a Baroness action figure but what was he doing in my closet watching me sniff glue and touch myself anyway? Ah what the hell, he's a real American hero and he can watch me anytime!
And besides what are heroes without villains (glue-based or otherwise) to stand up against? BraveStarr: The Movie lets us peek into the hideous hidden history of Tex Hex and his evil henchmen. Hex is Skeletor with a cowboy hat and like that famous skull-faced scalawag he too collects a colorful (and highly collectible, kids!) gang of goons to help him get his ass kicked by the good marshal and his buds. One's a robot gunslinger, one's a saucy serpentine seductress, one might be a sex doll and one is a cactus. Holy shit those are some goofy fucks! But their boss is up there on the shit-your-pants scale as far as cartoon villains go so it all balances out I reckon. Big Bad's name is Stampede. He's like if Chernabog fucked a robotic cow and had a baby and that baby went out into space to rule as a demonic, robo-steer, demi-god thing with no legs.
Even with his old timey prospector mustache he does come across as rather nightmarish and undeniably threatening. A few times he's drooling all over and thrashing all about while making noises like that goddamn AT-ST skeleton thing from Poltergeist and it's absolutely terrifying! Not to mention I just had to Google that fucking Poltergeist image and even though I'm an almost 40 year old man that fucking thing still gives me the heebs to the point that I may just have to pee in a corner behind my desk unless my wife gets home soon 'cause goddammit that thing could be in the bathroom!
Happy thoughts, happy thoughts…like the fact that, again like Skeletor, Tex Hex is one of those wacky rogues who despite his planning and preparing fueled by a diabolical need to dominate any and all do-gooders he always stumble flubs his way into an embarrassing defeat. Plus he kind of looks like an old drag queen.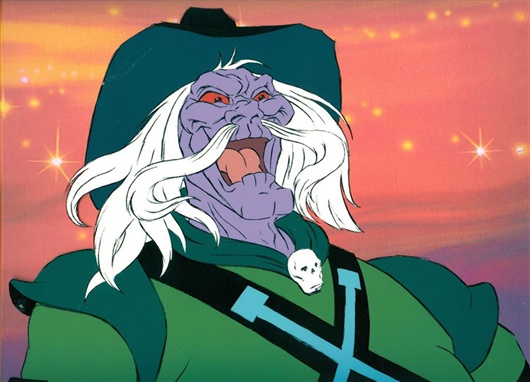 In fact he queens out a lot.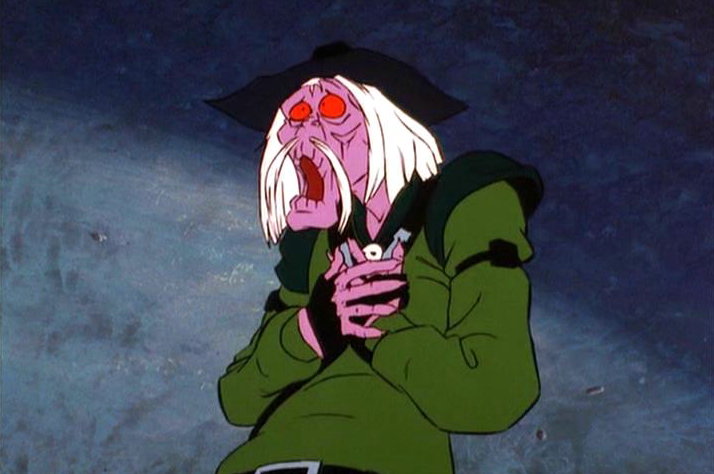 But the balance between the light-hearted and heavy-hitting is pulled off well in BraveStarr: The Movie and in addition to the main storyline establishing the titular lawman and his compadres as the saviors of New Texas the movie seeks to answer many questions you might have. Like how much ass can an alien bartender with a handlebar mustache and a bi-pedal horse dude kick?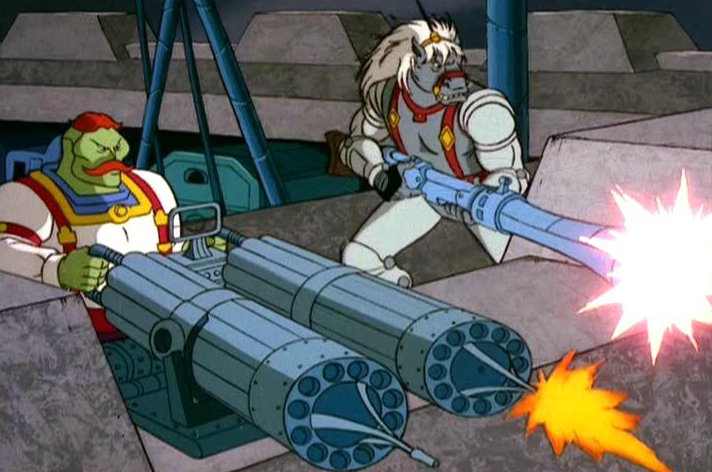 The answer is "dump trucks full of fuck-tons." It also answers many you would probably have never asked even at your most bored like just where did Judge J.B. McBride get her tight-fitting space judge outfit complete with matching hat?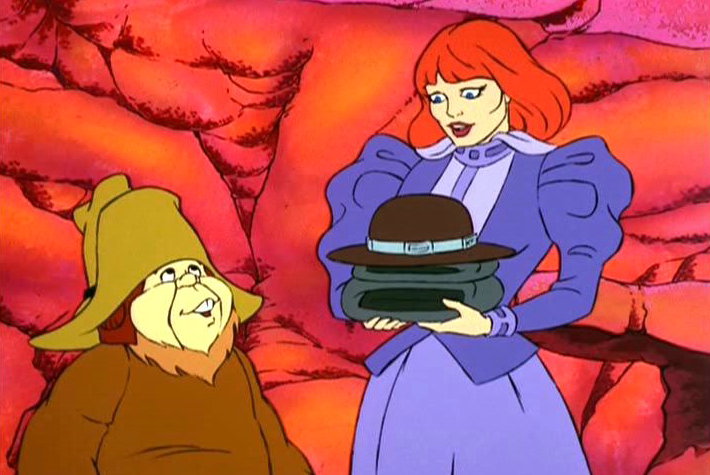 Answer: some guy with down syndrome who works at Big Thunder Mountain gave it to her! And then it gets really deep when it answers things you didn't even know to ask. Like if secession was constitutionally legal when the Confederate States of America decided to go their own way how then would you best portray one of Lincoln's blue bellied bitches who crammed an illegal war down Southern throats?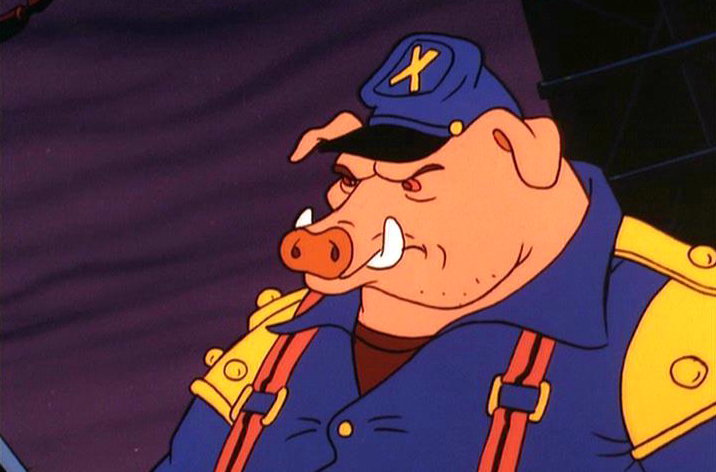 Wow, BraveStarr: The Movie allow me to salute your subtlety. You could say it's all open to interpretation and you'd be right, even though I'm dead-on with Porkins there.
We can argue history all day but I doubt you could find issue with me stating that BraveStarr: The Movie lands 4 rounds in the cylinder and that's without nostalgia bias as I didn't see too much of this series when it originally aired and never saw the movie. As a Western that will stand the test of time against so many others it does come up a bit low yield in certain areas but as an example of the cartoon adventure genre out of which it was produced it's a mighty rich strike. You can forgive the re-use of many animated segments over and over because everyone did that back then to save on the budget and where Filmation stood apart was that they rotoscoped a lot of the action giving the whole show a more realistic feel despite its fantastical premise. With his eyes of the hawk, ears of the wolf, strength of the bear and speed of the puma, Marshal BraveStarr vanquished the outlaws as easily as he won our hearts. He was a last shot at re-imagining the Lone Ranger for a new generation. A generation that would quickly grow up to be very, very selfish and have their own kids that were even more so. The sun may have set on this, Filmation's swan song, but that mystic man from afar and all his heroic friends will live on in countless childhood memories…and even a few adult ones as well.
Ride on then amigos, and always ride true.