1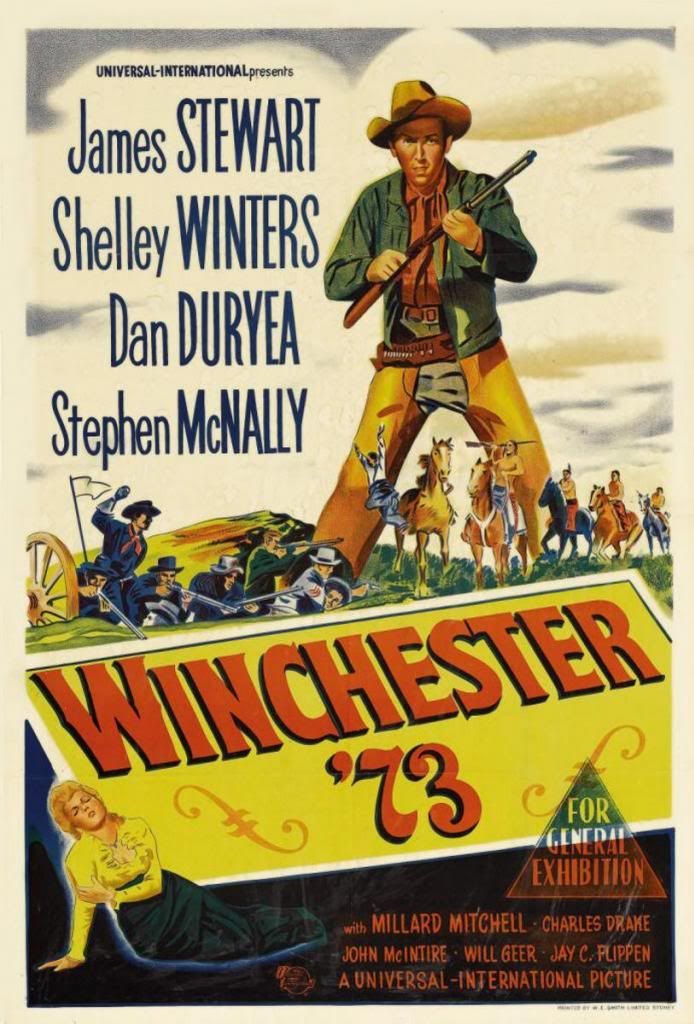 I'm really beginning to enjoy older Westerns. I've aged these past twelve months but I haven't matured all that much so it can't be that but a year of surveying all sorts of Western cinema has had a noticeable effect on me and one that has helped open my eyes to quite a few things I might have otherwise missed. Winchester '73 is one of those that always makes it onto everyone's "top ten" and "must see" lists. So I'm at Big Lots when I come across a copy crammed into an end-cap/island of misfit entertainment kinda thing and it's three bucks. And I think "why the fuck is this movie at a Big Lots?" And a little voice inside of me, probably God's or the whiskey's (or some awesome whiskey god's!) says it's fuckin' here for you, you fuckin' fuck! Appreciating a weird ass gift horse is one thing I'm all about so I dropped that paltry price on the counter and took my fine new DVD home.
I'll tell you right off the bat I wasn't sold on the whole Jimmy Stewart as a tough guy shtick though I read that audiences gasped with profundity when they first saw George Bailey go all ape shit on some dude.
It was comical in a way that lost me the character to the point all I saw was Jimmy trying to force intensity out of his face instead of truly acting. His manhandling was muddled, his grappling led to giggling.
And don't get me started on all the posturing in between.
He exuded unease for most of the film as did I while he raced all over the goddamn place to retrieve his rightly won and wrongly stolen rifle, the titular Winchester. But you know what, gut checkin' man in the mirror moment here, I know I for one am not the coolest of cats under pressure. Sure, I get the job done but I'm more scorched earth than soft hands. And as badass as anyone of us can fool ourselves into thinking we are the moment some fan starts whirlybirding shit all over our lives, in that precise moment, most of us would be hard pressed to land a punch with any accuracy or utter an immortally memorable one-liner. So now looking through that lens of self reflection it seems that Mr. Stewart has perhaps given us one of the most genuine performances of a man under duress to ever appear on film. In retrospect I recoiled from him because I've acted in the same freaking-the-ridiculous-fuck-out kind of way at many points in my life. It's good to know yourself for those really strong parts and for the equally weak ones too. Wisdom I never expected to take away from an old and now three dollar movie; wisdom that revealed the error of my initial assertion about Stewart. I however was spot on regarding Rock Hudson being slightly miscast as this guy.
I loved Johnny Depp's Tonto from Disney's Lone Ranger because of that crow on his head and the fact he had the sense to camouflage himself somewhat with distinct costuming to hide the fact he wasn't as Native as a lot of people thought he needed to be for the role. So here, focus your rage on this guy you bitching blatherskites. Rock…an ill fitting wig, Nobel Peace Prize and thirty seconds in the makeup chair do not an Indian make. Neither does the fact you're more Anglo-Saxon than Buckingham Palace and it shows. For five minutes it was like Winchester '73 stumbled into an awkward office Halloween party. But before you get too upset about fake First People be sure to take notice of the swastikas adorning their horses and then either stand impressed at the historical accuracy or feel terribly offended because you are an uneducated fuck. Look it up kids!
Knowledge is powerful, not only for enjoying swastikas where ever you might find them but also for when you stumble across a cinematic gold strike of the legendary actor variety.
Here's three Cavalry soldiers about three quarters of the way through the movie relaxing by a fire and discussing whether or not that Indian chief they met was gay or not. In the foreground is Tony Curtis who went on to star in every movie Tony Curtis was in and to his right lounging lackadaisically on his left arm dreaming of one day catching the Duke boys…
Yep, that's James Best who retired from showbiz to work Law enforcement in a small Georgia town from 1979 to 1985. Aren't facts fun? Like can you believe in this day and age of computer generated bullshit like the Star Wars prequels and current healthcare system that back in the day stunts and special effects were all done practically? There's a famous trick shooting sequence in Winchester '73 that involves shooting through the center of an airborne washer and while it was Stewart's character who gets the credit in the film for making the shot it was Herb Parsons who actually did it on camera. Just who is Herb Parsons? Feast your fucking eyes!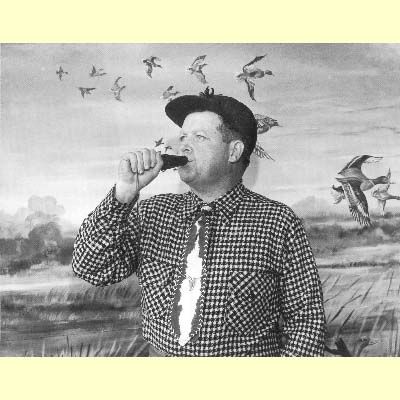 Impressed? Read up on him here. Herb was a champion trick shooter and spokesman for Winchester firearms until his untimely death from a post surgical blood clot. Don't let his look fool you (he was also a champion duck caller!) this man could toss seven clays by hand into the air and shatter the last one before the first pieces he'd nailed fell to the ground. He could dent dimes tossed overhead with ease and land targets using multiple mirrors pulling the trigger on a rifle slung over his shoulder backwards. It was said he could shoot the dick off of a man at a thousand yards and the dick off a woman at twice that! Wow, that's precision!
The same can't be said for our main protagonist however. I'm talking about Stewart by the by and not the actual Winchester though Fritz Lang was originally going to direct this one and had wanted Stewart's life or "power" or some weird German existential shit linked inextricably to the firearm making our hero's quest to retrieve it a bit more imperative than in the final product. I mean he gets it back but it's not like his life depended on it and if he was freaking out before, man, I would have liked to see Lang's version all blood and tears and (hear it in Stewart's voice) "Jeeeesus Christ give me back my, my, my Winchester you goddamn baaastards!" I wish that movie existed, someone make it and give it to me for Christmas. It's alright, I know that won't happen. But it's important to dream. And have goals too. Dreams don't mean shit without goals most of the time so work at it ya' lazy mumps! Wait, am I yelling at you or me? Hell I don't know! But I do know one of my goals is to live in Arizona sooner rather than later and that's another reason I was fond of Winchester '73.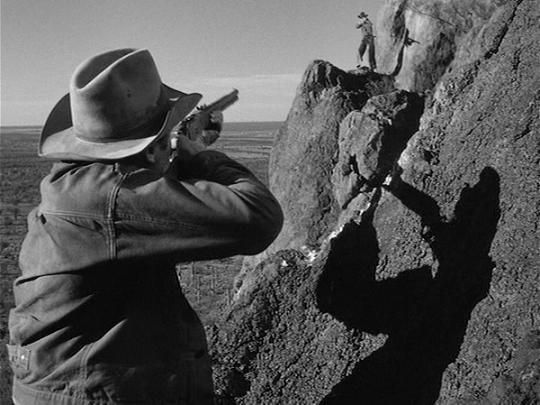 And I was talking about precision, see Stewart (Parsons!) shoots through a stamp covering the hole of a washer early on in the film cementing the fact he's a crack shot yet when it comes to settling an old score from like fifteen feet away it takes him the better part of ten minutes and almost more ammunition than he carried with him up that mountain. But that's the awesome part! I've been on that mountain! I visit it every year for my anniversary and have literally looked down into that very same desert you see in the picture above. The White Stallion Ranch sits nestled west of Tucson between parts of Saguaro National Park and the Tucson Mountains which served as a backdrop for some of Winchester '73 including the final shootout. I was like "oh" and "wow look at that" and "hey we rode through there" for a half hour which is about as long as it took for Jimmy to find his mark and then abruptly, even sourly, finish the film four seconds later.
It's an odd roller coaster of intensity and pace but with more good than blah you can see yourself wanting to ride it again at some point in the future. 4 rounds for Winchester '73. An interesting choice of how to focus a story filled with amusing cameos and unexpected thespian turns plus it's simply a fitting review of choice to start off my second year of Western Watchins. If GUN last week was where I'd come from then Winchester '73 is where I'm headed. Wide eyed even through the crows feet and finding new courage in myself everyday despite the fact the fears seem to grow with the years. But the West isn't about being ready or able even, it's about being willing more than anything else. Trailblazers knew that then and we know it now too, filled with fear and fire that's why we ride. And my amigos, as always and for ever, ride true.