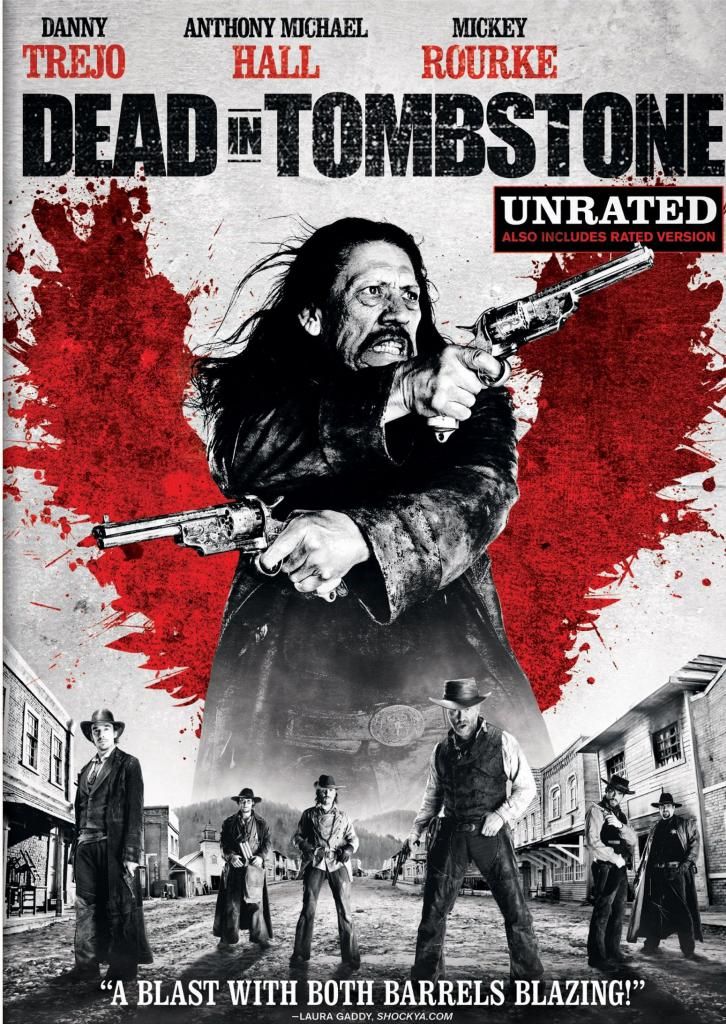 I mentioned Danny Trejo last week and now, as the star of Dead in Tombstone, he earns another nod. If I bring his name up just one more time, like a south of the border Beetlejuice, he'll appear and drink tequila with me. That's going to be awesome. I was thinking the same thing heading into this movie and it did not disappoint. Direct to video productions work best when the producers embrace two vital decisions. Don't take yourselves too seriously, do cast Danny Trejo.
Hold on, there's a knock at my door. It was Danny. I told him I needed to write for about another hour so he should get to gardening until I'm done.
Anyway, if you're not familiar with at least some of Danny's body of work I probably hate you as much as you obviously hate great cinema and my fake national origins. To bring you up to speed, Trejo plays Machete in Machete, Bullet in Bullet and a bad ass in Bad Ass. That's sort of misleading, he's a bad ass in everything but you see my point. Dead in Tombstone is just another hundred minutes for you to enjoy voices filled with gravel, guts filled with fire and balls filled with vengeance. See, Anthony Michael Hall makes the mistake early on of betraying Danny and calls down all the balls. He's looking rough, but in that "if I saw him having sex with a hooker in the gutter I would still watch" kind of way. He's a right nasty bastard who backstabs his half bro before deciding to keep their gang in a town they just looted to continue looting it and change it's name from "Edenville" to "Tombstone". That's right, Dead in Tombstone doesn't even take place in the Tombstone. You don't have time to care or be confused though because before you can care to be confused Rusty Griswold takes his rusty Griswold and sends Danny down to Hell and right into the Devil's meaty hands.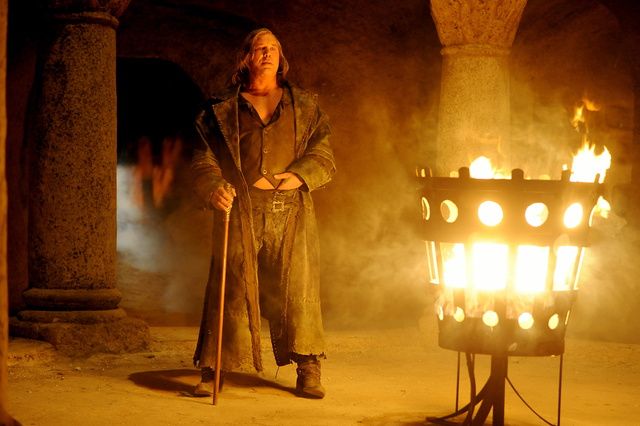 Fuck yeah Mickey Rourke is the Devil and he's about to get his devil dick burnin' balls deep in a bunch of assholes' assholes! He sort of looks like Al Bundy and Prince Adam had a kid and that kid grew up, slept with Kim Basinger, and then become homeless. He sure is generic but carries the clichés with a casual intensity that silently screams "why yes I am an accomplished actor" and "they paid me for this in cases of Twinkies" all in the same breath. Like a Twinkie he too needs to be filled with a mysterious and disturbing substance, the souls of the sinful, and wants to wager with Señor Trejo in order to make sure he stays bubbling up to the brim with salacious spirits. Machete don't text or play the golden fiddle but he does know his way around weaponry.
Especially made up and/or anachronistic weaponry: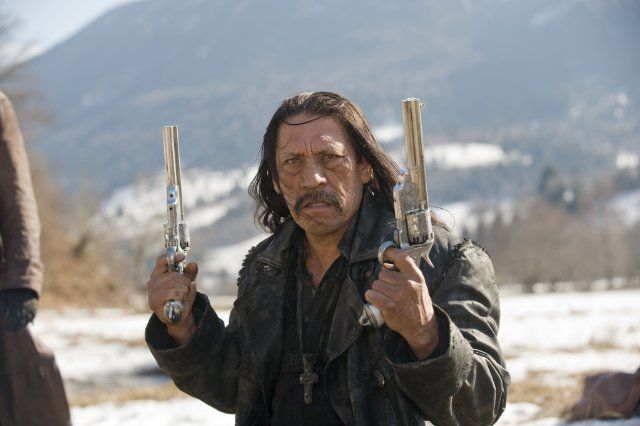 His custom revolvers, that supposedly no one knew how to assemble except for him despite the fact they appeared to break down like any similar revolver, were all Dragoon up front and totes LeMat out back. Huge, powerful and rather unwieldy they reminded me of the way my penis appears in dreams. Both mine and others let me clarify. I could have said "ridiculous" too but they got the job done. Again, like my dream penis. Now, if this silver plated and three barreled son of a bitch bothers you that much just wait till the camera angle changes. When the action jumps around from person to person so do the firearms. The first thing the director did on set was to have a window constructed so that he could immediately throw continuity right the fuck out of it. Dead in Tombstone features a half dozen prominent hand guns that all the principal actors share across different scenes (and also the same scenes) even going as far as to shoot at one another simultaneously with the same ordnance. Not the same model, the same actual gun. Trejo goes from handling his fantasy favorites to something that looked period appropriate to something Smith and Wesson made in the past ten years. I'm no expert but even I was noticing pieces that had no business being in this late 19th century movie.
Of course dynamite has no business being shoved inside of a kerosene lamp to make an impromptu napalm bomb unless your business is making my dick hard and let me tell you, many times during this movie, business was booming. What do you expect when you get a former Mexican jailbird, Marv from Sin City, the dorky kid from The Breakfast Club and that chick who banged Johnny Rico during Starship Troopers together in one show? I did tell you that chick who banged Johnny Rico was in this right?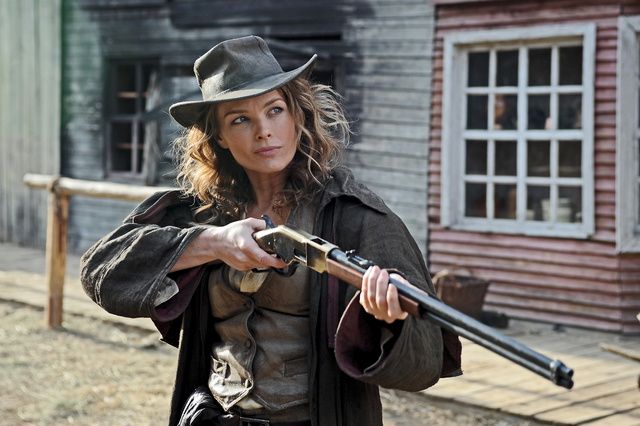 Oh Dizzy, you screwed Johnny boy good and thorough but then a big old bug screwed you likewise. Tough scene to watch and I learned right then never to sleep with Caspar Van Dien. But if you learned anything tonight, besides what my dick will look like once you fall asleep and not to, under any circumstance, put it inside dream Van Dien, it's that if you have Netflix or feel like stealing this from Wal-Mart, you should watch Dead in Tombstone.
4 rounds in the cylinder for one of the better non-theatrically released Westerns I've seen. Judicious but thoughtful use of slow-motion and more than a few tricks up its sleeves to make you smile. The story wasn't anything relevatory but the way this standard revenge with the supernatural help and sometimes interference from a demonic Mickey "Have you seen The Wrestler 'cuz goddamn that's great" Rourke, the way it was presented, made for a fun dinner time dalliance. Plus you got to see what Anthony Michael Hall looks like all puffy and haggard now presumably due to being stung by a posse of rough and tumble cowboy bees: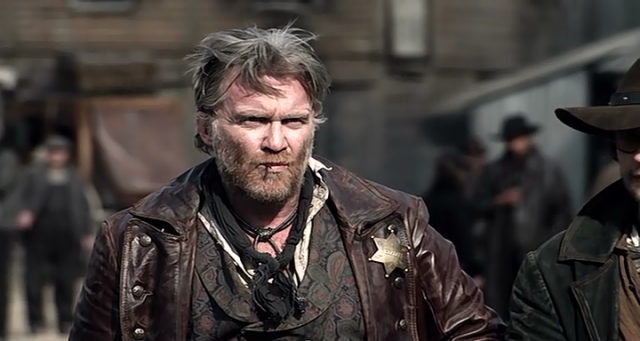 "Don't you…forget about me" he said with a lecherous lilt in his voice.  I'm giving him a hard time here, we all fill out with age, but he had the Dead Zone and has fared better overall than Judd Nelson. Jesus, that guy's career went to shit as soon as he got Optimus Prime killed. Wait a minute, fuck China, the next Transformers movie should be set entirely in and around the Sonoran Desert! I'm serious, fuck China! And serious about the movie too…Autobots battling to stop the Decepticons from converting the vast silver deposits still under Tombstone into energon while concurrently discovering the secrets of the Arizona Spark. I can tell you from experience, once you feel that spark, you'll fight for it. Down in the dust or dirt or the where or fucking however. Man I love that place and I finally feel like I've figured out how to get there: become a world famous luchador hero.
More on that next week.
Till then, give Danny and his crew a shot if you can spare the time. More importantly, give yourself one. The bullseye of that dream life you wish you were living is just waiting for you, begging for you, to pull the trigger.
So aim true amigos, and squeeze.