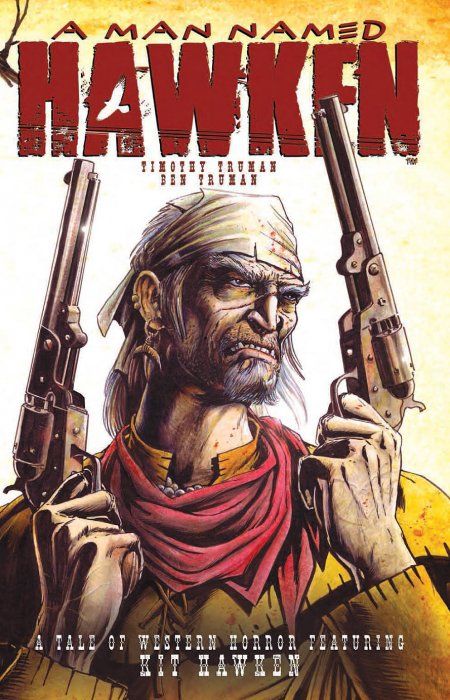 The Western genre, sad but true, is barely a blip on most folk's entertainment radars. We're a post modern, neo-retro/futurist society steeped in disposable electronics and relationships based on clicking "like". The thought of a dirty, disconnected world in which your word meant something scares a lot of people. Cowboy themed movies struggle to find a broad audience as does print with the same stylings and their bastard offspring, the comic book, has it even harder. I'll bet you can name all the Western comic book characters you've ever heard of with nothing but one hand and a quizzically forlorn look on your face. No shame in that, I only mustered up Jonah Hex, the Lone Ranger and Zorro. So when I spied a copy of A Man Named Hawken over at my pal's house I knew what I had to do. I asked that sum-bitch, with gravel at the back of my throat and nothing but cold, black comic book need in my heart, if I could borrow his trade paperback. He then took a draw off his whiskey, looked me dead in the eyes, and muttered a meaningful "yeah". Make sure if you ever borrow something you make it all cool like that. And wear a poncho if you can. I wasn't wearing mine and that's a regret I'll carry with me the rest of my days. Of course, when I reach the end of all of those "my days" I sit here secure in the thought that I will not be nearly as beat to hell as Kit Hawken.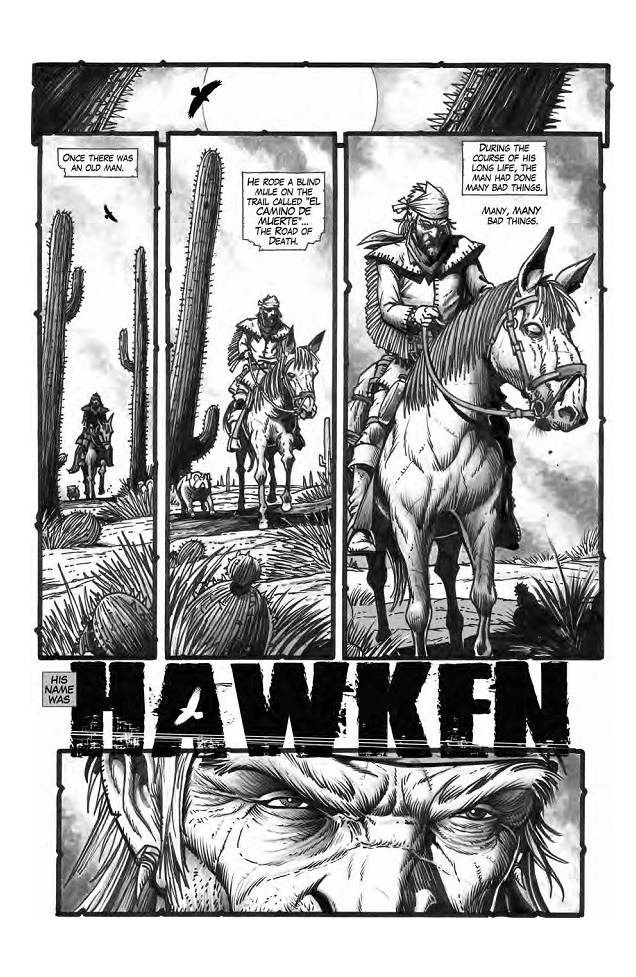 If you mummified the "The Man With no Name" after you rolled him around in buffalo turds, kicked him in both balls repeatedly, scalped him and then called him "Kit Hawken" you'd pretty much have Kit Hawken. He's only the surliest of souls probably because those of everyone he's ever killed follow him around just to fuck with him. A gunslinger literally haunted by his gun-downed victims. The "haints" as he calls them might be real or Kit might be sun burnt in the brain-pan. Definitive clues are lacking and as only six issues exist thus far the answers are really left up to you. The first arc leaves quit a bit to be desired but as an example of what a father and son can do when taken in by the moment AMNH is commendable. More on that in a moment, first back to the jarring interplay that occurs when one moment your reading some wacky conversations between ghosts and our sand-deep-in-his-crack kind of crabby protagonist and then the next it's all boom goes the dynamite.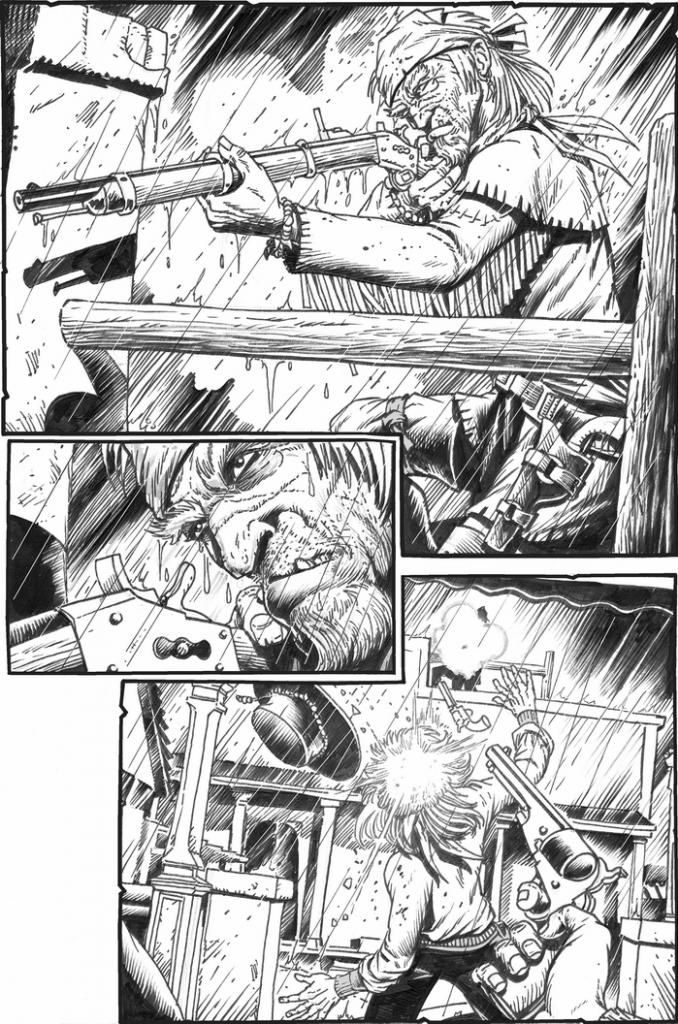 Hawken is gritty, even flirting with genuinely disconcerting, only to quickly transition into a panel or two featuring a ghost dog peeing on somebody's face. I love me a good piss-face scene but I never knew if I was supposed to taking any of this seriously. High Plains Drifter is one of the best examples of how to blend the humorous and the horrible and make you forget that those things should never be a mingling. One minute Clint's fighting for his life, the next it's a laugh a minute rape scene. Man I love that movie. Because it's an amazing movie and because talking about it the way I do must just freak the fuck out of some folks. Conversely, Hawken doesn't get the blood to boiling as much as it should. The characters are designed really well and the art style is well suited to the task but when payoffs like this come: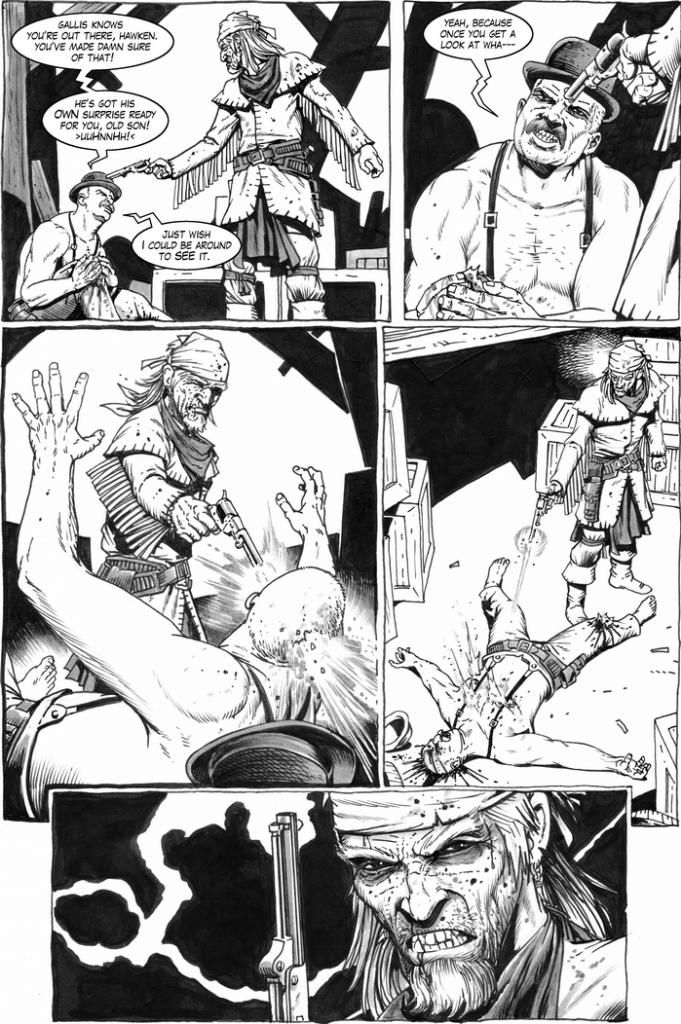 What should leave me all "hell yeah" merits instead a simple "ho-hum". I wished this book was better on the whole. Kit's toothy under-bite, obvious baggage and "fuck my obvious baggage" attitude create what could have become a welcome addition to the painfully few classic comic book protagonists who aren't adverse to wearing buckskin. Kit was brutally bad ass, the world he lived in had promise, the story they told together was somehow just average. Had this series continued my opinion could have easily changed but one trade's worth of what amounted to one big bloody introduction made the tome I held tight in my hands feel emptier than it should have. My disappointment with Hawken can't be denied, however it was assuaged a good bit once I learned of how it had all come to be.
Ben and Tim Truman, the father/son due I spoke of above, have some heavy, mostly indy, comic book street cred to the point they even managed to get Geof Darrow to work up a devastatingly detailed alternative cover for issue #5. Writer Ben lived in Tucson and artist Tim paid him a visit one year. The family took a road trip all over the Grand Canyon State from up north all the way down to Tombstone and Bisbee right near the border with ol'Mexico. Along the way was born Kit Hawken and his quest to bloody up the world before he's six feet down. Little nods to that particular geographic locale throughout the narrative and none so blatant as when, just a few pages in, some banditos decide to stir up trouble at a lonely desert mission. 
A mission, lying southwest of Tucson, in which I've actually attended mass.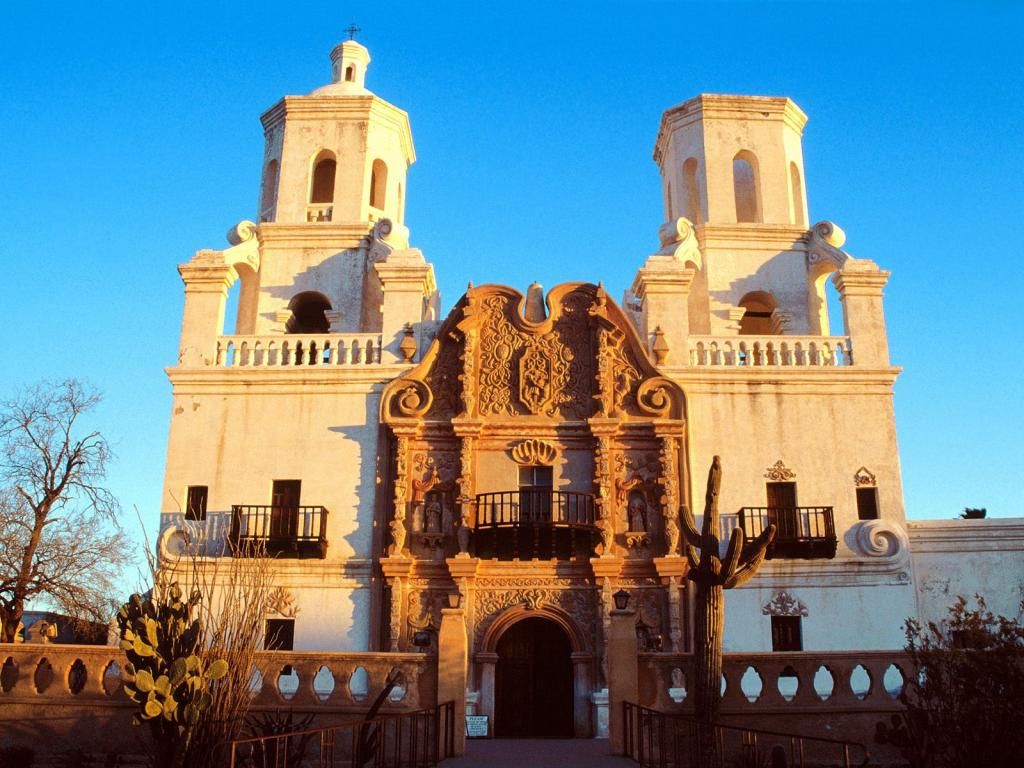 Angie and I visited the Mission San Xavier del Bac last time we were at home in the desert. It's beautiful and mussed, sitting there all open arms in the middle of nowhere like a charming whore with some dirt behind her ears. And she's why I can't be that vicious when quantifying my convictions about A Man Named Hawken. Built over two hundred years ago San Xavier is one of the many treasures I'm sure Ben and Tim saw along the heat burnt byways they traveled for a week together. This book is incomplete. It's a slice of angry life served on the gravestone of a man who doesn't realize he's already all but dead. It's tastes good but it tastes sour once you roll it around for a while and no matter what you think of the flavor it leaves you wanting more so you can see if it'll ever live up to it's spite filled potential. Once you put it down you might realize though that maybe this story was never meant for us. This story was meant for Ben and Tim, within their relationship is an understanding and appreciation we will never fathom. 3 rounds in the cylinder for A Man Named Hawken. As a satisfying tale of vengeance, unflinching and exhaustive it fails to deliver. As evidence of the labor of love between a father and his son, I tip my hat.
Now get out there riding true amigos, your own legends await.