2
I have an uncomplicated relationship with John Wayne. The Duke's movies almost never fail to disappoint me in some if not all ways. Stagecoach was my first and still holds as my favorite but The Searchers left me looking for all the time I'd wasted and The Train Robbers made me feel like I'd been run over by one. A train, not a robber. Then along comes McLintock!, a film loosely based on Shakespeare's The Taming of the Shrew and that age old adage "beat a woman with a coal shovel and she'll be yours or you'll just keep beating her." I assumed that, due to the legend surrounding its star and his famous films, McClintock! would, assumably, be one wildly watchable Western. But, you know what they say. When you assume you watch McClintock! and fuck yourself good and rough like a baseball bat rubbed with chili pepper going in dry.
Maureen O'Hara had bruises for a week from filming this scene confirming that this movie wasn't just a pain in the ass for me. McClintock! is supposedly comedic but comes across as such a bloated, un-funny mess I thought I was staring at Melissa McCarthy for two hours. One minute an Indian is going to be lynched, accused of foul play relating to a rancher's daughter, only to have that daughter show up at the last minute to admit she's really just a huge slut with an "oh man wouldn't that have been funny if someone were hanged because I was off sucking this dude's balls dry" look in her eye. She doesn't say those exact words but that ball sucking stare is unmistakable. A solemn moment turns silly and just in case you hadn't forgotten how close someone came to loosing their lives let's have a slap-fight/wrestling match near a big mud slide overlooking a big mud pit so we can all get muddy because holy fuck mud is really goddamn funny!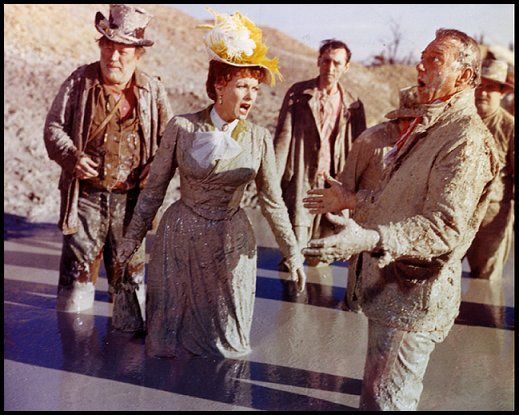 Maureen is all "how dare you not invite me to an Indian hanging!" and Duke's all " What?!?! I'm missing an Indian hanging?" 
Maybe he's not that callous, but John Wayne's feelings about Native Americans are patronizingly supportive at best. In his films many are portrayed as strong and noble, fighting for their beliefs and their unique way of life, so while he truly may have seen them as such he also viewed them as a race well suited, perhaps even saved, by pioneering subjugation. In McLintock! the local Comanches are restless due to the fact it looks like the U.S. government is going from flaccid to flushed again, looking to fuck the natives one more time to clear the way for the white man. Wayne's McLintock is set up as a kindly, understanding go between to argue on behalf of the tribe, but breathlessly to no avail. His speech fails to compel, his resolve lacks teeth. His words being little more than a show, for the narrative and for the viewer at home, that the Duke feels their pain but even he can't stand against the bureaucratic nightmare that's about to crush every native dream. This upsetting defeat sets up some Comanche incarceration, illicit Comanche outfitting, and an anti-climactic Comanche revolt. There was cause for concern that many a human life would be in danger but no one gets hurt and all the Indians run off and then the Cavalry shows up to save the day shouting "get the hell off of our land really your land you savage bastards!"
Again, they probably didn't say that, but something has to lighten the mood. McLintock! is a funny movie dammit and a somber undercurrent of race extermination should never get in the way of a few laughs. Thankfully Chief Running Buffalo is always there:
Running Buffalo only knows enough English to repeat various combinations of "good party," "where's the whiskey," and "we go home now." Meets up with McLintock? "Where's the whiskey?" Watching whole territory in a mud fight? "Where's the whiskey?" Escaping into the desert with the Army in hot pursuit? "Where's the whiskey?" I tip my hat to the screenwriters for keeping genocide so goddamn gut-busting. The other Comanche leaders were played with solemnity, Running Buffalo is Chief Hollywood Stereotype and sadly comes off as one prolonged wink at the audience conveying the notion that the plight of the Indians shouldn't be allowed to get in the way of this wacky ensemble piece.
If you can get past its enormously not-sidesplitting side plot you can set your sights on enjoying one enormously not-sidesplitting main plot. Lots of 1960s regulars to "enjoy" in this one acting as you'd pretty much expect. People like Jerry Van Dyke (just like a lesser known Dick Van Dyke), Patrick Wayne (just like a young John Wayne) and the one-two punch of Maureen O'Hara and Stefanie Powers (just like bitches!) The latter duo star as McLintock's previously spanked, estranged wife and soon-to-be spanked, spoiled rotten daughter. As funny as these two bitches being bitches is supposed to be it's not funny at all. Bitch! Father and (real-life but not onscreen) son work tirelessly to win the hearts of these two heartless hos but nothing really comes of it until, just when everything leading up to this point seemed to be saying "no," both ladies come to their senses and say "yes." Or "yes sir may I have another?"
How did they get that to look so authentic you may be asking?
Practice!
You aforementioned bitch!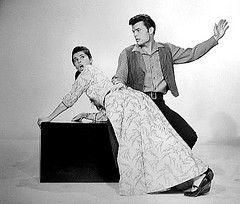 McLintock! highlights lots of societally acceptable ass slappin' but sadly no one ever takes it up a notch and chokes a bitch. That might have saved us all so much trouble.
2 rounds in the cylinder for this, my latest foray into the Dukedom. That's right up there with God's Gun and Lust in the Dust yet still better than The Wild Bunch which is somethin' I reckon. Another positive to take away from the film is this very simple lesson, "be yourself." McLintock never holds back his true feelings and doesn't apologize for voicing them to your ears or fisting them to your face. That's an outdated, even offensive way to live your life these days. Lots of thin skin and weak knees all over the world now. Folks have gotten used to coddling, the crutches of political correctness and the comfort of incessant computer confirmation so much so that their spines have atrophied effectively crippling their ability to own their own lives squatting then with spirits dimmed to no more than a flicker forever blown about by any preposterous but popularly prevailing wind leaving them condemned to an easy but oh so fucking empty existence.
Jesus…did you follow that? No one else did either. That's why Facebook still exists.
This film doesn't say much as a whole but McLintock's personal actions manage to still say a whole bunch if you're listening.
Never give up on yourself, and who you honestly are.
Once you do, you can never ride true. And if you ain't doin' that, it's best you just go ahead and get off the goddamn road. Those of us that give a shit, talkin' it and backin' it up both, will surely appreciate the extra room.