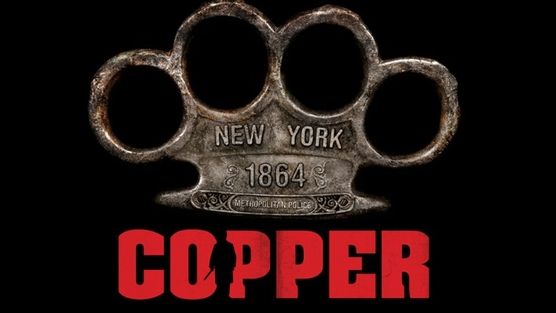 It's Kim and Kanye's fault. Everyone spends their time worrying about what outfit either of them was wearing to go eat breakfast this morning, if and when either of them took a shit shortly thereafter and exactly how it smelled. People actually obsess over these things. They can tell you Kim's bra size pre and post baby and just how long Yeezy's dick is. Is that even how you spell that? Yeezy? I was going to Google it to be sure but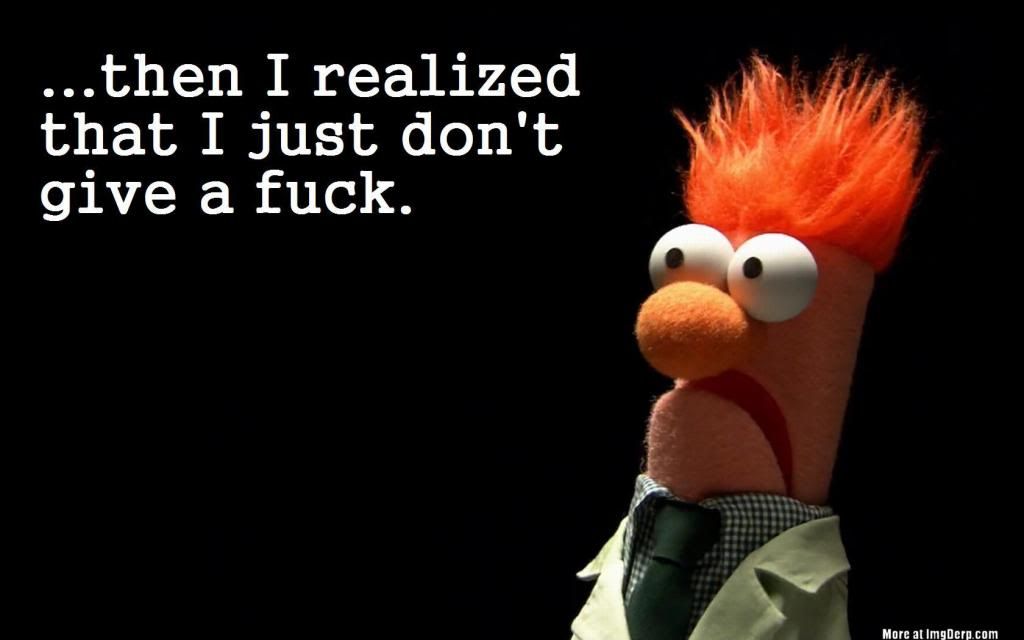 Copper was an outstanding show. But it died. It died because it wasn't a singing, dancing or sucking your own balls backwards competition. It had no Kardashians in sight and took place too far from the Jersey Shore for anyone to apparently show interest. Yes, this particular copper only managed to wander whiskey drunk through two seasons before being abruptly canceled while perched upon a precarious and promising cliffhanger despite what BBC America GM Perry Simon called "a fitting moment to conclude this American story." It was only "fitting" Perry, should your definition of the word be "a half dozen rabid Brahma bulls running a train on all your wife's holes simultaneously." This deserved a third season or at least a closing-it-all-out kind of movie but I'm sure that will happen right after Deadwood does the same. So many reasons Copper should have continued or gotten a proper sendoff. One of those reasons is this guy!
That's Kevin Corcoran the main copper from which the series derives its name. He's Irish, awesome and when he gets out that pocket watch right before he rolls on the brass knuckles you can be sure it's to check just how long your teeth have left to reside in your skull. He's flawed and full of "fuck you" to anyone who crosses him. Nowhere in New York's Five Points was terribly safe but if Corky was on your tail just curb stomp yourself and get it over with. Five Points was nasty and naughty, the Moulin Rouge meets Fight Club, a melting pot filled with nothing but shit. And whores! Of course whores. Always whores. Look here's one now who'll try and seduce me into watching this show so the ratings will go up and it won't get cancelled!
Oh my filthy fair lady, you're certainly super-skank hot but I'm sorry, I've already got eyes for another. And here he is!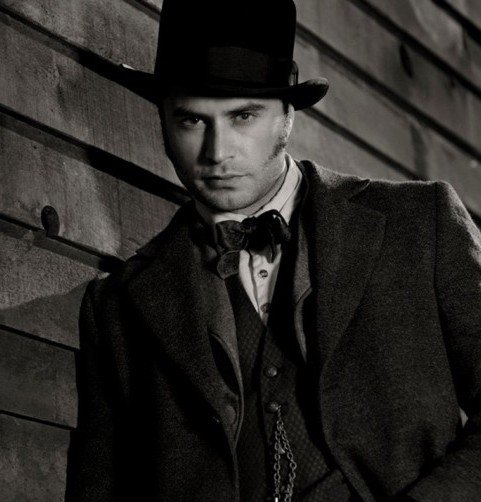 This is Francis Maguire and I will admit I'm typing with one hand at the moment. My wife swears Kevin is hotter and to hear her talk you'd think Franky here looked like Sloth from The Goonies but no, he's a dashing and complex addition to the storyline. A man who is equal parts menace and masturbation and by God, with any luck, my man crush will save this show!
Fuck it didn't work! I turned gay and it didn't even save Copper or pay off my house? Color me disappointed. Not ashamed (I'm not even sure what that is) but yes, totes disappointed. I'll blame the whores. No, not Kim and Kanye, the other whores. Like this one.
No, not Kevin. The little whore to his right. That's Annie. And before you get too upset I mean "whore" not in a tossing your salad for twenty bucks kind of way but in a get away from me you clingy psycho kind of way. Gotta know your whores. Like this dude does!
He's Robert Morehouse, a one legged rich kid who suffers (like most everyone did on this show) from an alarming amount of character development. It's the kind of thing a brave new world raised on unscripted situations and people eating pig assholes to "survive" don't seem to much care about. But if you're missing the trees you're going to miss the forest sadly as well. Besides all kinds of Five Point folks you'll grow to know over the series it's the series' physical backdrop itself that may have been one of the most painful losses once Copper left the air. Here's a famous pic of the five street intersection from which the whole neighborhood got it's name. 
It was rich and rough, a place where derelicts and dandies rubbed elbows and other parts as well (now where did Annie run off to) with commerce and cutthroats from the poorhouse to the penthouse and every dank alley inbetween. Five Points was a grinder with fresh meat coming in from all directions. Be tough or be dead. It wasn't a real nice place and, much like Martin Scorsese had done with Gangs of New York, the creators of Copper wanted a practical set to get their hands dirty with. Tawdry tangibility in every episode was the result of that decision once the crew located an abandoned auto factory and filled it with several blocks worth of the Five Points. You can see a nice gallery of behind the scenes pics right here and realize the historically horrible accuracy everyone went for in order to make you feel like you were right there with Kevin as he punched and potato-ed his way towards street justice each week.
With gloriously gutter filled scenery, wet woolen you just know was stinking to high heaven wardrobe and TV tight performances (plus brothels, booze and beat downs!) you can imagine just how wee fucking much I will now miss this program but I'll let Dr. Matthew Freeman show you to drive the point home.
He's being sarcastic, or I am, or he's illustrating my thoughts or I'm him. Yay, now I'm gay and black! Who said this blog wasn't accepting? No seriously, who the fuck said that? I'm kidding of course. I always am. Except most of the time when I'm not. Like now, when I'll bring it all around full circle to Kimye.
Maybe somebody will take a break from watching Amazing Race re-runs to check out my Watchins this week and maybe they'll be all confused as to why I reviewed Copper, and Gangs of New York two weeks ago, at all seeing as they don't much look like Westerns. It's simple. History is not a line of dates or litany of names. History is a force that ebbs and flows, twists and turns. It's obviously more than the sum of it's numbers and myriad faces. Neither is history limited by geography and when discussing (and cussing) at length about my far Occidental love affair I would be lazy were I not to include entertainment from time to time that had an important, even if not direct, influence on our Western expansion. And Copper, taking place right at the end of the Lincoln's War, fits into my plan rather snugly.
Of course if you're supes excited because you just got a Tweetstagrampost about which bitch Justin Bieber recently fucked and then proceeded to pissed on you probably can't tell me when D-Day was, what the three branches of government are or where babies come from but sure as shit you know who got a rose last night.
Five Points used to be a slum, maybe even the greatest slum in all of history but it's gone now, refurbished and refreshed. Our minds have become today's slums. Not because of drinking and whoring you prude but rather the opposite, because of the great erosion. The willingness to have anybody other than ourselves direct our lives.
Society has resigned itself to a fate worse than death: legislated and programmed boredom.
Instead of crawling around side streets for scraps just hoping to get stabbed before all your teeth fall out or you get slowly strangled by Tuberculosis we sit in cubicles and bitch about being elsewhere only to rush home where we joylessly flop on our futons and spend more time watching people live their lives than getting out and living our own.
People want foodstamps, free healthcare and now more than ever a life of success even if it's only vicarious. Even if it's not fucking theirs! It's sadly satisfying enough for most to just watch and waste away. We have become the Matrix, and willingly so.
Well not all of us.
A fleeting few of us actually do something, learn something, go somewhere, see something, touch someone, taste someone else and make an amazing life that is uniquely ours. We stopped sitting on our asses for binge viewing sessions of other peoples adventures (most of which are fucktastically fictitious anyway) and we stood up, walked away from it and started finding our own fame and riches in the form of smiles and scars. The numbing waves that crash down one after another can't harm us any longer because we moved past them. We're not a zombie standing on the shore drooling in anticipation of the next salty tidbit of crammed down our throats celebrity, we're goddamned kings having screaming orgasms from the top of a mountain we just spent several hours and the skin of both knees climbing. So think and fucking feel for a moment: is your real life truly made better, more enchanting and more enjoyable, by someone else's fake one?
Copper gets 5 rounds in the chamber. Pacing issues at times and really odd editing choices series wide keep this from being perfect along with the fact the story remains incomplete. Other than that, pass the whiskey and let's start watchin'. And then let's turn off the TV for a while and go out and make sure our stories don't end up incomplete too.
Copper got a 5, but we can do better. The only reality you should give two shits riding on top a flying fuck about is your own. And while you're up in that splendid saddle gazing towards some brand new sunrise or a favorite sunset, as always, ride true.