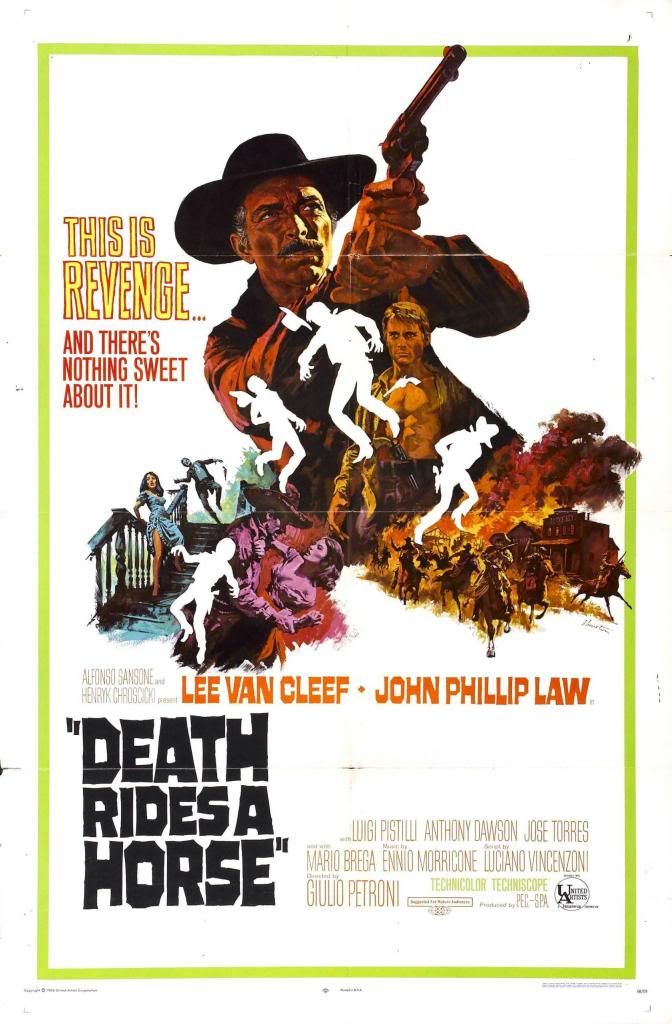 Tale as old as time right here. Somebody gets rape-murdered followed by Lee Van Cleef mounting up, saddle bags filled with piss, vinegar and huge amounts of pipe tobacco, to ride off in search of vengeance. If I ever get rape-murdered I sure hope it's Lee Van Cleef who settles my score. His squint alone could drop a man dead to the ground without even trying. If he was trying, it'd drop that man and his fucking horse too. Lee Van Cleef was so bad-ass that to this day asses all over the world study his life's work in a mostly vain attempt to be just as impressive as he was. He stares, he smokes, he gunslings and he comes up with movie titles too.
Da Uomo a Uomo (From Man to Man) was the original header for our film this week on Lee's suggestion. Death Rides a Horse was used for the U.S. release for no good reason. To audiences in 1969 it probably sounded western-y but it strikes me as lazy or even borderline imbecilic. Everyone rode horses back in the 1800s so the title is tantamount to saying "Death drives a car" in this day and age. "Death drives a car" sounds like a goddamn Woody Allen production and I'd rather have a bobcat eat my balls than see any thing fucking Woody Allen has ever made.
Also, another bobcat is eating my dick. Bobcat jacked junk still better than Woody Allen though. Thankfully he didn't direct Da Uomo. That was left to some Italian director dude who was friends with composer Ennio Morricone as all Italian director dudes are required to be by law. Fun score but this is a Spaghetti Western churned out like so many others with as much overall production value as a CiCi's Pizzeria has clean and/or healthy food. But a few superb shots, a couple perfect one-liners and some Morricone music make this one watchable even when the copy you're watching might qualify as the worst VHS to DVD transfer in any history of the digital age. Nothing like tracking lines to set the stage. And of course a perfect family dinner.
Those always go well in Westerns.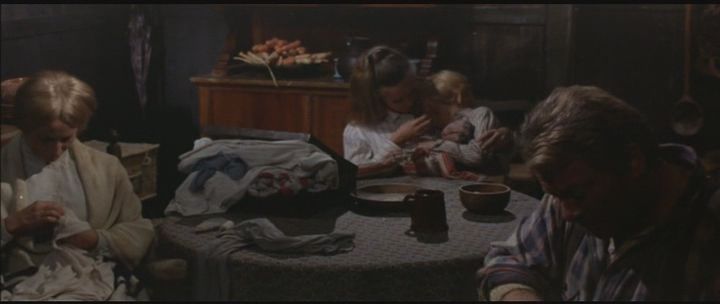 Fine folks and their fine kids enjoying some fine food. I won't ruin exactly what happens to them but rest assured that lots of dicks and bullets end up where they're not wanted. Oh man, I'm going to write a Western called Dicks and Bullets! Tagline: Both Are Comin' For You This Christmas! Why Christmas? Because the Only Present This Year…is Vengeance! That's another tagline. I have at least five more ready to go but space is limited for this post. Just like life is limited for the bad guys once the Cleef sets his sights!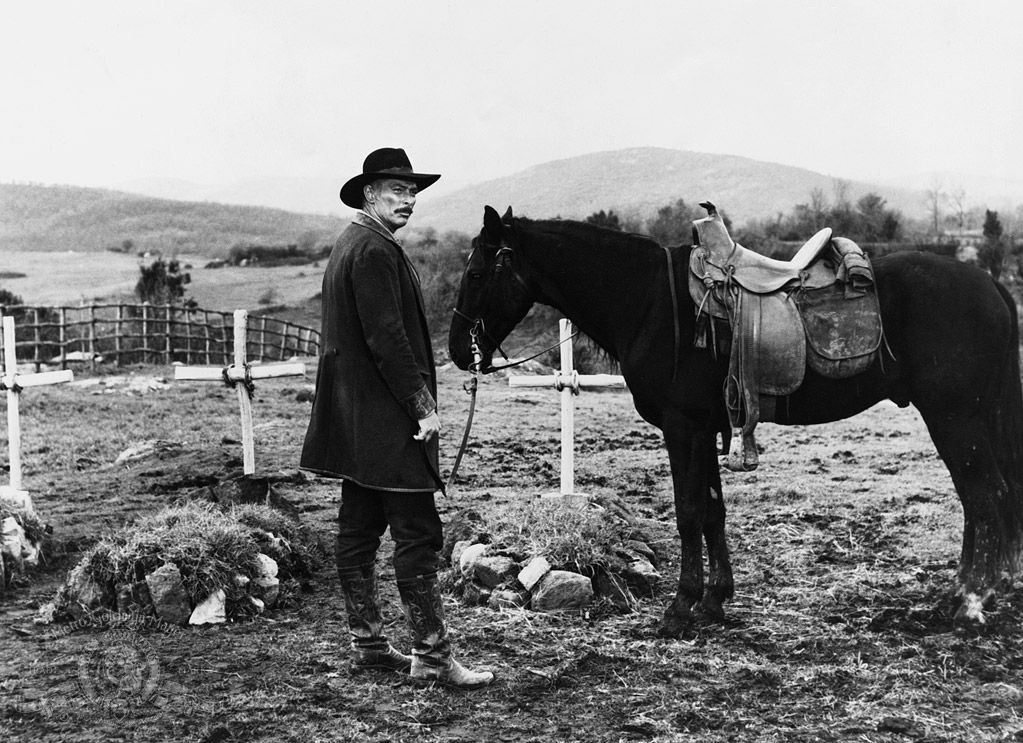 So Bill Meceita finds that on his lawn one morning. What's the Cleef doing there? And who's Bill Meceita? Why he's the only one to survive that suppertime slaughter all those years and one paragraph ago (Dicks and Bullets kids! Get your tickets today!) Cleef's got beef with the baddies as well and when Bill's beef meets the Cleef's beef, boy, there's more meat wagging around than during a Pride Parade in San Francisco. Hey, Lee Van Cleef's an attractive man in that "I'm fairly drunk" kind of way and don't get me started on Bill Meceita. He's the youthful and alluring flip-side on the coin to Lee's grizzled and chiseled veteran. But who is he?  He looks so damn familiar. Credits say he's John Phillip Law but that's still not ringing any bells so it's off to IMDB I go and ah-ha!
This guy was Sinbad once! And also whatever the fuck this is: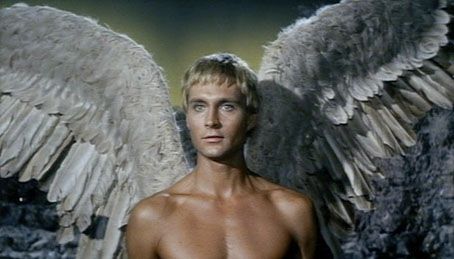 "Pygar" from Barbarella it says so that explains it. Never have seen that one and never will. Maybe I'd give it a chance if they re-released it with an accurate and honest title like Communist Space Cunt. Besides my subtle socio-political hesitations, Pygar is just waxing a bit too fem and goofy for me. He looks like he smells of craft glue, baby oil, and self-loathing. Just a whole lot of wing-ed and slippery shame right there, but before you go making any assumptions about me or my tolerance levels for homo-erotic hawkmen realize that I have a deep, unadulterated and unapologetic love for this man: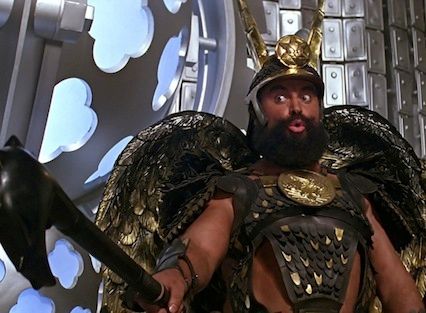 Vultan, thanks for being awesome, for making all that glitter and gold look good and for reminding us all that cheesy sci-fi can still be epic sci-fi. Ha, that's probably what the makers of Space Mutiny were thinking too and OHMYDEARGODTHAT'SWHOITIS! Bill Meceita is John Phillip Law who also played: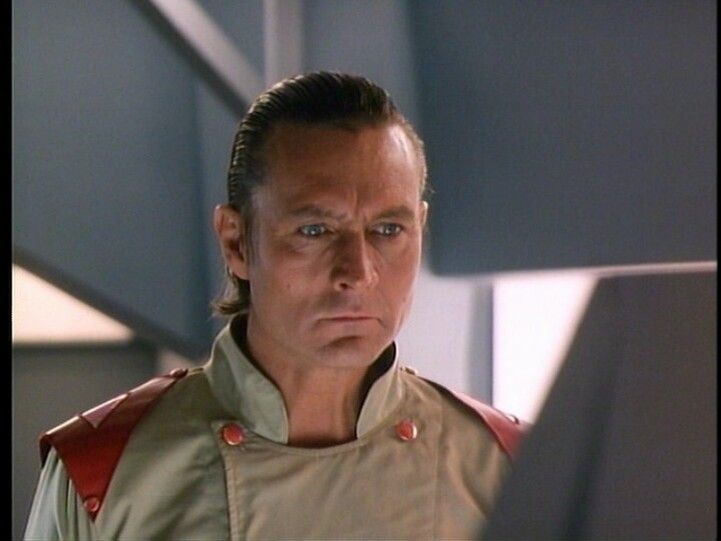 Flight Commander Elijah Kalgan in Space Mutiny!
This Space Mutiny!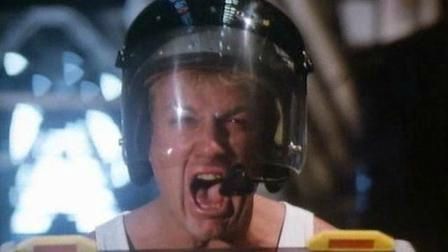 This goddamn Space Mutiny!!!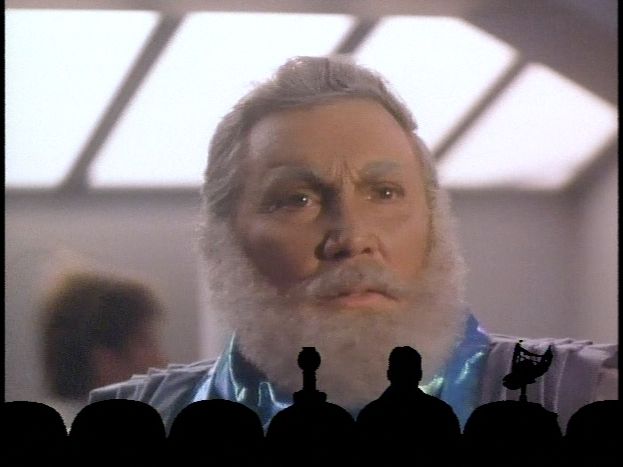 One of the greatest MST3K episodes ever produced and so right there under my nose in Death Rides a Horse was hidden a gem. And that gem's name was John Phillip Law. It's now obvious that when Kalgan was butchering scenes in a galaxy far, far (yet, not far enough!) away that his skill had been honed from a lifetime of taking even the most innocuous bits of dialogue and twisting them with deliveries that would have even Samuel Jackson begging for mercy. John Phillip Law loses himself in one single line harder than Daniel Day Lewis can in an entire role. He commits and I can admire that. I've taken some fucked up steps in my life but truth or consequences be damned I took the fuckers and any man, as ridiculous as he may sound, that does the same is a man that gets my respect. Lot of people pussy-footin' these days but not me and not John Phillip fucking Law! It might get ya' into trouble now and then but boring is worse than troubled any day. Knew a guy once that never wanted to drink alcohol for fear he might "get out of control". You know what's out of control?
God.
Damn.
Life.
Have a drink and put your ass, dick or words somewhere they don't belong. Scars make for good stories, and stories are all we'll leave behind one day. Drink up and write a good one amigos. Plus, how bad could it get?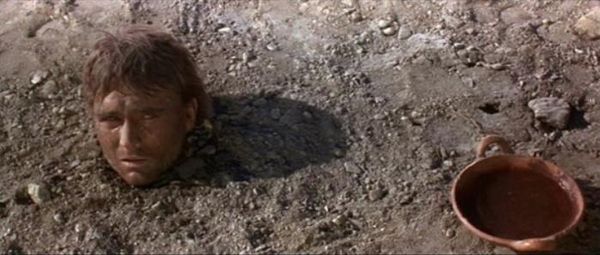 Oh damn, what did you do John? Seems on that journey towards revenge you took some interesting turns getting all beat to hell and buried up to your chin in some who-knows-where Italian desert but take heart! You're young and I'm sure your career will take off in no time! Right?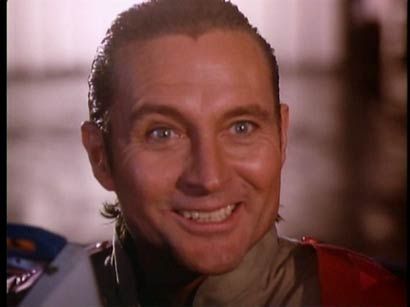 Fuuuuuuuuuck. I can't really say too much because how many movies have I been in? Exactly. Needless to say John/Bill gets out of that hole and then hatches a plan a la Magnificent Seven (a la Seven Samurai) in which frightened, untrained locals will soon rise up and defend themselves as both Law and Van Cleef use said civilian assistance to conclude their transaction of long sought after justice. Now, the fact that the movie seems to show every single one of the townsfolk becoming bullet sponges for the evil hombre onslaught while our two heroes hide out in a totally smart but surprisingly selfish penultimate move should not be ignored.
But you should ignore it.
And then the ultimate showdown of ultimate destiny happens as it always does in these types of movies. By "these types" I mean "mostly fucking phenomenal" movies. And so it comes to this: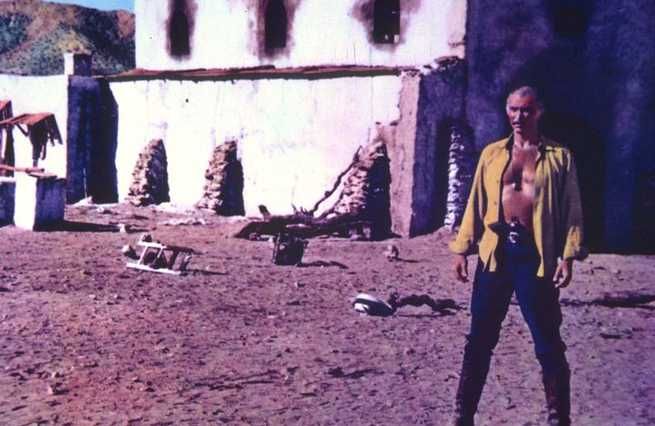 Just who is the Cleef facing down with bare-chested braggadocio? I won't spoil anything but Death Rides a Horse/Da Uomo a Uomo was a certainly solid 1 rounder until the last ten minutes. Then that final gun battle, that final showdown and that final half naked Van Cleef sold me. Thus, this one gets 3 rounds in the cylinder. It's not a good movie but you should still watch it and the more horrible the transfer you can find the better. The picture and sound quality of my disc made me feel like I was watching a live feed from 1875. That's some thoughtful and quality immersion right there. It wasn't wretched but with so many pacing and editorial mis-steps this one might spook the film fan faint of heart. If you can stomach it though, along with some whiskey perhaps, you'll be in for a treat. Goes to show that even with a rough start (and middle and almost end) if you can finish strong, then that's all that matters. Ride strong then amigos, and ride true.
See you next week.