You might not believe it if I tell you that when I walk through the streets of that town too tough to die, Tombstone, Arizona, there are folks who readily recognize me and many I recognize as well. It's a ghost town that's still breathing, it's insular and has just as much love and consternation between all who dwell there as any fandom I've ever been involved with. But instead of whining about the benefits of painting on your abdominals to look better as a Spartan with tough-guy internet talk, the denizens of Tombstone are all true badasses born of the desert and not terribly keen on bullshit or those who like to sling it. I'm proud to know a handful of 'em and even moreso to call a select few pals.
It wasn't much of a surprise then as I watched Ambush at Dark Canyon and saw someone I actually recognized but rather one of those holy-shit-I-know-that-dude-who-just-took-a-nice-roll-down-that-rock-face kind of moments we've all certainly experienced. Seeing Lee take a bump was one of the highlights though as sadly this movie only delivered in fits and spurts not unlike an aging pornstar's trembling and time-worn penis. Here's Kix Brooks!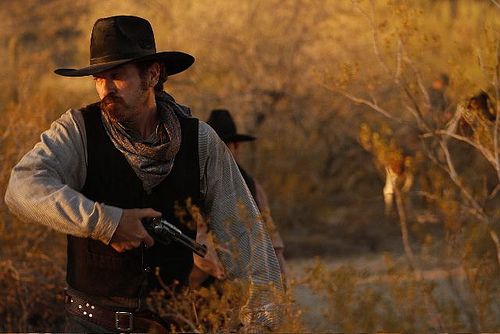 One half of the now disbanded country duo of "Brooks and Dunn", Kix has recently been dabbling with an acting career. Yes, one of the men who brought us "Boot Scootin' Boogie" is now singing rather a different tune. Or several of them to flesh out Dark Canyon's soundtrack. On their own after a long day's ride with your feet propped up by a campfire and a glass of whiskey in your hand they'd be just fine. Layered over painfully clichéd montages that barely moved the story along however, Mr. Brooks' oblique words had all the expository grace of being clubbed into unconsiousness by a Charles Dickens novel. Which is to say none. Dickens is an overly wordy and literarily useless motherfucker. Unlike every single story he ever wrote, I've outright enjoyed other works that many of the writers and producers involved with Dark Canyon were a part of in the past such as The Gundown and Ghost Rock but this one failed to capture the authenticity of the former or the humor of the latter. While our hero had the look and sound of a badass down pat he squandered those attributes almost as if on purpose. Kix came off so green in most scenes that had he donned a leafy singlet and tried to sell me vegetables it would not have seemed odd.
Ho-ho-ho-ly crap Ambush was a rough one to sit through. The story of a man who finds himself in the wrong place at the wrong time who must then get to a place and time wherein he can take a shot at putting everything right again before time runs out has been done before and with better results. The script screamed "lazy". It felt as if it was striving to be little more than utterly mundane. If there were public assistance programs for screenplays this one would be on all of them. Even the tagline you see above is stupendously dull:
"Revenge has Six Bullets"
Jesus H. and W.T.F. Christ? Really? Westerns are suffering in the current movie market because many feel they're played out, tired and unoriginal. This catchphrase does not help. It may sound cool at first but once you give it even one solitary second-thought you realize it's as ridiculous as farting in someone's face and calling it perfume. Might as well go with any of the following:
"Death is coming…and it's about to get deadly!" or
"You Can't Spell 'Vengeance' without 'Retribution'!" or
"When the sun sets, get Ready for it to be Dark!" and of course
"He's Gunning for You…with a Knife!"
Sounds all full of nifty but there just ain't no substance to any of 'em. And the beautiful alternate poster fucks up even more callously by invoking all the Mummy movies. "Every kiss begins with Kay" would have made just about as much sense. One rough ride like I said, but bumpy as it was much of the cast gave it a hell of an effort to smooth the trip as much as possible. People like these two: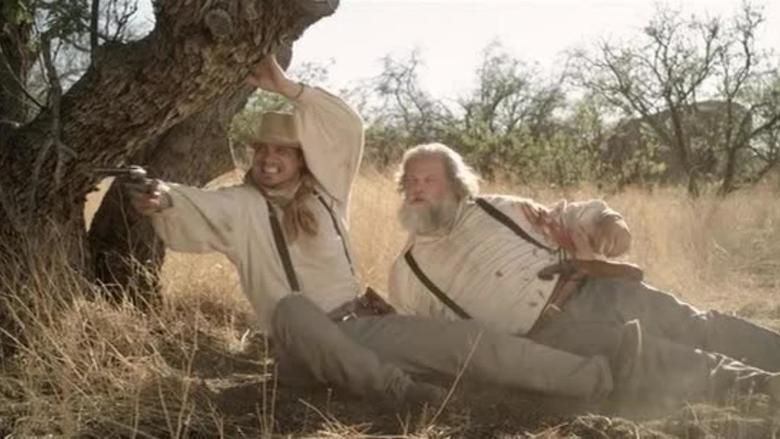 Meet Abraham Benrubi and Ronnie Gene Blevins. Abraham looks like, and has played, Santa Claus which means he's a jolly old soul. Ronnie was a cement truck driver in Dark Knight Rises which means he did more to build up that story than any of Bane's dialogue. Both are veterans you've seen over the years more than you'd recall and bring that experience to bear as much as the script and direction allowed. Abe is solid enough while Ronnie has this yearning and stress behind his eyes that betrays an effort deep within him to carry the film with every line he speaks. The pair work as guards at Yuma's Territorial Prison under the equally adept Timothy V. Murphy.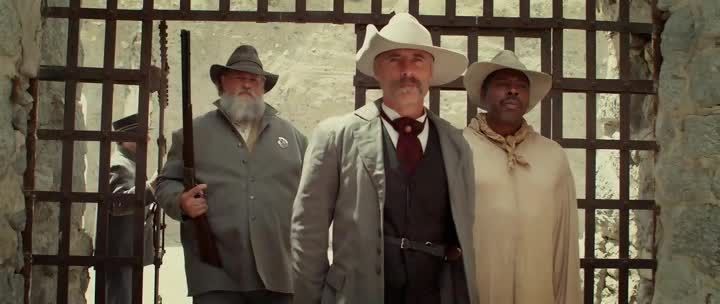 I knew him from Sons of Anarchy as an Irish gangster and it turns out he's actually Irish treating his job as the prison warden like the true O'Bastard he is. His in-role intensity is perfectly balanced by Kix's no-tensity. Every scene they share is like someone who can act talking to someone who can't. And that's just as entertaining as it sounds. Still better than Dickens. Rounding out the grey bar hotel's main staff is Ernie Hudson.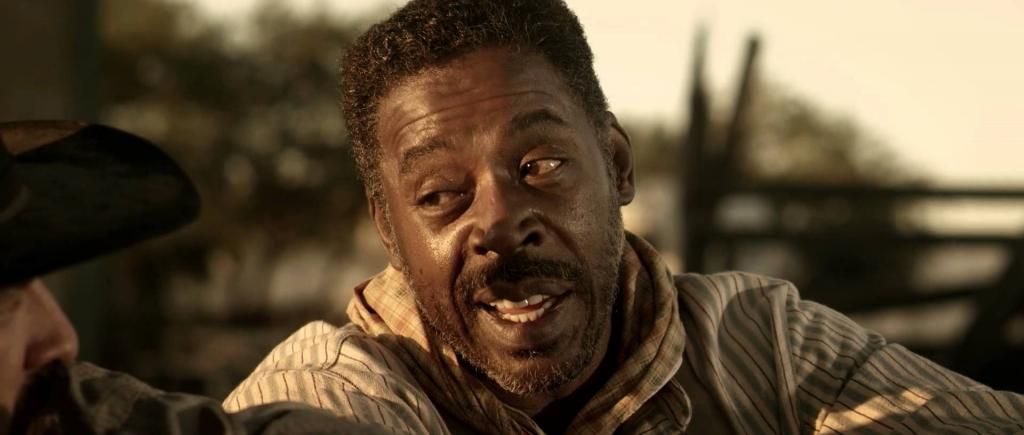 You remember him as being the most famous black Ghostbuster. Ernie's a swell guy in real life and uses that easy nature to craft comfortably believable characters effortlessly. He's wasted for most of the film and having him ride alongside Kix towards the final showdown makes that fact even more painful. With an affable and unfussy style Ernie makes Kix look terribly erratic by comparison. Ernie looked real, Kix looked real bad even though he was obviously trying real hard. It was his first time playing a part after all and like most of our "first times" I reckon it was filled with confusion, awkwardness and sobering self-awareness. He's got "the look" I just hope he can get some legs under him fore I have to suffer too many more performances like this one.
2 rounds for Ambush at Dark Canyon. All the ball bashing was deserved but now it's said and done and I have this to say as well: I sit at a desk all day and can only dream of being in a pretty shitty Western. I can guarantee you no one got rich making this and everyone came home with a few bumps and bruises but next to those scars will rest the memories of doing what you love when the rest of the world is demanding you do something else entirely. Folks will drive themselves into the grave or slit your throat and leave you in one all for the sake of getting the most out of life but end up with nothing in their hands and even less in their hearts. They'll leave behind only a list of those they betrayed when they go and top on that list will be their own names. Are you making art or making love or making anything out of your days more than just a paycheck and a few more hours past?
What do you really want amigo?
Answer yourself that honestly, and then get to riding.