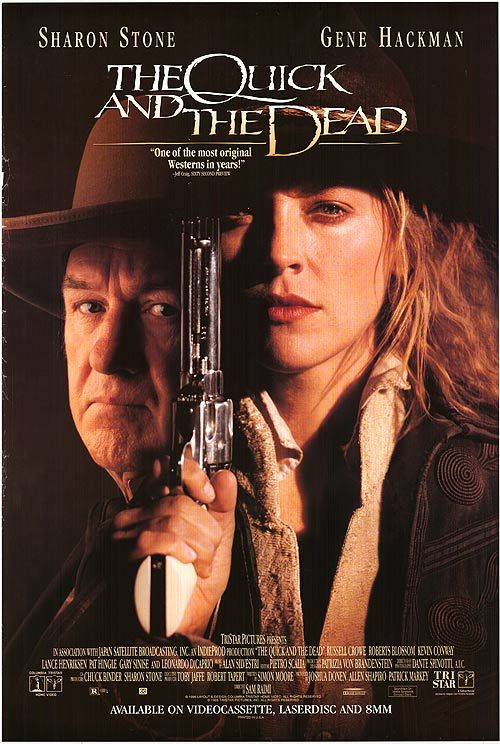 Would you believe this week's title comes from a bible verse? Something along the lines of the good Lord coming to judge "the quick and the dead." It's in the New Testament three times, probably interspersed between those parts that remind us all that being gay is evil, that black people shouldn't speak unless spoken too and Jews are terribly Jewish. All that fallacious fire and brimstone can get a man's blood up so much that he might wander off into the desert towards a town called Redemption and, once there, enter a shooting contest run by a crooked bastard simply to settle his trembling spirit. Or he might be a woman and feel the same way. And if he is that woman, he might be Sharon Stone: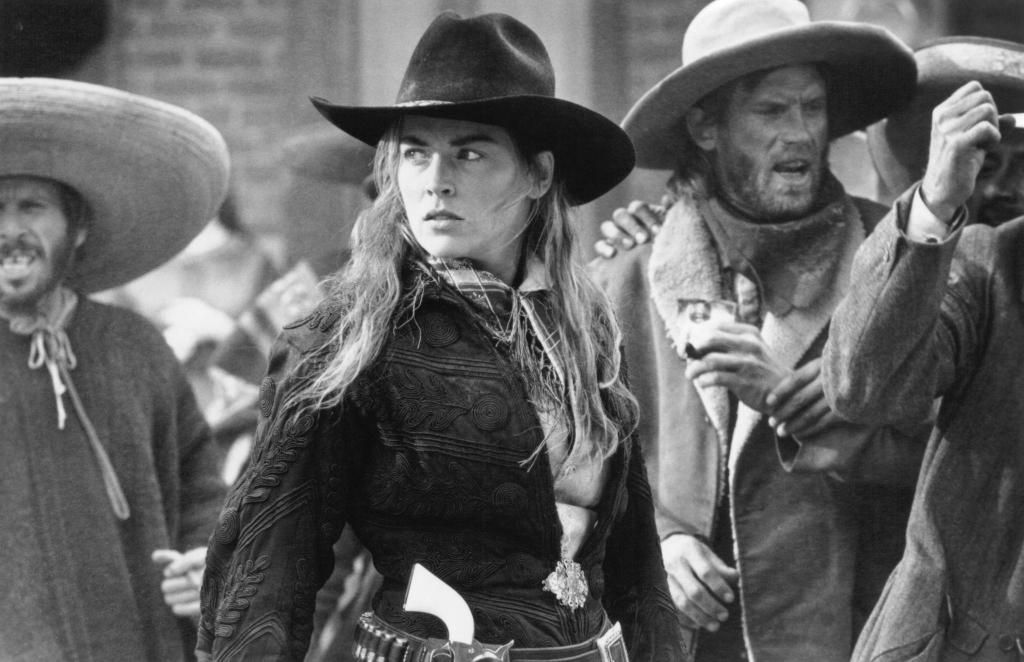 She's called "The Lady" because she's mysterious and because no one in town had seen Basic Instint yet. She has a bone to pick with someone from long ago and her smokewagon is itching to start that bitching. She enters the single elimination style tournament as the classic underdog amidst a slew of stinky, sweaty and gun savvy slingers all vying to show off their talents and out live the competition. Of course she'll have a little support and advice along the way even if it is from an inexperienced kid like say for instance this "The Kid".
It's hard to tell from this shot but that is none other than fabled star of Critters 3 Leonardo DiCaprio. He's fast, cocky, fast, overly confident, fast and real damn fast too. He takes an immediate liking to "The Lady" and keeps asking her to play good cop/bad cop for some reason but any highschool horniness takes an abrupt back seat to his real purpose in life and that's getting daddy to love him. It's never really phrased that way but that's what Leo's subplot is past all the braggadocio and bullets. He's looking for some respectful acknowledgement and he'll kill anyone that's in the way of him gettin' it including the de facto ruler of Redemption John Herod, who is also perhaps his father, played mercilessly by the ball swellingly bad ass Gene Hackman.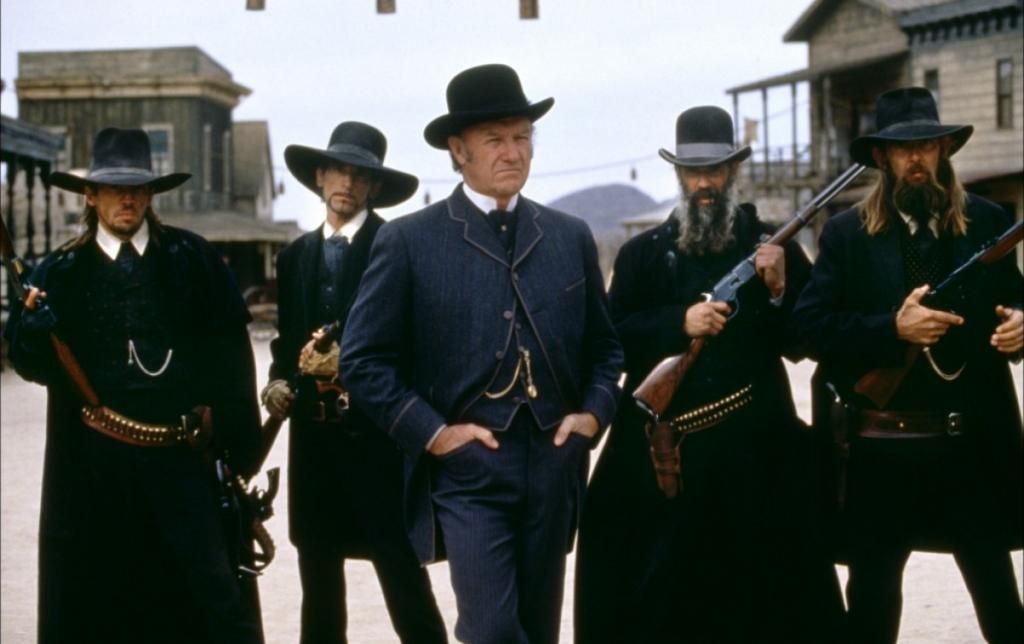 Here he is with the Oak Ridge Boys right before they bust out their classic "Gene Hackman's Gonna' Shoot You Then Fuck Your Corpse!" Such a great song. Whether that happened in the movie or not all the players involved quickly realize that Herod isn't playing a game in which any of them are likely to best him. And those players include Keith "I'm not David Keith he's a white dude" David, Gary "It's only a bit part but still better than all of Basic Instinct 2″ Sinise and Lance "Only one of the coolest guys I've ever met in real life no shit it was at New York Comic Con and we hung out while he had a smoke and then his cab came and he turned and said 'See you on down the road!' and I thought sure as fuck I will Lance" Henriksen. The talent is stacked in this film but life is still cheap. Guns blaze and the light in several sets of eyes goes dim. It's killing time all the time and if you don't have a watch there's always this giant clock to remind you to grab a good seat for the show.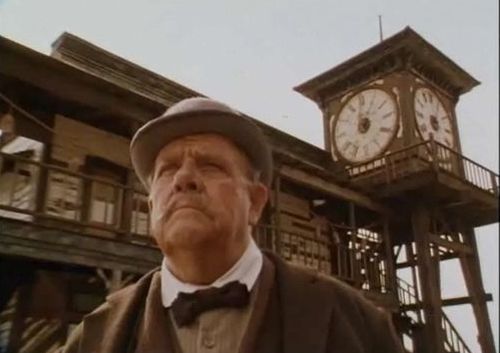 Pat Hingle is perfect as a guy who looks like an Old West guy. Everybody in the cast looked perfect eating up all the shit Hackman was constantly giving them with looks on their faces to match the taste of self-loathing in their mouths. This movie was written as a tribute to all those great Westerns that had come before and with a serving of spaghetti on the side. Director Sam Raimi, blessed with a quirky sense of vision, played perfectly into this new bowl of pasta. Spiderman 3 might have been one colossal pile of crap but this flick was the shit. To say he soundly embraced the particulars of Cinema Italiano style would not be nearly vulgar enough so let me add that he rode every technique so hard and so well that every technique was screaming for more and for medical assistance at the same time. He must have left the set everyday covered from stem to stern with his delicious directorial drippings, a Rami remoulade on everyone's lips including the livestock!
Now, Sam's style is already heavy on the extreme closeups, fast to the point of unforgiving cuts, Dutch angles and moments of steady build followed by whiplash inducing freneticism but given free reign in Leone's playground he manages to out do himself even to the point, regrettably, of over doing it. I love excess. Wine and women and toy robots, one can never have enough. Yet, by the end of this movie, I was filled to uncomfortably distracting with cowboy movie cliches. Like those "in your face" shots of faces for instance.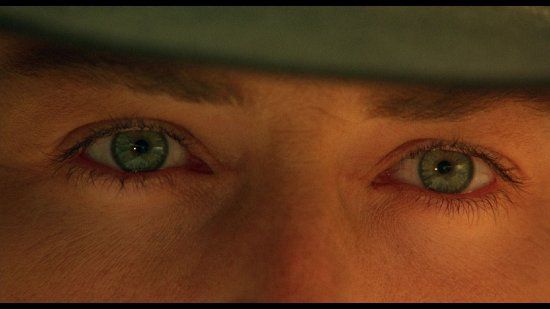 Oh yeah, here she goes! "The Lady" is gonna lay down some pain, you can see it in her eyes can't you? Well if not, here's another lingering shot! And just when you think she's about to shoot, something like this happens: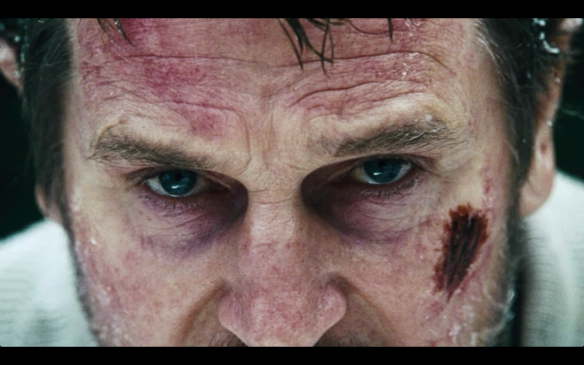 Okay. Yep. I got it. Intensity and intrigue all rolled up into twenty-nine different looks at the same set of peepers. There's sweating and staring and music crescendoing followed by more staring and then looking real hard and then that clock then back to staring but let's not forget she's looking at somebody right? Well what do his eyes look like? Show me Sam!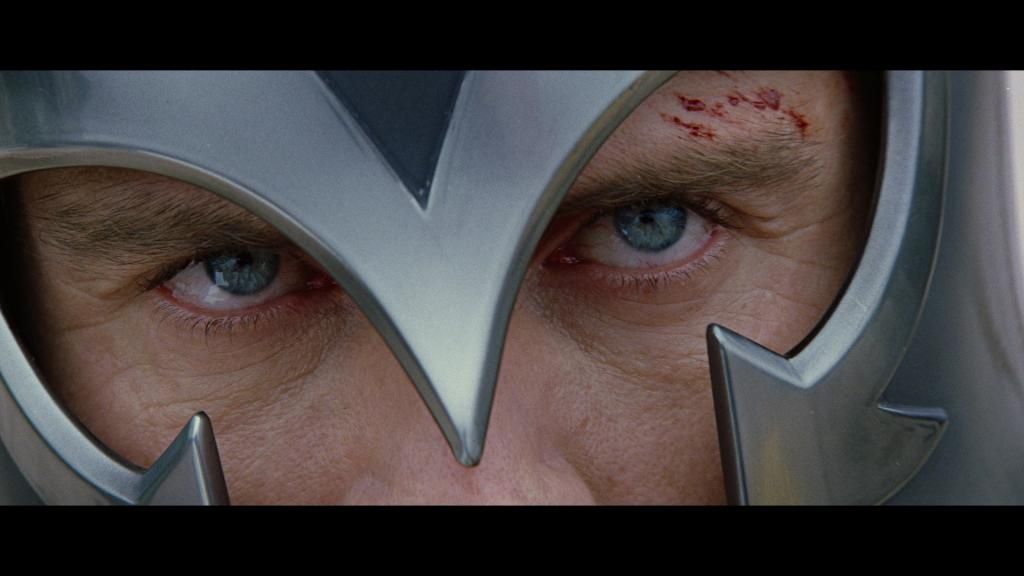 Wow, either the tension is building something fierce or I need to fart worse than I ever had in my entire life. And all before any gun even thinks about leaving a holster. Fuck sakes man. No! Not that goddamn clock again! But then there's Pat Hingle so it's okaaaaargghhhhh EYEBALLS! MIne and theirs! Now I'm getting nauseous and scared and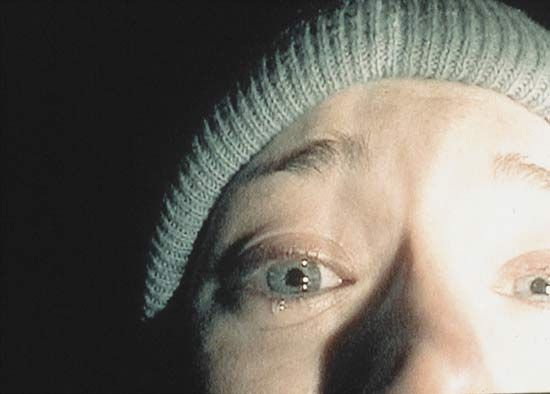 I can't take it anymore, I'm freaking out! In the shower…I'm afraid to wash my hair, 'cause I might open my eyes and find someone standing there! You're only paranoid if they're not watching you right?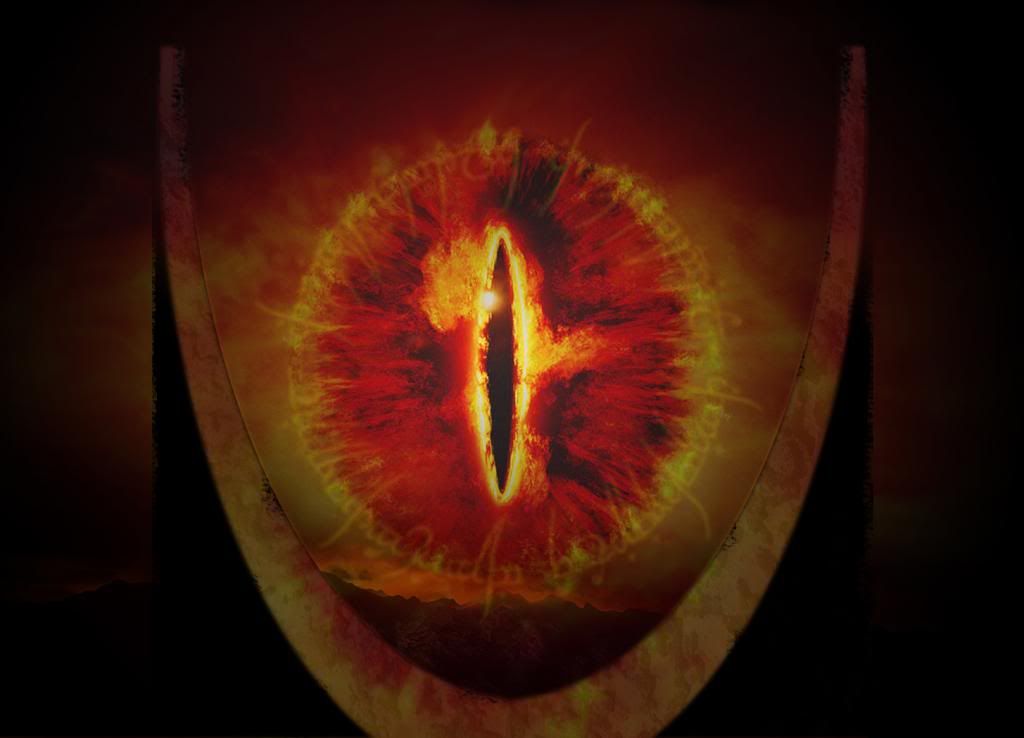 Many of the action pieces, particularly near the end, are comparably ridiculous to what I have just made you sit through. Think for a moment of the faultless finale from The Good, The Bad and The Ugly. Now go strap on an Oculus Rift and drop some acid right after you attach live jumper cables to your taint. You would then have a small glimpse of how this film left me feeling. That bit of overzealous direction is my only gripe of any consequence with this film.
Aside from those ramshackle roller-coaster moments much of the film is wistfully quiet and beautiful.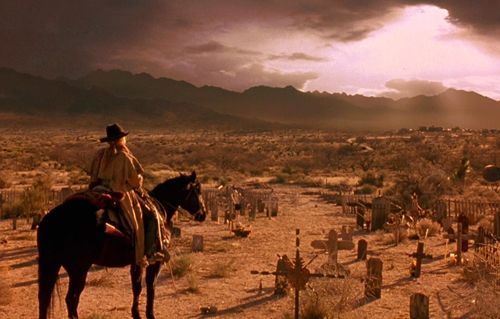 It's CGI sweetened sure, but I could tell what was going on so I knew I wasn't watching Age of Extinction. Another clue that this wasn't Age of Extinction? I was actually entertained.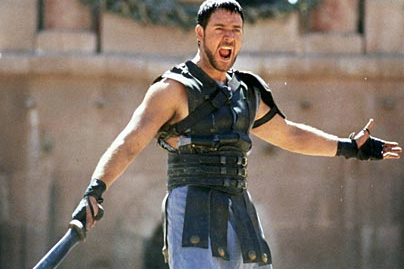 Did I not mention that Russell Crowe's in this one too? He is, but more importantly, so is the LeMat revolver.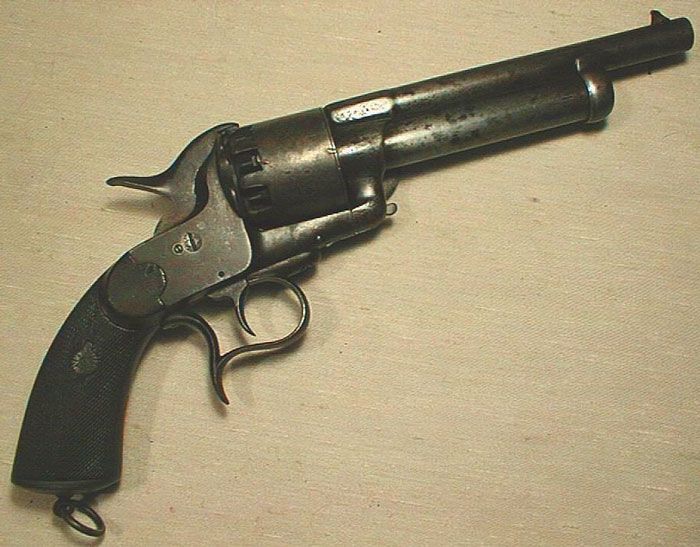 Created for Rockstar's Red Dead Redemption this unique firearm was subsequently used in the American Civil War or so the internet tells me. You might dispute these facts but what you might not and certainly can't dispute is the fact that having nine large caliber shots wrapped around a 20 gauge shotgun shell makes for one wicked weapon. The LeMat gets no love though because it was a Confederate sidearm and therefore racist. Anytime then one makes an appearance I'm pleased as pie. To spy one, albeit briefly, was an unexpected pleasure during this viewing.
And a decent view it was, 4 rounds for The Quick and The Dead starring Lex Luthor and a LeMat. Not as crisp or refined as many of it's predecessors but by no means dreadful either. Tons of characters and even more carnage including the judicious use of every stick of dynamite in the territory makes this movie a sight to behold even if some of those sights are fast-slap flurries that can leave you a bit dizzy in the soul. A few minor hitches along the way but none enough to derail the whole narrative get-along. So get on out there and ride true amigos. It never hurts to look at life a little closer than is comfortable every now and then. You look close and the close looks back.
You learn something.
You get stronger.
Your adventure continues.