1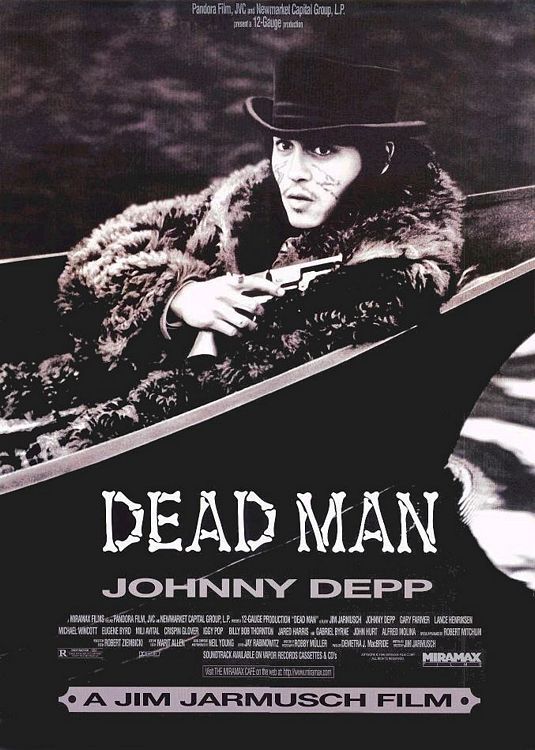 I saw this movie a long time ago, then I saw it again recently. Enjoyed it both of those times and will enjoy it again on other somedays I'm sure. It's not a movie you should ever have trouble understanding but one you should always struggle to completely grasp. Bleak, weird, passionate, funny and unsurprisingly bittersweet Dead Man is the biggest downer of an uplifting movie I've ever seen. If The Cure and Hieronymus Bosch had ever made a movie it was probably this movie. Like life, the story is perfectly Point A to Point B and, again like life, ultimately inexplicable to any but the one actually on the journey. A complex simplicity, it's mental but not meaningless. There's abundant meaning here even if not all of it can be described, quantified or precisely understood. And it all starts on an LSD trip of a train ride from Cleveland headed towards an unknown heart of western darkness. Unsettling, and then Crispin Glover sits down. 
Crispin Glover played Marty McFly's dad in 1985's Back to the Future and now makes his own movies including WHAT IS IT? and It Is Fine! EVERYTHING IS FINE. If you're interested in those films follow these two easy steps for more information:
#1 Google those movies
#2 Don't blame me
The guy is bat-fuck crazy. As in a bat biting your balls while you're fucking would be less crazy than this guy. The fact he appears as one of the first folks you meet in Dead Man should convince you beyond the shadow of a ball-biting bat that this film is very different from most you've probably seen. Johnny Depp's William Blake shifts uncomfortably in his seat, I was soon shifting uncomfortably in my soul. You see, Blake is a greenhorn dork with glasses from Ohio who's about to find the emptiness in his heart filled with the vast terror and beauty of the American frontier. Hits kinda close to home.
Blake arrives in the Town of Machine with the promise of a lame-ass office job exciting him to no end but soon runs afoul of John Hurt, Robert Mitchum and Gabriel Byrne. He meets a sweet girl, she makes a swift exit and then this one awkward accountant leaps out a window and headfirst into an adventure he would have never counted on heading his way. Covered in filth and guilt, with a death sentence hanging over his head, William Blake is reborn just in time to die. Maybe.
That's Nobody, played to humorous and gentle perfection by Gary Farmer. He's healer, guide and casually comedic foil to Depp's bruised and befuddled Blake. Finding a true friend is one of the most important life quests any of us will ever hope to complete. Someone who can help you get to where you're going even when you don't know where you're going to. Someone with vision well beyond the horizon who is never blind to your immediate, intimate needs. Someone who would take a bullet for you or give you a hand if you've already found a bullet of your own. Everybody needs a Nobody. The more selfless and sarcastic the better.
Dead Man is a buddy pic then on both sides of its odd little coin. Depp and Farmer are on the run from their past lives sprinting slowly towards that next one. Hot on their heels are some right frightful mother fuckers:
When Bishop, Top Dollar and an angry black man are after you either you're at DragonCon or just outside of Imgollygodddamnfuckedville. Our emergent heroes aren't at DragonCon. Two dudes runnin', three dudes gunnin' and all kinds of funnin' along the way. This Western has a lot of traditional settings, familiar themes and standard participants but these tropes are mostly there to keep you slightly grounded to a film with its head high in the clouds. Blink and go from "oh, I've seen that" to "now what in the hell is this?" We spend time in a stereotypical saloon but soon enough find ourselves gathered around a campfire with Iggy Pop, Billy Bob Thornton and Jared Harris:
Bad ass punk hero, Bad Santa and the big bad from Fringe? This can't, won't and didn't end well as once again Dead Man messes with any notions you were trying to have about what this movie was saying. And speak it does. I'm not much for art house fare, finding odd for odd's sake the mark of a poor or lazy storyteller, but this film doesn't suffer from lack of effort or of heart. Oh its art most certainly farts but never in a useless or overblown fashion.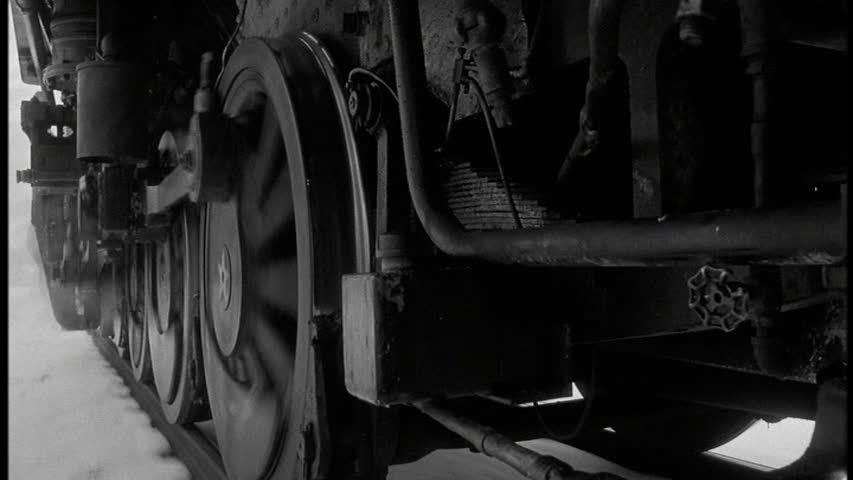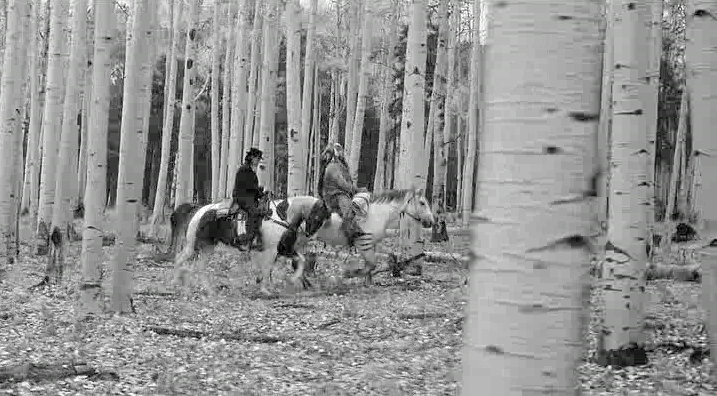 I could continue, explaining, extolling, philosophizing, convincing, but this trip has to be, must be, yours. This is a beautiful film, one of the comeliest I've ever seen, and sounds beautiful too with a minimalistic soundtrack composed off the cuff, in seclusion, by Neil Young and a giant mound of narcotics. Bold imagery and bold listening both accompany William Blake who, like his namesake, was a tortured traveler learning that discomfort is one of life's greatest teachers and one of its greatest blessings. I ran a marathon a few months back and as I slogged on that pain and despair unique to 26.2 miles gifted me a deeper understanding of myself. If either Blake or I had quit the paths we were on our revelations would have been lost. You ever gone through anything like that and you'll know what it takes to go from this look in your eyes…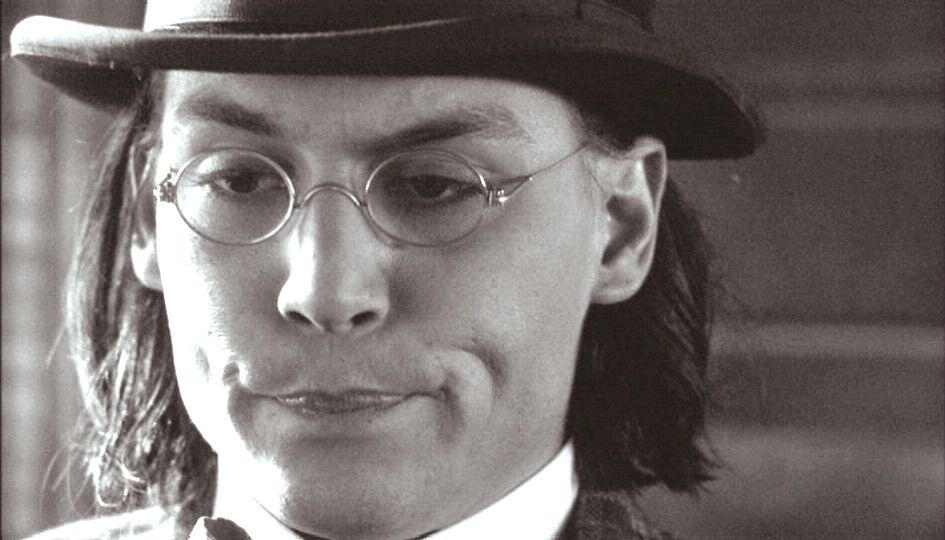 to this one…
You will damn well know and, past the tears and the losses, be glad you do.
6 rounds fired in memoriam for this Dead Man. I sat stymied in a haze of my own fear watching this while realizing that doubt will forever plague the human condition. To be truly brave is to accept that you will never be completely ready for anything but to go forth anyway. This movie isn't for everyone. It might just be for me and that might just be the point. What anyone gets from Dead Man is directly proportional to what they bring to it. A black and white mirror like the surface of a strange body of water whose depths you can't know until you plumb your own. It's bleak and weird and so sad sometimes but it still makes me smile. To ride true is my highest ambition in life, through those bleak and weird and so sad sometimes but still with a smile on my face. Being honest with yourself is the only way to live like that.
Because we're all dead men.